Cruise Ship Vacation Travel Guide
Ports of Call Profiles, Destination Ideas, Cruising Advice, Cruise News, Ship Photos, Port Photos, Weather Updates and more...Research your cruise vacation here. Know Before You Go! Knowledge is power!
NEW AND IMPROVED WEBSITE
COMING SOON!
Shipdetective Cruise Vacation Guide
We help provide the answers to the questions you didn't know to ask.

Feedback and sharing information is encouraged!
We teach you how to cruise right!
There's so much to do on a cruise ship vacation so make your time count! A week cruise will fly by before you know it. Don't spend precious time figuring things out as you go. Just do some planning in advance and you'll be able to spend more time in the FUN and RELAXation zone. Do research now when you have a decent internet connection/phone signal and you will save you money too.
Use the links below to start your research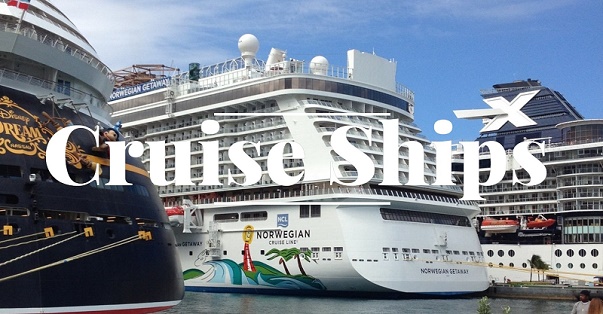 Check out your ship profile and discover what awaits you on your cruise vacation. See photos, itineraries, accommodations, dining venues, notable rooms, children's areas, deck plan, CDC ratings, smoking sections and more. Find your ship here.
Caribbean, Mediterranean, Scandinavia, Southeast Asia, Hawaii, Mexico, South America, Alaska, Canada, New England, British Isles, Australia, Middle East, Africa, & Antarctica. Explore Global Cruise Ship Destination Ports
Shipdetective Cruise Resume
Tammy Laughlin

3 cruises pre-Tracy (through 2000)

Tracy Laughlin

6 cruises pre-Tammy (through 2000)
Future Cruises
10/2023 - Carnival Horizon 8-night Southern Caribbean
10/2023 - Carnival Horizon 6-night Western Caribbean
10/2023 - Carnival Horizon 8-night Southern Caribbean
Past Cruises
5/2001 - Soverign of the Seas - 3-night Bahamas
10/2001 - Monarch of the Seas 3-night Bahamas
04/2002 - Grand Princess 7-night Eastern Caribbean
10/2003 - Norwegian Wind 7-night Western Caribbean
11/2004 - Star Princess 7-night Eastern Caribbean (wedding cruise)
12/2005 - Sea Princess 14-night Southern Caribbean
03/2006 - Carnival Victory 7-night Eastern Caribbean
11/2013 - Carnival Legend 7-night Western Caribbean
02/2014 - Norwegian Getaway 7-night Inaugural Caribbean
05/2014 - Caribbean Princess 4-night Grand Turk
08/2014 - Carnival Victory 4-night Mexico
11/2014 - Carnival Splendor 7-night Eastern Caribbean
03/2015 - Norwegian Epic 7-night Western Caribbean
09/2015 - Carnival Ecstasy 4-night Cozumel
01/2016 - Norwegian Escape 7-night Eastern Caribbean
10/2016 - Norwegian Escape 7-night Eastern Caribbean
11/2018 - Carnival Paradise 4-night Cozumel
11/2019 - Carnival Breeze 14-night Southern Caribbean
10/2021 - Carnival Mardi Gras 7-night Western Caribbean
11/2021- Carnival Mardi Gras 7-night Eastern Caribbean
Total Cruises: Tammy 23 Tracy 26