Cruise Guide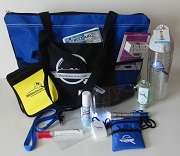 Planning to surprise your family or special someone with a cruise this holiday season? Complete your surprise with our Bon Voyage Cruise Essentials Tote! Our tote is chock full of all the travel necessities to make your cruise smooth sailing. Add your boarding passes to the tote, and voila! A gift they'll truly be excited about. Visit http://store.shipdetective.com to see more.
Captain's Spotlight:Experience Nassau, Bahamas

Reknowned for its turquoise waters, Nassau is one of the busiest cruise ports in the Caribbean. Dive local reefs and shipwrecks, shop for bargains in the straw market, or visit Atlantis Resort on Paradise Island.
Discover what else to see and do when Nassau is on your cruise itinerary...
Know Before You Go!
Knowledge is power.
How can the crew at Shipdetective help you make the most of your cruise vacation and reduce your risk of having a bad cruise experience?
We help provide the answers to the questions you didn't know to ask. The Shipdetective crew began compiling information about all things cruising to make the most of our time and money. Beyond our experiences, we sought cruise information from every reliable source we could find. The information was out there just waiting to be discovered and organized into one source. Our research created Shipdetective.com, a one-stop source of cruise information. We are here to share our cruise advice so you have the best cruise vacation experience possible.
Planning and research will give you the best chance for a care-free cruise vacation.
Ask a question -- Do you have questions or concerns about cruising? Send us an email and we'll do our best to help get you the answers.
Visitor Feedback -- We love to hear from our visitors so drop us a line or comment on our Facebook page
Our Cruise News Blog
Carnival Announces New Dinner Dining Concepts
posted December 4, 2013
Carnival Cruise Lines is launching new dinner concepts for the ships' main dining rooms, American TABLE and American FEAST, both designed to evoke a modern restaurant experienc while showcasing American and international cuisines. Read more...
Pacific Season Closes With Many Storms, Low Intensity
posted December 1, 2013
The Eastern Pacific Tropical season ended as a busy season, but with only one storm reaching major hurricane status. Read more...
Inactive 2013 Season Comes to A Close
posted December 1, 2013
The Atlantic's Tropical Storm season ended as quietly as it began with only 13 named storms and only two reaching hurricane status. None of the storms reached major hurricane status, category of 3 or higher on the Saffir-Simpson wind scale. Read more...
Disney Changes Onboard Booking Policy
posted December 1, 2013
Effective November 12, 2013, Disney Cruise Lines has added an 18-month "use it or lose it" policy to any special onboard discounts on future bookings. Read more...
Celebrity Cruises Launches New 'Captain's Club' Program
posted December 01, 2013
Celebrity Cruises is excited to announce improvements to its Captain's Club loyalty program. The new program features two new levels of status and rewards beyond the existing "Elite" level, which is the highest level of membership in the brand's current four-tiered program.
Read more..
.
Anthem of Seas Home Port Announced
posted November 21, 2013
The second ship in the new Quantum class of ships from Royal Caribbean International will become the most technologically advanced cruise ship ever to be based in Europe when it is launched in spring 2015. Anthem of the Seas will call Southampton, UK, home in April 2015 and offer cruises to the Mediterranean before being based in Fort Lauderdale, Fla., for the winter months.
Read more...
Costa Mediterranea Enters Drydocks
posted Nov. 21, 2013
As part of the ongoing investments program regarding quality and sustainability on the Costa Cruises fleet, from November 21 through December 4, 2013 the Costa Mediterranea is scheduled to be dry docked in Palermo for planned maintenance.
Read more...
MSC Magnifica Strikes Pier in Greece
posted Nov. 19, 2013
Greek news outlets are reporting the MSC Magnifica impacted a pier in Pireaus during docking procedures. Read more...
Royal Caribbean Celebrates Anthem of Seas Keel-Laying Ceremony
posted November 19, 2013
Royal Caribbean's newest ship, the Anthem of the Seas, celebrated its keel-laying November 19. During the ceremony, a 620-ton block measuring 59 feet by 121 feet (18 x 23 meters) was lifted into the building dock with an 800-ton crane.
Read more...
MSC Divina Arrives in Miami
posted Nov. 18, 2013
The MSC Divina made cruise history this morning, when it was escorted into the Port of Miami by a fleet of high-powered FIAT personal watercraft. With today's arrival, MSC Divina becomes the first MSC Cruises ship to sail year-round from North America. Read more...
Key West Debates Channel Updates
posted Nov. 17, 2013
According to a report from the state Department of Transportation, Key West needs improvements to widen and deepen its berthing channels to sustain cruise industry development. Read more...
Allure of Seas to Undergo Early Repairs
posted Nov. 14, 2013
Royal Caribbean International announced today that a mechanical issue has made it necessary to perform unscheduled repairs to Allure of the Seas. The repairs will take place at Grand Bahama Shipyard, in Freeport, Bahamas, the week of February 24, 2014. As a result, it will be necessary to cancel the February 23, 2014, sailing of Allure of the Seas. Read more...
Coast Guard Searches for Passenger
posted Nov. 14, 2013
HONOLULU — The search is underway for a passenger reported overboard from a cruise ship approximately 750 miles northeast of Hilo. Read more...
Norwegian Getaway Floats Away
posted Nov. 14, 2013
A year after its keel was laid, the Norwegian Getaway floated bow first out of Meyer Werft's building dock. The floating out is an important milestone as the ship, which has been under construction for a year, enters its final phase of construction. Read more