Indonesia Earthquake and Volcano Activity
Things you need to know about cruise ship safety before you leave port
Cruise Ship Natural Hazards
Know before you go!
A natural hazard is a threat of a naturally occurring event that will have a negative effect on people or the environment. Many natural hazards are interrelated, e.g. earthquakes can cause tsunamis.
Tsunami Warning Links
Pacific Tsunami Warning Center West Coast & Alaska Tsunami Warning Center
Caribbean Tsunami Warning Program Puerto Rico Seismic Network
Indonesia Hazards Map
The Indonesian region is one of the most seismically active zones of the earth; at the same time it has a leading position from the point

of view of active and potentially active volcanoes. Indonesia is a huge archipelagic country extending 5,120 kilometers from east to west and 1,760 kilometers from north to south. It encompasses 13,667 islands (some sources say as many as 18,000), only 6,000 of which are inhabited. There are five main islands (Sumatra, Java, Kalimantan, Sulawesi, and Irian Jaya), two major archipelagos (Nusa Tenggara and the Maluku Islands), and sixty smaller archipelagos.
Indonesia Earthquake Density Map

Indonesia is a typical island-arc structure with its characteristic physiographic features, such as a deep oceanic trench, a geanticline belt, a volcanic inner arc and a marginal basin.
Indonesia Seismicity Map

Geographers believe that the island of New Guinea, of which Irian Jaya is a part, may once have been part of the Australian continent. The breakup and tectonic action created both towering, snowcapped mountain peaks lining its central east-west spine and hot, humid alluvial plains along the coast of New Guinea. Irian Jaya's mountains range some 650 kilometers east to west, dividing the province between north and south.
Indonesia Volcanoes Map

Tectonically, this region--especially Java--is highly unstable. The country has numerous mountains and some 400 volcanoes, of which approximately 100 are active. Indonesia has 76 volcanoes that have erupted in historic time - the largest number for any volcanic region. These volcanoes have had at least 1,171 eruptions, placing Indonesia second (after Japan) for the region with the most dated eruptions.
More about earthquakes: USGS
More Maps
USGS Indonesia Tectonic Plates Map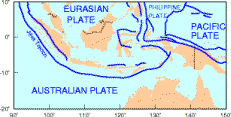 USGS Worldwide Tectonic Plates Map
Earthquake epicenters 1963-1998 Map
An earthquake (also known as a tremor or temblor) is the result of a sudden release of energy in the Earth's crust that creates seismic waves. Earthquakes are recorded with a seismometer, also known as a seismograph. The moment magnitude (or the related and mostly obsolete Richter magnitude) of an earthquake is conventionally reported, with magnitude 3 or lower earthquakes being mostly imperceptible and magnitude 7 causing serious damage over large areas. Ordinarily, subduction earthquakes under magnitude 7.5 on the Richter scale do not cause tsunamis, although some instances of this have been recorded. Most destructive tsunamis are caused by earthquakes of magnitude 7.5 or more.
Anything that rapidly displaces a large volume of water can cause a tsunami. Typically, tsunamis are caused by underwater earthquakes, but landslides, volcanic eruptions, calving icebergs, and (very rarely) meteorite impacts can also generate tsunamis. These types of events can cause large disturbances in the surface of the ocean, and when gravity pulls the water back down, the tsunami is born. The original Japanese term literally translates as "harbor wave."
International Tsunami Information Center (ITIC) - ITIC coordinates the efforts to extend the services of the national tsunami warning system of the United States to the international community in the Pacific basin.
Related Links:
Weather Updates
Travel Warnings
Safety Overview
Cruise Ship Fires
Sunken Passenger Ships
Sudden Lists/Rogue Waves
Unclassified Incidents
Coronavirus
Norovirus
Incidents 2012
Incidents 2013
Incidents 2014
Incidents 2015