Cruise Destination Maps
The Gulf of Alaska is an arm of the Pacific Ocean defined by the curve of the southern coast of Alaska, stretching from the Alaska Peninsula and Kodiak Island in the west to the Alexander Archipelago in the east.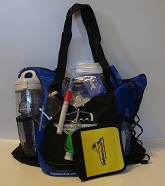 Rather than order the typical gift of a fruit basket or cheese plate, give the cruise gifts they'll use time and time again.
Our Bon Voyage Bag sells for $29.99 plus shipping. Use the PayPal Express button for easy checkout and expedited shipping. Sorry, we do not ship internationally, or to APO addresses or PO Boxes.
Map Sources: USGS and NPS
ports > maps > Canada/Alaska
Check the individual port pages for the best selection of maps and links. All map links open in a new window.
Alaska Map 1
Alaska Map 2
Alaska Peninsula
Alaska Regions
Alaska Boroughs
Anchorage Wetlands
Anchorage
Kodiak
Alexander Archipelago
Glacier Bay Area
Homer
Kenai Map
Alaska Railroad Route
Canada
Vancouver Neighborhoods