Cruise Ship Profiles
Ship specifications, photos, itineraries, accommodations, dining venues, notable rooms, activities, children's areas, deck plan, enhancements, incidents, accidents and more.
Our knowledge base comes from practical experience and hours of research. We monitor hundreds of websites, newspapers, and magazine publications for relevant cruises news passengers really want. We are not travel agents -we only make suggestions and offer our best advice.
Crystal 2013 Theme Cruises
Big Band and Ballroom Dance
Mar 31: East-bound Trans-Atlantic
Dec 9: West-bound Trans-Atlantic
Crystal Society
November 2: Western Mediterranean
Emerging Artists
June 4: Northern Europe/Scandinavia
June 15: Baltic Sea
Esprit du Grand Prix
May 18: Mediterranean
Film & Theater
Nov 2: U.S. East Coast and Caribbean
Gardens and Floral Design
Apr 21: Western Mediterranean
May 6: East-bound Panama Canal
Golf
April 10: Canary Islands/Iberia
Aug 26: British Isles
Sept 16: New England/Canada
Jazz
Apr 29: Pacific Coast
Sept 26: New England/Canada
Mind, Body and Spirit
Jan 4: Caribbean
Jan 5: Southern Australia
Feb 23: Southeast Asia
Ocean Views
Apr 12: Northern Trans-Pacific
Sept 2: West-bound Trans-Atlantic
Ocean Views with Comprehensive Creative Learning Institute
Feb 2: South America
Mar 10: The Amazon/Brazil to Miami
Photography
Oct 23: New England/Canada
President's Cruise
Sept 19: Mediterranean
Wine & Food
Jan 17: Australia/New Zealand
Feb 11: Australia to Bali
May 23: New England/Canada to Reykjavik
July 5: North Cape
Aug 10: Western Mediterranean
Smoking Policy
Smoking is prohibited on verandahs of all staterooms and suites aboard Crystal Symphony and Crystal Serenity.
Non-smoking areas dominate most bars and lounges, although there are some tables that permit smoking.
Cigarette smoking is permitted in private accommodations, although pipe-smoking and cigars are only permitted in the Connoisseur Club and most open decks.
Guests who do not observe the non-smoking policy will first be asked to comply. Failure to do so can result in a guest being asked to leave the ship at his/her own expense.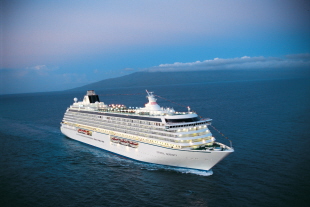 With a winning formula for success, Crystal Cruises consistently ranks among the top luxury properties in the world. The line, in just 18 years, has won an unprecedented number of top awards. Grounded in more than a decade of accolades, Crystal has been voted "World's Best" by the readers of Travel + Leisure and Condé Nast Traveler more than any other cruise line, hotel or resort in history.
Posted May 31, 2012
Voluntourism with Crystal Cruises
The "You Care, We Care" voluntourism program offers new opportunities for guests and crew to give back in Europe. Passengers can spend an average 4-7 hours of their time aiding those less fortunate in the Ukraine, Italy, and Spain. The offerings add to a calendar of European goodwill opportunities already established for Greece, Estonia, Norway, Croatia, Germany, and Ireland in 2012.
New philanthropic offerings include:
Providing assistance to the homeless at a social services center in Odessa.
Aiding the 400 year-old charity brotherhood of Pio Monte della Misericordia, on excursions from Sorrento and Naples.
Maintaining the gardens/greenhouses of Olacau's AIDEM Association, which supports disabled persons by growing medicinal and aromatic plants, as well as providing job training in the gardening field (from Valencia).
Helping to protect endangered marine life at the CRAM Foundation in Barcelona.
Those sailing Europe this summer and fall can also help rescued sea turtles in Athens, hungry families in Tallinn, homeless cats in Bergen, underprivileged youth in Dublin, disabled persons in Livorno, the elderly in Dubrovnik, and troubled children in Navplion. Crystal Cruises has committed to arranging the logistics and offering at least one volunteer excursion free of charge on every Crystal Serenity and Crystal Symphony cruise around the globe.
For more information contact your travel agent, or visit www.crystalcruises.com.
---
Posted January 26, 2012
The Bistro Will Offer Extended Hours
The Bistro, is expanding to evening hours. The complimentary menu will offer "small bites," desserts, and "midnight" snacks, along with premium wines and flavored coffees. The new nightly café debuts in April on Crystal Symphony and June on Crystal Serenity, shortly after the ships go all-inclusive.
---
Posted January 18, 2012
Crystal Cruises now offers faster check-in
Effective today in every Crystal embarkation port, "Crystal Fast-Track Check-In" eliminates 100% of ship check-in procedures in port terminal waiting areas, transitioning guests from dock security to the ships lounges.
By utilizing a new barcode on each guest cruise ticket and a new ticket scanning system, the cruise line is accelerating the check-in required on the first day of sailing.
As is customary, in each embarkation port, porters load guests' luggage onto the ship, and guests observe required local security procedures as they enter port terminals. However, instead of processing documentation in the terminal, guests are whisked through and ushered on board to complete registration and receive their room keys/boarding cards with photo identification.
---
Complimentary Wine & Spirits
Posted Dec, 2011
Effective spring 2012, vacations on Crystal Symphony and Crystal Serenity will include complimentary fine wines and premium spirits throughout the ship, open bar service in all lounges, and pre-paid gratuities for housekeeping, bar and dining staff. The complimentary gratuity amenity also includes Penthouse butler service as well as service in all of Crystal's fine specialty restaurants and sushi bar.
The new benefits begin with each ship's first Trans-Atlantic cruise: Crystal Symphony's "Beyond the Sea" sailing from Miami to Lisbon on March 19, 2012, and Crystal Serenity's "New World to Norway" voyage from New York to London on May 8, 2012.
Children's Programs
Fleetwide Amenities
Effective spring 2012, vacations on the award-winning Crystal Symphony and Crystal Serenity will include complimentary fine wines and premium spirits throughout the ship, open bar service in all lounges, and pre-paid gratuities for housekeeping, bar and dining staff.
The complimentary gratuity amenity also includes Penthouse butler service as well as service in all of Crystal's fine specialty restaurants and sushi bar.
Always included at no additional cost are: all non-alcoholic beverages such as bottled water, specialty coffee drinks, soft drinks and fresh juices; all meals, including dining in specialty restaurants that feature the cuisine of Nobu Matsuhisa and Piero Selvaggio; high tea; ice cream and frozen yogurt bar; gym, steam, saunas and whirlpools; numerous fitness classes such as Spinning and group Pilates Reformer instruction; golf lessons with PGA pros; Walk-on-Water weighted vests and Nordic Pole walking equipment; Yamaha keyboard classes; Berlitz language classes; paddle tennis; dozens of computer/technology classes; art classes; Crystal Visions lecture series, featuring Crystal Visions lecture series featuring distinguished speakers; award-winning entertainment; in-stateroom movie and CD rentals; film screenings in the onboard cinema; dance lessons; dedicated junior cruiser facilities; early embarkation luncheon; welcome champagne; comfortable shuttles to town; pillow menus; self-service laundries; twice-daily housekeeping with nightly turndown service; and 24-hour room service.
History
Crystal Cruises is the recipient of many of the travel industry's highest awards, including "World's Best Large-Ship Cruise Line" (1996-2007, consecutively) and "Best Large-Ship Cruise Line" (1995-2007 consecutively) in Travel and Leisure and Conde Nast Traveler surveys, respectively. Crystal Cruises has also made the Conde Nast Traveler "Gold List" for 11 consecutive years (1997-2008).
When parent company NYK entered the luxury cruise business in 1988, the 'Crystal Difference' was but a distant concept. Today, Crystal Cruises celebrates its 20th anniversary in 2010, the line ranks at the top in the industry. For 15 consecutive years and 17 years, respectively, discriminating readers of such prestigious publications as Travel + Leisure and Condé Nast Traveler have accorded Crystal Cruises the industry's most coveted ranking: World's Best Large-Ship Cruise Line. The company's first ship, Crystal Harmony, entered service in 1990, and in November of 2005 left the fleet to join Crystal Cruises' parent company Japan's NYK's cruise division. Crystal Symphony, Crystal Harmony's sister ship, was launched in 1995. A third ship, Crystal Serenity, was introduced in July 2003.
Los Angeles-based Crystal Cruises is headed by President Gregg Michel, who has been with the line since its inception in 1988 and who was appointed president in July 2001. Senior management has more than 100 years of combined experience in the luxury travel market: Chairman Michio Tamiya; Executive Vice Chairman Nobuyoshi Kuzuya; Senior Vice President, Hotel Operations Thomas Mazloum; and Senior Vice President, Finance Richard Brumbaugh.
Crystal Cruises is owned by Nippon Yusen Kaisha (NYK), one of the largest and most successful shipping companies in the world. Headquartered in Tokyo, the firm operates over 800 ships and has offices around the globe.