Cruise Ship Profiles
Ship specifications, photos, itineraries, accommodations, dining venues, notable rooms, activities, children's areas, deck plan, enhancements, incidents, accidents and more.
Our knowledge base comes from practical experience and hours of research. We monitor hundreds of websites, newspapers, and magazine publications for relevant cruises news passengers really want. We are not travel agents -we only make suggestions and offer our best advice.
Oceania Cruises Introduces New Beverage Packages Beginning 2012 Posted 12/26/2011
Oceania Cruises will introduce two new beverage packages on voyages beginning in 2012. The new wine, beer and spirits beverage packages were designed to enhance the culinary experience for guests while at the same time offering additional convenience and value. All Oceania Cruises guests will continue to enjoy unlimited complimentary soft drinks, bottled water, specialty coffees and teas on every sailing.
Smoking Policy
Designated Smoking Areas are available on Deck 9, the forward starboard corner of the Pool Deck, and Deck 10, in the aft, port corner of Horizons. Smoking is expressly forbidden in all Staterooms and Suites, on verandas, or in any areas of the ship other than officially Guests choosing to disregard this policy will be disembarked at the next port of call and may also be subject to additional fees that will be imposed to cover the costs associated with any damage to and the required cleaning of furnishings, verandas and surrounding deck or accommodation areas. Cigar and Pipe smoking is only permitted on the forward starboard corner of the Pool Deck."
New Ship Builds
S Riviera - 66,000 GRT, 1252 passengers.
Set to launch in April 2012.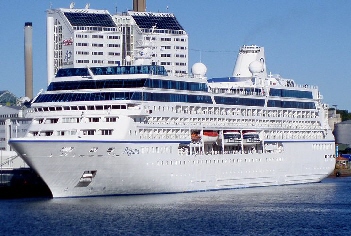 Oceania Cruises' M/S Regatta in Stockholm Frihamnen, in front of the Scandic Hotel Ariadne.
Oceania Cruises® is the world's only upper-premium cruise line and offers a unique combination of the finest cuisine at sea, luxurious accommodations, exceptional personalized service and extraordinary value. As the leader in destination cruising, Oceania Cruises sails to more than 180 ports in Europe, China and the Far East, Australia, New Zealand, South America, Central America and the Caribbean.
Oceania ships boast exquisite appointments and details one would only expect to find in a luxurious, private estate. With up to six open seating, gourmet restaurants to choose from, dining is a central highlight of the Oceania Cruises Experience and guests may dine when, where and with whom they wish. The famed Canyon Ranch SpaClub offers not only spa and fitness, but renowned wellness and lifestyle enrichment and their famed Canyon Ranch cuisine at breakfast, lunch and dinner.
Accommodations are equally alluring and true designer showcases. Featuring rich Wenge walnut paneling, supple designer fabrics and sumptuous residential furnishings; they are a study in comfort and elegance. Marina and Riviera are the only ships at sea to features suites designed and furnished by Ralph Lauren Home and noted interior designer Dakota Jackson.
Oceania History
Formed in 2002 by luxury cruise industry veterans Joe Watters and Frank Del Rio, Oceania Cruises is the world's only upper premium cruise line. Cuisine, Comfort, Service and outstanding value are the pillars that define Oceania Cruises' five-star product and have positioned the line as the cruise company of choice for travelers seeking a truly refined and casually elegant travel experience.
Oceania Cruises sails to more than 330 ports around the globe. Itineraries are unique in that they call on the perfect mix of must-see marquee and boutique, off-the-beaten-path ports. Multiple overnight calls afford an in-depth, enriching destination experience and allow travelers to immerse themselves in the cuisine, culture and history of the ports called on.
In 2011 and 2012, Oceania Cruises will introduce the highly-anticipated Marina and Riviera, the first ship designed specifically for epicureans. They will join their acclaimed, award-winning sister ships Regatta, Insignia and Nautica in offering the finest cuisine at sea, warm and personalized service and a destination experience that is second to none.
Oceania Cruises, with headquarters in Miami, is owned by Prestige Cruise Holdings. Prestige Cruise Holdings was formed in 2007 to manage select assets in Apollo Management's cruise investment portfolio and is the market leader in the Upper Premium and Luxury segments of the cruise industry with nearly 4,000 berths between the Oceania Cruises and Regent Seven Seas Cruises brands, a number the company expects will grow to approximately 6,500 berths by mid-2012.