Cruise Destination Maps
Maps for USA Ports of Call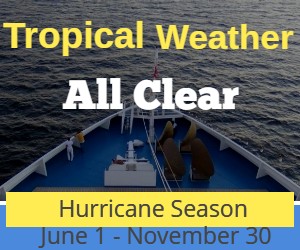 2014 Hurricane Season Summary
Posted December 1, 2014
The National Hurricane Center reports below average activity this season with 8 named storms, of which 6 became hurricanes, and two of those hurricanes were major storms. Strong wind shear, dry descending air throughout the Atlantic and fewer tropical waves coming off the African coast due to a below average monsoon season in Africa can be attributed to a quiet season. The Atlantic hurricane season runs from June 1 - November 30.
We can't say the same for the Eastern Pacific...the 2014 season was extremely active with 20 named storms, of which 14 became hurricanes, and 8 of those reached major hurricane strength. The Eastern Pacific hurricane season runs from May 15 - November 30.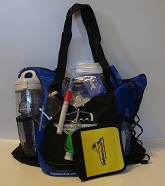 Rather than order the typical gift of a fruit basket or cheese plate, give the cruise gifts they'll use time and time again.
Gift a Bon Voyage Bag to your favorite cruiser, buy now for only $29.99. Use the PayPal Express button for easy checkout and expedited shipping. Sorry, we do not ship internationally, or to APO addresses and PO Boxes.
If you're looking for individual items like our Tervis® Water Bottle, check out our store on EBay
USA Destinations
The Unites States is a federal union of fifty states. The country is situated mostly in central North America, where its forty-eight contiguous states and Washington, D.C., the capital district, lie between the Pacific and Atlantic Oceans, bordered by Canada to the north and Mexico to the south.
The state of Alaska is in the northwest of the continent, with Canada to the east and Russia to the west, across the Bering Strait. The state of Hawaii is an archipelago in the mid-Pacific. The country also possesses several territories in the Pacific and Caribbean.
States with cruise ship ports include:
PDF Maps
Miami
Coconut Grove
Downtown Miami
Miami Beach
South Beach
Miami - Dade Co
South Miami- Dade Co
Charleston SC
Charleston Peninsula Map
Greater Charleston Map
North Charleston Map
Convention Center/Tanger
Check the individual port pages for the best selection of maps and links