Launch your Boat in Venice
Venice is a city in Sarasota County, located on the Southwest Coast of Florida about 70 miles south of Tampa International Airport and 60 miles north of Ft. Myers International Airport.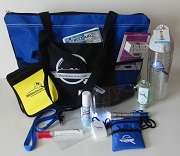 Planning to surprise your family or special someone with a cruise this holiday season? Complete your surprise with our Bon Voyage Cruise Essentials Tote! Our tote is chock full of all the travel necessities to make your cruise smooth sailing. Add your boarding passes to the tote, and voila! A gift they'll truly be excited about. Visit http://store.shipdetective.com to see more.