Japan Earthquake and Volcano Activity
Things you need to know about cruise ship safety before you leave port
Cruise Ship Natural Hazards
Know before you go!
A natural hazard is a threat of a naturally occurring event that will have a negative effect on people or the environment. Many natural hazards are interrelated, e.g. earthquakes can cause tsunamis.
Tsunami Warning Links
Pacific Tsunami Warning Center West Coast & Alaska Tsunami Warning Center
Caribbean Tsunami Warning Program Puerto Rico Seismic Network
Japan Seismic Activity
Earthquakes
Japan is located in Eastern Asia, between the North Pacific Ocean and the Sea of Japan, east of the Korean Peninsula.

Japan Seismicity Map USGS
Minor tremors occur almost daily in one part of the country or another, causing slight shaking of buildings. Major earthquakes occur infrequently; the most famous in the twentieth century was the great Kanto earthquake of 1923, in which 130,000 people died. Undersea earthquakes also expose the Japanese coastline to danger from tsunami, tidal wave.
Destructive earthquakes, often resulting in tsunami, occur several times each century. The 1923 Tokyo earthquake killed over 140,000 people. More recent major quakes are the 1995 Great Hanshin earthquake and the 2011 Tōhoku earthquake, a 9.0-magnitude quake which hit Japan on March 11, 2011, and triggered a large tsunami.
On 10 March 2012, the Japanese National Police Agency confirmed 15,854 deaths 9,677 injured, and 3,155 people missing across eighteen prefectures, as well as 129,107 buildings totally collapsed, with a further 254,139 buildings 'half collapsed', and another 365,750 buildings partially damaged due to the Tōhoku earthquake.
Source: USGS
Volcanoes
Japan Volcanoes Map USGS

The islands of Japan are located in a volcanic zone on the Pacific Ring of Fire. Ten percent of the world's active volcanoes--forty in the early 1990s (another 148 were dormant)--are found in Japan, which lies in a zone of extreme crustal instability. As many as 1,500 earthquakes are recorded yearly, and magnitudes of four to six on the Richter scale are not uncommon.
Japan Earthquake Density Map USGS

Japan has become a world leader in research on causes and prediction of earthquakes. The development of advanced technology has permitted the construction of skyscrapers even in earthquake prone areas. Extensive civil defense efforts focus on training in protection against earthquakes, in particular against accompanying fire, which represents the greatest danger.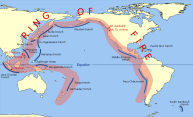 The Pacific Ring of Fire (or just The Ring of Fire) is an area where large numbers of earthquakes and volcanic eruptions occur in the basin of the Pacific Ocean. In a 25,000 mi horseshoe shape, it is associated with a nearly continuous series of oceanic trenches, volcanic arcs, and volcanic belts and/or plate movements. The Ring of Fire has 452 volcanoes and is home to over 75% of the world's active and dormant volcanoes. Japan has 108 active volcanoes.
Sources: USGS - Wikipedia - US Library of Congress
An earthquake (also known as a tremor or temblor) is the result of a sudden release of energy in the Earth's crust that creates seismic waves. Earthquakes are recorded with a seismometer, also known as a seismograph. The moment magnitude (or the related and mostly obsolete Richter magnitude) of an earthquake is conventionally reported, with magnitude 3 or lower earthquakes being mostly imperceptible and magnitude 7 causing serious damage over large areas. Ordinarily, subduction earthquakes under magnitude 7.5 on the Richter scale do not cause tsunamis, although some instances of this have been recorded. Most destructive tsunamis are caused by earthquakes of magnitude 7.5 or more.
Anything that rapidly displaces a large volume of water can cause a tsunami. Typically, tsunamis are caused by underwater earthquakes, but landslides, volcanic eruptions, calving icebergs, and (very rarely) meteorite impacts can also generate tsunamis. These types of events can cause large disturbances in the surface of the ocean, and when gravity pulls the water back down, the tsunami is born. The original Japanese term literally translates as "harbor wave."
International Tsunami Information Center (ITIC) - ITIC coordinates the efforts to extend the services of the national tsunami warning system of the United States to the international community in the Pacific basin.
Maps
USGS Worldwide Tectonic Plates Map
Earthquake epicenters 1963-1998 Map
Sources: USGS - Wikipedia - US Library of Congress
Related Links:
Weather Updates
Travel Warnings
Safety Overview
Cruise Ship Fires
Sunken Passenger Ships
Sudden Lists/Rogue Waves
Unclassified Incidents
Coronavirus
Norovirus
Incidents 2012
Incidents 2013
Incidents 2014
Incidents 2015