Port of Stockholm Information for Cruisers
Terminal location, parking information, transportation options, things to do, weather, special events
Good to know
The largest city in Scandanavia, Stockholm is also one of the most expensive. Look for the Stockholm Card, which provides deals to attractions and on public transport, to help save money.
The Swedish currency is known as a krona. Check www.xe.com for the most accurate conversion rates.
US Residents Only
Getting around Stockholm
By foot
The city is very walkable with major sights in the Gamla Stan area located within several city blocks of each other.
Bus and Train
Stockholm's public transport system covers the entire Stockholm region. Bus tickets can either be bought from the Tourist Informations centers at the quay, or from a ticket machine before boarding. Ticket machines at the ports and at some city locations accept credit cards. A one-hour ticket (one zone) costs SEK 40. The Stockholm card or the SL Tourist Card entitles the holder to unlimited travel on public transport in and around Stockholm.
Area Events
Nobel Prize Festival
World leaders in economics, sciences, and humanities gather on Dec. 10 to be presented to the King and Queen of Sweden.
Stockholm, Sweden
The capital of Sweden is known as a clean, modern city free of pollution caused by heavy industry. Stockholm is comprised of many islands connected by modern and old bridges to the mainland areas. Stockholm contains over 129 art galleries, 96 movie theaters, 70 museums, 66 churches, 57 theaters, two dance theaters, several concert halls, and the Royal Opera and Ballet.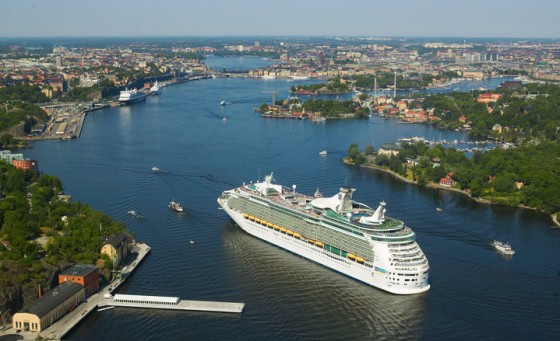 Port Authority
Local Name: Porto di Savona
Authority: Stockholms Hamn AB and the City of Stockholm
Address: Magasin 3, Frihamnen
P.O. Box 27314
Stockholm 102 54
Sweden
Telephone: 46 8 670 2600
Email: info@stoports.com
Website: www.stoports.com
Size: Medium
Coordinates: 59° 20' 6" N,18° 6' 53" E
Terminal Information
There are several cruise piers in use across Stockholm. Check ahead to determine which port your cruise line will use for embarkation.
Frihamnen & Värtahamnen-
Address:
Stockholm Freeport Cruise Terminal
Frihamnen Berth 638
Stockholm, Sweden
Frihamnen is a large terminal but is located far from the city center used for about half of the embarkations from Sweden. Bus 76 or number 1 provides transport to Gamla Stan. There is no parking available at the Frihamnen. While there is a souvenir shop and free Wi-Fi in the cruise ship terminal, there is no Internet cafe nor ATM; however, the ferry terminal, about a five-minute walk from the cruise terminal, does have an ATM machine.
Nynäshamn
The port of Nynäshamn is designed for larger cruise ships. It is located south of Stockholm. Vessels using this port must tender ashore. The train to central Stockholm is approximately 90 minutes.
Stadsgarden
Located right in the heart of the city, ships anchor and tender into the pier. There is a rail link to the mail line for easy transportation.
Kapellskär
This port is the northernmost port in Stockholm. Inside the terminal you will find a restaurant, ATM, and wireless internet.
Parking
How to reach the port of Nynäshamn by car:
Getting to the port of Nynäshamn by car
If you are approaching from Stockholm, take route 73 southbound from Årsta or Gullmarsplan.

If you are approaching from Södertälje, take route 225 and stay on this road until it terminates at the port of Nynäshamn.
At the port of Nyäshamn there is a parking lot for passengers and an additional parking area is in the process of being made available. Parking is pay-and-display and is administered by Europark.
How to reach the port of Kapellskär by car
If you are approaching from Stockholm the distance is approximately 90 km, the majority of which is motorway (E18) of high standard.
If you are approaching from Arlanda, Uppsala or Gävle, take route 77 and then turn onto the E18 at Norrtälje.
If you are approaching from Örebro, Västerås or the Rosersberg logistics centre, take the E18 via Norrortsleden at Häggvik.
The Port of Kapellskär has a large passenger parking lot. Use entrance B for access to the parking lot.

The following parking charges apply:

Free parking for up to one hour (Press the green button to obtain a ticket)
2 hours = SEK 20
3-24 hours = SEK 30
1 day-14 days = SEK 30 SEK per 24 hours.
Things to do in the area
Gamla Stan
The Old City harkens back to 14th century Stockholm, but many buildings are from the 18th and 19th centuries. The King's Castle dominates the area.
Vasa Musuem
This remarkably preserved 17th century royal warship is one of the most popular attractions in Stockholm and all of Sweden. It is the only wooden ship of its kind in the world as it nearly completely preserved.
Royal Palace
The city residence of Swedish royalty, tourists can visit the reception rooms, view the crown jewels, armor and art. The changing of the guard occurs in the courtyard every day at 11:45 a.m.
City Hall
Stockholm City Hall, with its spire featuring the golden Three Crowns, unique art treasures and magnificent banquettes, is one of the most famous silhouettes in the city and a popular tourist attraction.