Cruise News Headlines
Royal Caribbean Cruise Line News
Royal Caribbean Cruise News
Majesty of the Seas will receive upgrades and stay with the fleet
posted July 5, 2015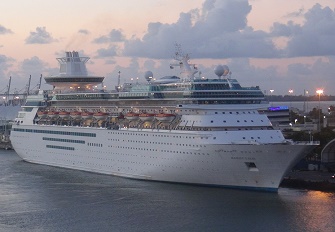 By popular demand, Majesty of the Seas will continue to offer short cruises sailing with Royal Caribbean International.
Royal Caribbean Cruise Line announced today that the ship will homeport in Port Canaveral, along Florida's Space Coast, starting in summer 2016. Before her season in Port Canaveral where she will sail to the Bahamas, Majesty of the Seas will go into drydock for upgrades and receive transformational new onboard amenities.
Voom, the fastest internet at sea, will be available free and unlimited exclusively for guests on Majesty of the Seas to stay connected, brag about their vacation to friends and family, stream their favorite movies and music, and enjoy popular online video gaming.
New features to be introduced on Majesty of the Seas include thrilling waterslides for guests of all ages; family-friendly Jacuzzis; a poolside movie screen; and award-winning entertainment including the Dreamworks Experience featuring activities and entertainment with Shrek, Fiona and other favorite characters from the powerhouse animation studio's popular movies. An enhanced casino will offer gamers a variety of the latest popular slot machines and table games and suite guests will enjoy exclusive amenities and services as part of a newly enhanced suite program. Some of the new delectable culinary options include Izumi Japanese cuisine with fresh and flavorful sushi rolls and sashimi; the Sabor Taqueria featuring a mouthwatering menu of authentic, modern and unexpected Mexican dishes, including hand-made table-side guacamole – all which can be enjoyed alfresco; and the Chef's Table, an exclusive experience hosted by the Executive Chef and Sommelier for an intimate wine pairing dinner.
Royal Caribbean Takes Delivery of Anthem of the Seas
posted April 10, 2015
Royal Caribbean International officially took delivery of its 23rd ship, Anthem of the Seas. Royal Caribbean Cruises Ltd.'s Chairman and CEO Richard D. Fain officially received the new ship from Meyer Werft Yard's Managing Partner Bernard Meyer in a signing ceremony held in Bremerhaven, Germany. Anthem of the Seas is the world's most advanced cruise ship and reflects the best of Royal Caribbean's history of innovating cruise ship design and cruise vacations.
"I am very happy to receive Anthem of the Seas from Meyer Werft Yards," said Richard. "We've always broken the mold with each successive ship we build, and Anthem of the Seas is no different. I would like to thank Bernard and the Meyer Werft team for their ongoing partnership in designing and building awe-inspiring ships with us."
Anthem of the Seas will now sail to Southampton, U.K., where the ship will homeport through October and sail to the Mediterranean and Canary Islands. The ship will be inaugurated in Southampton on April 20, when travel agent Godmother Emma Wilby will christen the ship to impart good luck and divine protection over the ship and all that sail on board, and perform a song to more than 1,300 invited guests. In November, New York Harbor will be Anthem of the Seas' permanent home, where the ship will sail regularly from Cape Liberty Cruise Port on adventures to Bermuda, the Caribbean and Canada and New England.
Guests will enjoy a wide range of Royal Caribbean's unmatched onboard innovations, such as the North Star aerial observatory, a glass capsule that takes guests more than 300 feet above the ocean for incomparable panoramic views, and the RipCord by iFLY skydiving and FlowRider surfing simulators. Guests will be dazzled with the ships' transformative venues, such as the Two70 lounge, a great room by day and an immersive, multimedia entertainment spectacle at night. SeaPlex changes throughout the day to offer bumper cars, disco roller skating, circus school, and basketball and other sports. Guests also will delight at the expansive array of delicious fare in 18 distinctive onboard restaurants and enjoy Royal Caribbean Productions' industry-renowned entertainment in Music Hall, the Royal Theater, and the Royal Esplanade.
Anthem of the Seas spans 16 guest decks; encompasses 167,800 gross registered tons; carries 4,180 guests at double occupancy; and features 2,090 staterooms. For more information, please visit www.RoyalCaribbean.com/AnthemoftheSeas.
RCCL Will Add Dynamic Dining Oasis Class Ships
posted October 2014
Royal Caribbean has recreated the original Oasis-class three-story main dining room into three distinct complimentary venues. Guests will enjoy menus of the new concepts beginning March 14, 2015. Guests sailing Oasis of the Seas prior to March 14, will enjoy the traditional dining room experience in the newly designed spaces. The Allure of the Seas is scheduled for refurbishment in May 2015.
RCCL Plans Oasis IV
posted June 2, 2014
During the keel-laying ceremony for the third Oasis-class ship at STX in St. Nazaire, France, Royal Caribbean announced that a fourth Oasis-class ship is planned. The keel laying, during which a 1,000-ton block was lifted by crane into the building dock, marks the beginning of the physical construction of Oasis III.
New Quantum of the Seas to Home Port in China
posted April 18, 2014
Royal Caribbean International announced Wednesday that its newest ship, Quantum of the Seas, will make its home port in Shanghai (Baoshan), China, bringing the company's most innovative ship to the world's fastest-growing cruise market. The ship will reposition to China in May 2015, following her inaugural winter season sailing out of New York Harbor to the Caribbean. In China, Quantum of the Seas will join Mariner of the Seas and Voyager of the Seas in Asia, increasing the company's capacity in the region by 66 percent.
"Consumers in China have grown to expect the best the world has to offer, and Quantum of the Seas meets that standard like no other ship," said Adam Goldstein, President and COO, Royal Caribbean Cruises Ltd. "We are ready to accelerate the growth of this vital market with a ship that will capture the imagination of travelers looking for a one-of-a-kind vacation experience."
"Every trend we are seeing in China tells us we can achieve real long-term competitive advantage and appealing returns on our investments in this fast-growing market by accelerating our presence there," Goldstein said. "We will have to be nimble, but the ability to move fast is one of our strengths."
Goldstein said the company was able to make the move because its new-ship pipeline will keep the New York region supplied with top-rate ships as well.
"We are very mindful of the importance of New York, which is why we are bringing Liberty of the Seas and then Anthem of the Seas to this market."
Quantum of the Seas will debut in November 2014, and will spend its inaugural season sailing from Cape Liberty in Bayonne, N.J., before repositioning to China in May 2015. Beginning late June 2015, the ship will sail three- to eight-night itineraries year-round from Shanghai to Japan and Korea. Liberty of the Seas will then arrive to Cape Liberty to sail to Bermuda, the Caribbean, and Canada and New England for the 2015 summer and autumn seasons. The Freedom-class ship will be the company's newest and largest ship to offer cruises to Bermuda from the New York-metropolitan area. Finally, Quantum of the Seas' sister ship, Anthem of the Seas, which launches in April 2015, will complete her inaugural Europe season from London (Southampton), U.K., before arriving to Cape Liberty in November 2015 to continue Quantum-class cruising to the Bahamas and Caribbean for the winter 2015-16 season.
"These incredible ships will meet the sophisticated expectations of consumers in Shanghai, New York and London. Our mantra for the new Quantum class of ships is 'this changes everything' – and upping our game in these key markets achieves just that," said Dominic Paul, Vice President, International, Royal Caribbean International. "Our distinctive style of high quality innovative cruises has become known to travelers around the world and we will continue to deploy our most technologically advanced ships where the demand is, with the expectation of winning new converts to cruising."
The groundbreaking Quantum-class ships, Quantum of the Seas and Anthem of the Seas, will debut a new set of first-at-sea onboard experiences, such as Ripcord by iFLY, a heart-pounding skydiving experience; North Star, a thrilling adventure that transports guests more than 300 feet in the air on a breathtaking journey; cutting-edge transformative venues including SeaPlex, the largest indoor sports and entertainment complex at sea with bumper cars, roller skating and more; and the cruise line's largest and most advanced staterooms ever. Guests also will enjoy the new Quantum-class "Dynamic Dining," a completely new culinary experience that offers a landscape of 18 restaurant concepts as vast and varied as dining in the world's most cosmopolitan cities, including specialty restaurants created with partner-chefs Jamie Oliver, Devin Alexander and Michael Schwartz.
The Quantum Class spans 18 decks, encompass 167,800 gross registered tons, carry 4,180 guests at double occupancy and feature 2,090 staterooms. More information on Quantum class is available at http://www.RoyalCaribbean.com/QuantumoftheSeas.
Grandeur of the Seas Reports Back-to-Back Virus Outbreaks
posted April 14, 2014
Two CDC Vessel Sanitation Program workers were collecting samples on board the Grandeur of the Seas after two outbreaks of gastrointestinal distress were reported on back-to-back cruises.
On a cruise departing March 28, 111 passengers and 6 crew reported symptoms consistent with norovirus. The ship increased disinfection procedures and made announcements onboard. Unfortunately during the next sailing from Baltimore, 97 passengers and 8 reported vomiting and diarrhea.
Royal Caribbean reports that the Grandeur of the Seas was thoroughly sanitized ahead of its next sailing. Passengers did have the option to reschedule their sailing.
The Grandeur of the Seas sails seven day itineraries to the Bahamas and Bermuda year-round from Baltimore.
Meow! Oasis of the Seas to Present Cats
posted April 7, 2014
Royal Caribbean International's Oasis of the Seas, the world's largest and most innovative cruise ship will be bringing the Tony Award-winning Broadway production of CATS to the high seas. Based on T.S. Eliot's "Old Possum's Book of Practical Cats," CATS was one of the longest running productions on Broadway and is the winner of numerous awards including seven Tonys, two Oliviers and a Grammy.
The show has been seen in over 20 countries and translated into more than 10 languages. The fully licensed production of CATS will join Oasis of the Seas once it completes its dry-dock in fall 2014.
"We are thrilled to be partnering with the Really Useful Group to bring one of the world's most beloved musicals to Oasis of the Seas," said Lisa Lutoff-Perlo, Executive Vice President, Operations, Royal Caribbean International.
"Adding CATS to our already amazing line up of Broadway musicals such as Hairspray, Chicago: The Musical, Saturday Night Fever and Mamma Mia exemplify our commitment to bringing top quality entertainment to our guests at no extra cost."
Explorer Heading to Southampton
posted March 31, 2014
Royal Caribbean International's Explorer of the Seas will sail its very first Europe season in summer 2015. The cruise line's Adventure of the Seas, which was originally announced to homeport at Southampton, U.K., is being exchanged for Explorer of the Seas, which will take over three- to 16-night, round-trip itineraries from late-April through Sept. 2015. Vacationers can choose among three- and eight-night Northern Europe itineraries, 11- to 16-night Mediterranean itineraries, or 10- to 14-night Madeira, Azores and Canary Islands itineraries. Adventure of the Seas will remain at San Juan, Puerto Rico, to sail seven-night Southern Caribbean cruises throughout the summer season.
Explorer of the Seas will complete an extensive, month-long dry-dock revitalization before starting seasonal service and boast a wide range of new innovative features to offer guests an unforgettable onboard experience. Guests can test their surfing skills on a new FlowRider surf simulator; watch a film come to life in a magical 3-D Movie theatre; and sample cuisine from around the world in a new range of onboard restaurants. There will also be all-new staterooms and luxurious suites, plus new virtual balconies that bring live ocean and destination views into interior staterooms. Additional revitalization details will be unveiled at a later date.
Voyager-class Explorer of the Seas is still among the world's largest and most innovative cruise ships, featuring Royal Caribbean exclusive onboard amenities not yet matched by any other cruise line. The Voyager class of ships was the first to introduce the active cruise vacation and features the cruise line's iconic rock-climbing wall, a real ice-skating rink, a full-size basketball and sports court, and the Royal Promenade, an interior boulevard that runs nearly the length of the ship that is flanked by restaurants, lounges and boutiques and where spectacular parades and evening dance parties are held.
Explorer of the Seas will be joined in the U.K. by the industry's ground-breaking Quantum-class ship Anthem of the Seas at Southampton and Radiance-class Brilliance of the Seas at Harwich, England. Only just revealed last week, the Quantum Class will introduce the new Dynamic Dining experience, offering more choice and flexibility than ever before. With Dynamic Dining, guests are empowered to decide when, where, and with whom to dine – as well as how to dress every evening – among a landscape of 18 restaurants as varied as dining in the world's most cosmopolitan cities.
New "Dynamic Dining" For Royal Caribbean's Quantum-Class Ships
posted March 27, 2014
Royal Caribbean International today revealed its next vision of dining at sea which will debut onboard the much anticipated Quantum-class ships. "Dynamic Dining" is a completely new culinary experience that gives guests on Quantum of the Seas and Anthem of the Seas a landscape of 18 restaurant concepts as vast and varied as dining in the world's most cosmopolitan cities. With a new take on the main dining room, guests can choose from five complimentary, full service restaurants, offering more choice and flexibility than ever before. Guests will also be in full control of their own epicurean journey via a smart, new reservations system that empowers them to decide when, where, with whom to dine, and how to dress each evening.
"Royal Caribbean has long offered flexible dining options, but Dynamic Dining provides a whole new level of flexibility, variety and quality. We believe our guests will especially appreciate the array of experiences, the selections of foods and extent of choices in our complimentary, full service restaurants. Our specialty dining options are a WOW, now with Dynamic Dining, we are raising the bar by also offering more choices of high quality, distinctive, complimentary restaurants than ever before – this truly changes everything for us," said Lisa Lutoff-Perlo, Executive Vice President, Operations, Royal Caribbean International. "On the Quantum-class ships, guests will have the opportunity to set out on a spectacular culinary journey – with each night strikingly different from the last. This quantum leap builds upon our existing tradition of culinary excellence."
A New Main Event Each Night
Dynamic Dining reinvents the traditional, common main dining room as five complimentary, full- service restaurants, each with its own distinctive cuisine and immersive ambience that will give guests a more intimate and varied dining experience every night of their cruise. New restaurants exclusive to Royal Caribbean, each helmed by its own Chef de Cuisine, include:
American Icon Grill, a take on the classic American road trip, pulling together best-loved regional favorites into one comfort-style menu
Chic, where the height of contemporary cuisine is realized and the freshest ingredients, such as proteins that pack a punch and sauces made from scratch, are evolved for a modern palate
Silk, a vibrant and exotic destination where the spices of the Far East bring new flavor to adventurous palates through a Pan-Asian menu
The Grande, a luxuriant nod to a bygone era of classic European ocean liners when dining was a time honored ritual, featuring timeless dishes, and where every night is formal night.
Coastal Kitchen, a concept created exclusively for suite guests, fusing Mediterranean influences with the unmatched riches of California's bountiful farmlands.
Next-Level Specialty Dining
Royal Caribbean's specialty restaurants have always been known for their quality, presentation and service. Now, the Quantum-class ships will surprise savvy foodists with a new, multi-sensory venue, as well as concepts from award-winning chefs, including the first-at-sea outposts of Jamie's Italian, the hugely popular restaurant from Britain's most famous chef and campaigner, Jamie Oliver.
"I'm thrilled to partner with Royal Caribbean, a brand that continually pushes the limits of what's possible, to debut my very first restaurants at sea onboard the new Quantum-class ships," said Oliver. "Royal Caribbean shares my approach to food and dining, which is to serve simple, fresh ingredients in a warm, inviting ambience. I couldn't be more excited to bring my love of Italian cooking to their guests with Jamie's Italian. It's going to be brilliant!"
Next-level signature dining options on Quantum of the Seas and Anthem of the Seas include:
Wonderland, an elaborate feast for the senses in a setting where Royal Caribbean chefs twist their culinary kaleidoscopes to invent a dreamscape of never-before-seen fare
Jamie's Italian, featuring rustic Italian favorites, handmade - using seasonal ingredients and Jamie's tried-and-tested crowd pleasers
Michael's Genuine Pub, the first American gastropub at sea and the next evolution of Royal Caribbean's relationship with James Beard Award-winning chef Michael Schwartz, offering simply-prepared food and drinks made with quality ingredients from the best artisanal producers
Devinly Decadence at Solarium Bistro, Royal Caribbean's fittest dining destination, serving the foods you love all under five-hundred calories, designed by Devin Alexander, media personality, New York Times bestselling author and chef of highly-rated television show, "The Biggest Loser"
Additionally, versions of Royal Caribbean favorites, such as Chops Grille steakhouse, Izumi Japanese Cuisine and Chef's Table, will all return on the Quantum class with a revamped look and even more WOWs than before.
Laid Back Options Round the Clock
As a testament to Royal Caribbean's commitment to both quality and value, Quantum class promises an even broader choice of complimentary, come-as-you-are eateries, which include:
Windjammer Marketplace, a Royal Caribbean dining mainstay gets a new twist on Quantum class as a global culinary pavilion that invites guests to explore the world, dish by dish through enticing food islands, interactive stations, made-to-order specialties, an on-site bakery and a 24-hour station called The Grill
The Café @ Two70 ̊, a new gourmet marketplace serving savory hot-pressed sandwiches, salads made to order, handmade soups and more

SeaPlex Dog House, the first food truck at sea offering gourmet hot dogs for all to enjoy in SeaPlex, the largest indoor active space at sea
These venues join returning casual-feel favorites including Sorrento's, Café Promenade and Johnny Rockets (cover charge applies).
Smart Reservation System
Building on a legacy of more than 40 years of innovation and creative design, Royal Caribbean has implemented a number of cutting-edge technological advancements to complement this quantum leap in its culinary offerings. This includes a new reservation system that makes it even easier for guests to make their own choices on when and where they wish to dine. Recognizing guests' desire to have everything at their fingertips, Royal Caribbean has also developed an all-new planning tool that provides guests full control and flexibility to shape their entire culinary journey prior to departure. The new planning and reservations tool will be available beginning May 15, 2014. For a complete guide to the culinary offerings, visit RoyalCaribbean.com/DynamicDining.

Expanded Bandwidth for Allure and Oasis of the Seas
posted March 25, 2014
Get ready for high speed on the high seas. A major technology investment by Royal Caribbean International gives guests aboard Oasis of the Seas and Allure of the Seas more wireless capacity than every other cruise ship in the world combined. And the Wi-Fi will blaze at speeds that match or exceed what guests can achieve on land.
By pairing a new generation of medium-Earth-orbit satellites (originally designed to bring the Internet to emerging markets like sub Saharan Africa) with sophisticated antenna arrays aboard its newest ships, the popular ships are vaulting competitors and delivering guests the kind of technology they expect in a connected world.
"Vacations aren't just about getting away from it all for modern families anymore," said Adam Goldstein, President & CEO, Royal Caribbean International. "A great vacation today also means keeping friends updated over social media, and enjoying downtime with streaming content played on tablets and phones, not just movies on TV in your stateroom.
"But matching or exceeding the best on-land service was a tough challenge when the nearest cell tower or cable hook-up was 1,000 miles away. That meant we needed some real breakthroughs, not just incremental increases," Goldstein said. "But real breakthroughs are what we do. And once we cracked the download code, we also got to dream up some pretty interesting new uses for all that connectivity. Our ships go to incredible places – and this makes getting there even more incredible."
A set of new, custom-built antennae were shipped from Israel to Florida last month, and installed on Oasis of the Seas. Testing confirmed the ships' ability to match the fastest broadband connections on shore. "O3b, our satellite communications partner, calls it 'fiber speed with satellite reach,' and this is exactly the result we are seeing in our tests," said Bill Martin, Chief Information Officer, Royal Caribbean Cruises Ltd.
According to Martin, the key to unlocking a land-like experience was reducing satellite latency – the time it takes for something to happen after you hit 'enter.' This breakthrough technology solves that problem, reducing latency from 750 milliseconds to approximately 140 milliseconds. And with each ship's overall capacity exceeding 500mbps during system tests, there will be more than enough bandwidth to go around.
Said Goldstein, "If you're a first-time guest on one of these ships, you won't realize how much work it took to make the wireless so pervasive – or that your cell 'tower' is 4,900 miles over your head. If you are a return guest, you'll be blown away by the improvement. It's that dramatic."
For the first time, he said, it will be feasible for a guest to download streaming video or post video clips to Facebook. The company is developing new pricing plans for added service.
And by the time the new system becomes available on Royal Caribbean's newest ship, the upcoming Quantum of the Seas, Goldstein said guests can anticipate several new, show-stopper uses of the bandwidth.
What surprises? That information, he said, is not yet available for download.
Adventure of the Seas Experiences Trouble Ahead of Dry dock
posted March 23, 2014
The Adventure of the Seas experienced propulsion problems over the weekend causing a cancelled port of call. The issues are occurring ahead of its scheduled dry dock at the end of the current month.
Engineers discovered leaking oil from the ship's fixipod system on its way into St. Kitts. The Adventure extended its stay in port for repairs and sailed at reduced speed since the fixipod cannot be repaired until dry dock. As a result, two ports of call were missed during that sailing.
The Adventure was delayed in embarking for its final cruise before dry dock, resulting in a port of call in Barbados being cancelled.
Allure of the Seas in Bahamas for Propulsion Motor Fix
posted March 5, 2014
The world's largest cruise ship the Allure of the Seas' has docked at the Grand Bahamas Shipyard for repair work on propulsion motors. The ship has been traveling at reduced speed to reduce bearing wear until it could arrive in the Bahamas for repair.
The work will continue on a twenty-four/seven basis for the seven day stay at the yard.
"To perform this technically challenging work in such a time frame involves detailed planning and teamwork from the owners, the propulsion motor manufacturers and the yard," stated Carl-Gustaf Rotkirch, Chairman and CEO at the yard.
He continued: "The facilities and skills we have readily available here in Freeport, continually rise to the challenges posed by our customers, this type of docking has never been performed at any shipyard in the world; by successfully undertaking this project, and we have once again proved we are a world leader.
"RCCL is a valued and repeat customer, with whom we have a very special bond, their confidence that the yard can deliver such projects will resonate around the shipping industry."
Mamma Mia! Joins Broadway Line-up on Quantum of the Seas
posted February 25, 2014
Royal Caribbean's Quantum of the Seas, launching in November of this year, will bring Dancing Queens onboard when it debuts Mamma Mia, the line's fourth fully-licensed Broadway production onboard its fleet. Get a sneak peak here.
RCCL Anthem of Seas earns Autism-Friendly Certification
posted February 20, 2014
Autism on the Seas™ (AotS), the leading travel organization catering to vacationers with autism and other developmental disabilities, today announced the introduction of the travel industry's first "Autism Friendly" Certification Standard & Training Program for cruise lines.
Royal Caribbean International is the first cruise line to receive certification from Autism on the Seas, thereby assisting with reasonable accommodations for inclusion and participation by guests with autism and developmental disabilities. Effective immediately, Royal Caribbean's entire fleet is comprised of Bronze Level certified "Autism Friendly" ships. The fleet is expected to achieve Silver Level certification by the end of 2014.
"Offering cruise lines a Standard that includes training for their staff to effectively accommodate the needs of the growing and underserved autism community marks a turning point in the travel and cruise industry," said Mike Sobbell, founder and president of Autism on the Seas. "We are very proud to bring Royal Caribbean on as our first "Autism Friendly" Cruise Line Certified partner. Royal Caribbean's involvement and initiative to accommodate this community is to be commended, and will open the door towards filling the gap for special needs families seeking a vacation designed for their wide range of unique requirements."
"We are honored to be the first cruise line to achieve Autism Friendly certification," added Lisa Lutoff-Perlo, executive vice president of Operations for Royal Caribbean International. "Royal Caribbean is a global leader in taking guests to unforgettable destinations and is committed to catering to vacationers of all abilities. We have worked with Autism on the Seas for more than seven years to better provide accessible cruise vacation options for families with autism."
About Autism on the Seas Cruise Line "Autism Friendly" Certification Standard & Training
Autism on the Seas Cruise Line Autism Friendly Certification Standard is designed as a guideline for cruise lines to ensure their pre-cruise and onboard services, venues and amenities are accessible for inclusion and participation by the autism and developmental disability community. The reasonable accommodations to comply with this Standard are, and can be, customized to each cruise line's policies, procedures and ships, to ensure sustainability and effectiveness in retaining the scope and intent of the certification. Certifications are awarded by individual ship. Depending on the certification level, ships may be required to conform to seven categories, including:
1.Cruise Staff Training
2.Youth Program
3.Pre-Vacation Planning & Services
4.Dining/Dietary
5.Disability Accommodations
6.Guest Satisfaction & Feedback
7.Support for "Cruises with Autism on the Seas Staff"

Four Autism Friendly Certification Levels
There are four levels of certification, each progressing with increased levels of staff training.
•Bronze Certification: Confirms the ship's readiness to accommodate guests with autism and other developmental disabilities to provide equal access onboard services and amenities. Some of the reasonable accommodations include providing sensory related toys and cruise social story, autism friendly modification to youth activities (where appropriate), autism friendly movies, priority boarding, dietary offerings (including gluten free and dairy free), and several modifications to services for groups of guests with disabilities. See AutismontheSeas.com for a full list.
•Silver, Gold and Diamond Level: Focuses on increased staff training. Silver Level ensures that all Youth Staff have received basic awareness training in autism and other developmental disabilities. Gold Level ensures that all Youth Staff have received advanced training, and we provide other shipboard staff with basic awareness training. Diamond Level ensures that we provide "hands-on" training for our Youth Staff.
Visit AutismOnTheSeas.com for a list of Certified Ships, details on the Certification Standard Criteria, and information on the first Autism on the Seas "Cruise with Staff" aboard Royal Caribbean's Bronze Certified "Serenade of the Seas" – departing New Orleans on March 8th to Key West and the Bahamas (and other cruises).
Quantum of the Seas Video: Testing Bumper Cars
posted February 11, 2014
The CEOs and other designer supervisors test the bumper cars for the upcoming Quantum of the Seas.
Explorer Outbreak Caused by New Norovirus Strain
posted February 7, 2014
A gastrointestinal outbreak that caused the Explorer of Seas to return to port early after over 650 people fell ill has been confirmed as a strain of norovirus first identified in 2012.
The GII.4 Sydney strain was first detected in Australia and spread quickly around the world. Because it is a new strain, even individuals who have contracted a norovirus before are susceptible to the virus.
The CDC reports that the Sydney strain is the leading cause of all norovirus cases in the U.S., not just on cruise ships. Norovirus can spread quickly in close quarters as it spread through the air and live on surfaces for days.
The Navigator of the Seas Gets Texas-sized Makeover
posted February 5, 2014
Royal Caribbean International's Navigator of the Seas will resume year-round service from Galveston, Texas on February 5, 2014, after completing a month-long dry dock revitalization. Part of an extensive fleet wide program to enhance every Royal Caribbean' ship, Navigator of the Seas will WOW the Lone Star State with the area's most innovative and contemporary Caribbean cruise vacation by introducing new and significantly enhanced dining options; debut a new FlowRider surf simulator; and offer a glimpse ahead toward the cruise line's highly anticipated Quantum of the Seas.
Most anticipated of all the ship's additions is the new FlowRider surf simulator, the center of the action atop the Sports Deck (deck 13), as well as the debut of Royal Caribbean's first Virtual Balconies in 81 interior staterooms displaying expansive, real-time views of the ocean and destinations. Virtual Balconies were first announced for Quantum of the Seas, which debuts October 2014, and vacationers can be among the first to experience the innovation on Navigator of the Seas – even before the Quantum class is launched. Vacationers also can choose new Panoramic Ocean View staterooms, featuring floor-to-ceiling glass walls providing guests breathtaking, unobstructed views all the time.
Navigator of the Seas' guests also can look forward to an expanded lineup of eight dining options, led by the debut of an all-new modern Mexican specialty restaurant Sabor, featuring a mouthwatering menu of authentic, modern and unexpected Mexican dishes, such as Oaxacan Ceviche of Red Snapper, Spicy Chicken Flautas, or Chicken and Roasted Corn Empanada, topped with Green mole and spicy peanut sauce – to name a few. Sabor diners also can delight in customized guacamole and salsas, made tableside right in front of their eyes, as well as an assortment of tacos, quesadillas and burritos, all made with the freshest ingredients. Sabor has a service charge of $25 per guest.
Guests can complement their experience with a curated menu of tequilas, mezcal, and Mexican beers, as well as delicious sangrias and tableside-mixed margaritas, for an additional charge. Sabor's tequila flights also offer guests a chance to sample a trio of Plata, Reposado and Anejo tequila, or savor the nuances among three Reposado tequilas.
Furthermore, Navigator of the Seas' guests will be the first to enjoy the fully revamped and elevated Chops Grille: The New American Steakhouse, which marries contemporary flair to traditional steakhouse offerings. The first among Royal Caribbean's fleet to offer the new menu, Chops Grille on Navigator of the Seas will feature brand new selections, such as the Veal Chop Parmesan, slow broiled with caramelized shallots and topped with parmesan herb butter, a Slow-braised Short Rib of Beef with Bordelaise sauce, and a Dry-aged Steak Burger served on a brioche bun and topped with melted gruyere and pancetta. Guests also can still enjoy Chops Grille classic cuts, such as the 8 Oz. Filet Mignon, served with Béarnaise butter, and a 10 Oz. Grilled Sirloin Steak, as well as a range of new and delicious signature appetizers, soups, salads, and sides – such as new, decadent Truffled French Fries and Gruyere Cheese Tater Tots – that will complete the experience in the cruise line's hallmark specialty restaurant. Chops Grille steakhouse has a service charge of $35 per guest.
Chops Grille also features two new premium selections of the finest quality cuts of beef in the world, a 16 Oz. dry-aged NY Strip Steak and a 20 Oz. dry-aged Porterhouse Steak (an additional $18 and $19 respectively), each USDA prime beef, dry-aged for four weeks to achieve the pinnacle of flavor, tenderness and aroma. This dry-aged process can only be found at select steakhouses around the world, and now, in a cruise industry first, is offered aboard Royal Caribbean International's Chops Grille.
Navigator of the Seas' guests also can choose exciting sushi and Asian fusion dishes in the ship's new Izumi Japanese Cuisine (a la carte menu), and delicious classic Italian favorites in Giovanni's Table Italian trattoria ($15 for lunch and $20 for dinner per guest). Rounding out Navigator of the Seas' culinary experiences is the grand, three-story main dining room, newly renamed Sapphire, the casual-dining Windjammer Café, and complimentary room service from 5 – 12 a.m. Navigator of the Seas' specialty restaurants are available for advance online reservations for booked guests at RoyalCaribbean.com.
Guests also will enjoy some of the more popular concepts that were introduced aboard Royal Caribbean's ground-breaking Oasis-class ships, such as new digital signage, bow-to-stern Wi-Fi service, new flat-panel televisions in every stateroom, an oversized LCD movie screen overlooking the main pool, a new Diamond Lounge for Crown & Anchor Society loyalty member guests, and the Royal Babies and Tots Nursery for the youngest guests ages six to 36 months. Additionally, the ship's Champagne Bar has been re-conceptualized into Royal Caribbean's signature, retro-chic R Bar.
Navigator of the Seas will sail seven-night Western Caribbean itineraries every Sunday from Galveston, visiting exciting warm-weather getaways in the Caribbean, including; Cozumel, Mexico; Roatan, Honduras; Belize City, Belize; Falmouth, Jamaica; and George Town, Grand Cayman.
Royal Caribbean International is an award-winning global cruise brand with a 40-year legacy of innovation and introducing industry "firsts" never before seen at sea. The cruise line features an expansive and unmatched array of features and amenities only found on Royal Caribbean including, jaw-dropping, Broadway-style entertainment and industry-acclaimed programming that appeals to families and adventurous vacationers alike.
Explorer Due Back Wednesday
posted January 28, 2014
The Explorer of the Seas will arrive in Cape Liberty Wednesday, cutting short its 10-day Caribbean cruise after over 600 guests and crew experienced systems similar to a norovirus outbreak.
The latest CDC report states 622 passengers and 50 crew members reported gastrointestinal distress.
All guests onboard will receive a 50% refund of their cruise fare and 50% future cruise credit. Guests who were confined to their room due to the illness while receive one future cruise day credit for each day of confinement. Royal Caribbean will also reimburse airline change fees and accommodations as a result of changing travel plans.
The crew currently onboard are taking measures to sanitize the ship's surfaces to prevent transmission of the virus. The Explorer will undergo thorough sanitization when she arrives in Cape Liberty.
Cruise Returns Early After 600 Fall Ill
posted January 27, 2014
The Explorer of the Seas will return to its homeport in Cape Liberty, New Jersey two days earlier than anticipated after a gastrointestinal virus sickened nearly 600 passengers and crew. The cruise ship was on a 10 day U.S. Virgin Islands cruise when news broke over the weekend that 300 passengers had reported symptoms similar to a norovirus. That number has since increased to 564 passengers and 47 crew, prompting the vessel to return for thorough sanitizing.
"New reports of illness have decreased day-over-day, and many guests are again up and about," Royal Caribbean said in a written statement. "Nevertheless, the disruptions caused by the early wave of illness means that we were unable to deliver the vacation our guests were expecting."
The cause of the illness was not immediately clear. Norovirus can be transmitted through contaminated food or water, or by touching a contaminated surface.
Royal Caribbean cancelled a port of call in Haiti and directed the ship to San Juan, Puerto Rico, where CDC officers boarded to investigate possible causes and oversee the ship's sanitization measures. The ship will be sanitized again when it reaches port in New Jersey.
While the culprit has not been confirmed, symptoms are consistent with that of a norovirus. The outbreak reports passengers experiencing vomiting, diarrhea, and high fever.
Majesty of Seas Experiences Norovirus Outbreak
posted January 20, 2014
Several dozen passengers onboard the Majesty of the Seas experienced a stomach illness while on a four-night Caribbean cruise out of Miami.
Sixty-six cruise passengers and two crew reported experiencing symptoms.
The crew conducted extensive cleaning and sanitizing before the next sailing. Passengers were alerted by letter during boarding; any passengers uncomfortable boarding were able to reschedule.
A norovirus is a highly contagious illness that can be passed through food or water or contaminated surfaces.
Quantum of the Seas Design Video 3 Released
posted January 15, 2014
The latest construction video follows Genevieve Gordon on tour of lofts and Suites in progress. She is guided into the massive shipyard to see the loft block and to a 3-D simulator that allows the interior designers to see how the space will look when completed.
Video Showcases the Interior Design Process for the Quantum of the Seas
posted January 8, 2014
Royal Caribbean has released a video about the mock-up designs for the Quantum of the Seas, due later this year. By creating mock-ups and reviewing them in detail, Royal Caribbean can see and feel the designs and materials first hand before they are installed onboard. The process helps ensure a seamless guest experience and a more efficient, cost effective building process.
See the video here.
Canadian Man Reported Missing from Independence of the Seas
posted January 02, 2014
A wife reported her husband missing from the Independence of the Seas on New Year's Day. The incident is the second report in five days of a passenger being lost overboard in the Caribbean.
The 65-year-old Canadian was last seen by his wife when the couple headed to bed at 1 a.m. When she awoke at 6 a.m., he was not present. She made the report as the vessel prepared to dock at George Town Harbor. Cayman Island authorities searched the vessel and reviewed tapes. The man is believed to have fallen overboard around dawn 21 km northwest of Grand Cayman.
The family was on a six-day Caribbean cruise from Ft. Lauderdale. The vessel was approaching the Cayman Islands as part of its port of call schedule. Other stops include Jamaica and Haiti.
Coast Guards Assists with Search for Adventure of the Seas Passenger
posted December 29, 2013
Coast Guard rescue crews continue searching Sunday for a man who jumped overboard into Mona Passage waters from the Royal Caribbean International cruise ship Adventure of the Seas Saturday night, during the cruise ship's transit to Puerto Rico.
Missing is Tien Phuoc Nguyen a 26-year-old man and Canadian citizen, who reportedly was on a cruise with his family when he was last seen by other cruise ship passengers jumping overboard at approximately 8:46 p.m. Saturday. The Adventure of the Seas reportedly was transiting 15 nautical miles east of Mona Island, Puerto Rico when the man jumped overboard.
Coast Guard Watchstanders in Sector San Juan received notification of the incident from the Adventure of the Seas at approximately 9 p.m. Saturday. A Coast Guard Air Station Borinquen MH-65 Dolphin helicopter was launched and the Coast Guard Cutter Cushing was diverted to search for the missing passenger.
The Federal Bureau of Investigations is investigating the circumstances which may have led to the man jumping overboard.
Coast Guard assets involved in the search are:
MH-65 Dolphin helicopters from Air Station Borinquen in Aguadilla, Puerto Rico.
The Coast Guard Cutter Cushing, a 110-foot patrol boat home ported in San Juan, Puerto Rico.
Source: Press Release
RCCL Recovers Body of Overboard Passenger
posted Dec. 22, 2013
A passenger fell overboard from the Rhapsody of the Seas and was recovered deceased, according to the Sydney Morning Herald in Australia.
The ship was on a nine-day cruise when 300 miles east of Brisbane a passenger reported a man going overboard. The vessel immediately turned around, deployed marker smoke and life rings, and alerted local authorities.
Search and Rescue Aircraft helped to locate the passenger, who was found deceased at that time.
Royal Caribbean's care team was providing support to the passenger's family and travelling companions.
Quantum of the Seas to Feature MAMMA MIA!
posted Dec. 12, 2013
Royal Caribbean International announced that guests onboard Quantum of the Seas will enjoy MAMMA MIA! – the smash hit musical based on the songs of Swedish pop sensation ABBA – when she sails from the New York area in November 2014. The first details of the new ship's entertainment offerings were revealed to viewers who tuned in to watch the cruise line's float, "A World at Sea," set sail down the streets of Manhattan as part of the 87th Annual Macy's Thanksgiving Day Parade.
"The debut of Mamma Mia! onboard Quantum of the Seas continues to raise the bar of what we offer our guests onboard our latest groundbreaking ship," said Lisa Lutoff-Perlo, Executive Vice President, Operations, Royal Caribbean International. "Since introducing Hairspray onboard Oasis of the Seas in 2009, our Tony award-winning musical productions have been incredibly well-received by guests, and we are proud to expand our Broadway at sea offerings with our fourth licensed main-stage production – more than any other cruise line."
More than 54 million people around the world have fallen in love with the characters, the story and the music that make MAMMA MIA! the ultimate feel-good show. The sunny, funny tale unfolds on a Greek Island paradise where on the eve of her wedding, a daughter's quest to discover the identity of her father brings three men from her mother's past back to the island they last visited 20 years ago. ABBA's greatest hits – including "Dancing Queen," "The Winner Takes It All," "Money, Money, Money" and "Take a Chance on Me" – propel this enchanting tale of love, laughter and friendship.
As the only cruise line to offer Tony Award-winning Broadway musicals at sea, Royal Caribbean guests can enjoy the 60's-inspired bebop of Hairspray on Oasis of the Seas, the jazz-infused score of Chicago: The Musical on Allure of the Seas, the toe-tapping disco beats of Saturday Night Fever on Liberty of the Seas and now, the storytelling magic of ABBA's timeless songs in MAMMA MIA! on the new Quantum of the Seas.

Source: Press Release

Anthem of Seas Home Port Announced
posted November 21, 2013
The second ship in the new Quantum class of ships from Royal Caribbean International will become the most technologically advanced cruise ship ever to be based in Europe when it is launched in spring 2015. Anthem of the Seas will call Southampton, UK, home in April 2015 and offer cruises to the Mediterranean before being based in Fort Lauderdale, Fla., for the winter months.
Royal Caribbean International is continuing its tradition of stimulating and growing the cruise industry with new ship investments. The first home port for the 4,108-guest double occupancy Anthem of the Seas – currently being built at the Meyer Werft shipyard in Papenburg, Germany – was unveiled at an exclusive event for media and special guests at the iconic Heron Tower in London, UK, today.
"Our business has a long history with the port of Southampton, and over the last ten years we have annually increased the number of cruise opportunities from the port," said Adam Goldstein, president and CEO, Royal Caribbean International. "We are now eyeing more growth with the introduction of Anthem of the Seas to the UK market in spring 2015. Our commitment to providing unrivalled holiday experiences onboard the world's most advanced and activity-packed ships is unwavering."
Source: RCCL Press Release
Royal Caribbean Celebrates Anthem of Seas Keel-Laying Ceremony
posted November 19, 2013
Royal Caribbean's newest ship, the Anthem of the Seas, received its first block as the keel was lowered into place.
The keel-laying signifies the beginning of the ship's physical construction. During the ceremony, a 620-ton block measuring 59 feet by 121 feet (18 x 23 meters) was lifted into the building dock with an 800-ton crane.
The groundbreaking Quantum-class ships will debut new unprecedented features, such as RipCord by iFLY, the first skydiving experience at sea; the North Star, an engineering marvel that transports guests more than 300 feet above the ocean; transformative venues, such as The SeaPlex, the largest indoor sports and entertainment complex at sea with bumper cars, roller skating and more; and the cruise line's largest and most advanced staterooms ever, including the industry's first-ever Virtual Balcony staterooms, which offers expansive, real-time views of the ocean and exciting destinations for interior staterooms.
Anthem of the Seas will debut in spring 2015 following the launch of her sister-ship Quantum of the Seas in autumn 2014. Each ship spans 16 decks, encompasses 167,800 gross registered tons, carries 4,180 guests at double occupancy and features 2,090 staterooms.
Source: Press Release
Allure of Seas to Undergo Early Repairs
posted Nov. 14, 2013
Royal Caribbean International announced today that a mechanical issue has made it necessary to perform unscheduled repairs to Allure of the Seas. The repairs will take place at Grand Bahamas Shipyard, in Freeport, Bahamas, the week of February 24, 2014. As a result, it will be necessary to cancel the February 23, 2014, sailing of Allure of the Seas.

"We sincerely regret that we will be unable to deliver the Royal Caribbean cruise vacation that our guests were looking forward to," said Adam Goldstein, president and chief executive officer, Royal Caribbean International. "We understand that our guests' vacation time is very precious and can assure you that we did not take this decision lightly. But it was very important to us that we bring Allure back up to speed so that she could continue to deliver the amazing cruise vacations our guests expect."

Allure of the Seas has been experiencing unanticipated bearing wear in one of its three propulsion motors. All three motors are fully operational, and there is no impact on the maneuverability of the ship or on the safety of guests and crew. However, since the rate of bearing wear is directly related to ship speed, the ship's top speed has been limited. This has reduced the rate of bearing wear, and will ensure that all three propulsion motors are fully available for maneuvering and emergencies until repairs can be completed.

"While Allure could have continued to sail at a reduced rate of speed, we felt it was important to fix the problem as soon as possible," said William D. Baumgartner, senior vice president of Marine Operations, Royal Caribbean Cruises Ltd. "We explored numerous repair options. Unfortunately, there was no satisfactory solution that did not involve taking the ship temporarily out of service."

The company said guests currently booked on the February 23, 2014, sailing of Allure of the Seas will receive a full, 100 percent refund, or the option to sail on select itineraries at the same rate.

Additionally, until the repairs can be made, it will be necessary to make minor adjustments to Allure of the Seas' eastern Caribbean itineraries. Allure of the Seas will now call on Nassau, Bahamas, from 7:00 a.m. to 1:00 p.m. and on Charlotte Amalie, St. Thomas, from 11:00 a.m. to 5:00 p.m. There is no need to modify Allure of the Seas' western Caribbean itineraries.
Source: Press Release