Cruise News Headlines
Index of cruise news posted in 2012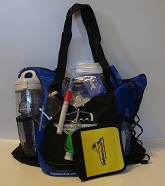 Rather than order the typical gift of a fruit basket or cheese plate, give the cruise gifts they'll use time and time again.
Gift a Bon Voyage Bag to your favorite cruiser, buy now for only $29.99. Use the PayPal Express button for easy checkout and expedited shipping. Sorry, we do not ship internationally, or to APO addresses and PO Boxes.
Please note: We're cruising from November 15 - 23, 2014. Any purchases made after November 14, 2014 will be shipped on November 24, 2014. We apologize for the delay.
If you're looking for individual items like our Tervis® Water Bottle, check out our store on EBay
news > 2013 Archive
Cruise News Headlines
2014
2013
Cruise Industry adopts more safety measures
Posted 11/15
Bahamas sanctions shipboard weddings on RCI ships Posted 11/5
HMS Bounty Sinks 10/29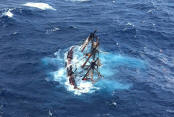 Riviera Delivered - 4/27
Celebrity Millennium in Drydock for Refurbishments - 4/21
Carnival Spirit Passenger Rescued After Jumping Overboard - 4/17
Bahamas General Election Date Set - 4/11
Key West Conch Republic Celebration - 4/3
Engine room fire on Azamara Quest Update 3/31
Rhapsody of the Seas emerges from dry dock sporting new features posted 3/30
Engine room fire on Azamara Quest - 3/30
Norwegian Cruise Line Goes Hollywood - posted 3/28
Defueling of Costa Concordia Complete - 3/26
7.6 Earthquake 115 east of Acapulco - posted 3/20
MSC signs contract with STX France for new ship - posted 3/19
Silver Shadow involved in collision - posted 3/19
NCL features Chef's Table fleet-wide - posted 3/13
The Love Boat sold for scrap to pay debt - posted 3/8
Voyager Will Sail In Place of Allegra - posted 3/8
Prison Time for Dumb Move - posted 3/7
Carnival Sunshine? - posted 3/6
The neo-Romantica emerges from dry dock - posted 3/2
Canadian Woman Missing from Bahamas Cruise Ship - posted 3/1
Costa Allegra Arrives Safely at Port Victoria - posted 3/1
Disney Fantasy Arrives in NY - posted 2/28
Costa Allegra in tow by fishing vessel to Seychelles - posted 2/28
Cruise ships turned away from Ushuaia Port - Tensions rise as 30th Anniversary of Falklands War nears. Posted 2/27
Generator Room Fire on Costa Allegra - posted 2/27
22 Carnival Splendor Passengers Robbed at Gunpoint in Puerto Vallarta - posted 2/25
Women caught smuggling hashish sentenced to 6yrs in Bermuda prison - posted 2/14
Mexico Travel Warning - update posted 2/9
The Giglio, Italy Webcam is back up and running. Allow time for page to load - posted 2/7
St. Kitts will feature new Argro-Tourism Demonstration Farm - posted 2/4
MV Sharden passenger ferry hits pier causing gash in hull - posted 2/4
Man overboard on Allure of the Seas - posted 2/3
MV Rabaul Queen Sinks Posted 2/3
Watch the recovery efforts on the Giglio Yacht Club Webcam
Costa Concordia Update - posted 1/31
Man Falls To His Death Aboard the Carnival Fantasy - posted 1/28
MSC Will Cruise from Miami in 2013 - posted 1/18
Costa Concordia Hits Reef - posted 1/1