Cruise News Headlines
Index of cruise news posted in 2012
Weather Tracker
Tropical storm season runs June 1 - November 30
Weekly Features
$49.50 Only $41.99!
Planning to gift your family or special someone with a cruise this holiday season? Complete your surprise by tucking your boarding passes into our Bon Voyage Cruise Essentials Tote! Our tote is chock full of all the travel necessities to make your cruise smooth sailing. Give a gift they'll truly be excited about. Click here to purchase today.

Sale ends December 25
Cruise News Headlines
Please see our Facebook page for all the latest cruise news.
2013 Index
November
Cruise Industry adopts more safety measures
Posted 11/15
Bahamas sanctions shipboard weddings on RCI ships Posted 11/5
October
HMS Bounty Sinks 10/29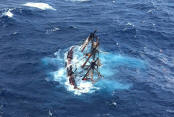 April
Riviera Delivered - 4/27
Celebrity Millennium in Dydock for Refurbishments - 4/21
Carnival Spirit Passenger Rescued After Jumping Overboard - 4/17
Bahamas General Election Date Set - 4/11
Key West Conch Republic Celebration - 4/3
---
March
Engine room fire on Azamara Quest Update 3/31
Rhapsody of the Seas emerges from dry dock sporting new features posted 3/30
Engine room fire on Azamara Quest - 3/30
Norwegian Cruise Line Goes Hollywood - posted 3/28
Defueling of Costa Concordia Complete - 3/26
7.6 Earthquake 115 east of Acapulco - posted 3/20
MSC signs contract with STX France for new ship - posted 3/19
Silver Shadow involved in collision - posted 3/19
NCL features Chef's Table fleet-wide - posted 3/13
The Love Boat sold for scrap to pay debt - posted 3/8
Voyager Will Sail In Place of Allegra - posted 3/8
Prison Time for Dumb Move - posted 3/7
Carnival Sunshine? - posted 3/6
The neo-Romantica emerges from dry dock - posted 3/2
Canadian Woman Missing from Bahamas Cruise Ship - posted 3/1
Costa Allegra Arrives Safely at Port Victoria - posted 3/1
---
Disney Fantasy Arrives in NY - posted 2/28
Costa Allegra in tow by fishing vessel to Seychelles - posted 2/28
Cruise ships turned away from Ushuaia Port - Tensions rise as 30th Anniversary of Falklands War nears. Posted 2/27
Generator Room Fire on Costa Allegra - posted 2/27
22 Carnival Splendor Passengers Robbed at Gunpoint in Puerto Vallarta - posted 2/25
Women caught smuggling hashish sentenced to 6yrs in Bermuda prison - posted 2/14
Mexico Travel Warning - update posted 2/9
The Giglio, Italy Webcam is back up and running. Allow time for page to load - posted 2/7
St. Kitts will feature new Argro-Tourism Demonstration Farm - posted 2/4
MV Sharden passenger ferry hits pier causing gash in hull - posted 2/4
Man overboard on Allure of the Seas - posted 2/3
MV Rabaul Queen Sinks Posted 2/3
---
Watch the recovery efforts on the Giglio Yacht Club Webcam
Costa Concordia Update - posted 1/31
Man Falls To His Death Aboard the Carnival Fantasy - posted 1/28
MSC Will Cruise from Miami in 2013 - posted 1/18
Costa Concordia Hits Reef - posted 1/1