Glacier Bay Cruise Ship Destination Port
Cruise Ship Port of Call information like Port News, Weather, Transportation Options, Things to Do and See, Area Events, Medical Care, Crime and Safety Review
Glacier Bay and the surrounding land is the site of the Glacier Bay National Park and Preserve.

Glacier Bay National Park and Preserve lies west of Juneau, AK, and can only be reached by plane or boat. The only road merely connects the small town of Gustavus and its airfield to park headquarters at Bartlett Cove (10 miles). There is no link to the Alaska highway system. Cruise ships do not dock anywhere in Glacier Bay National Park.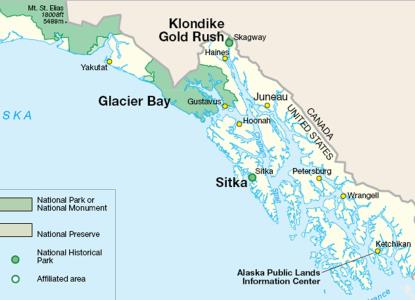 Learn about natural hazards common to Alaska
Things to do and see
Cruise ships typically spend a full day (9-10 hours) in Glacier Bay, including a stop at a major tidewater glacier.
National Park Service park rangers board to provide a narrative about important aspects of the visit, give a presentation about the park, and answer passengers' questions.
Glacier Bay cruise ship visitor "insider's guide" to get the most out of your visit.