Disney Fantasy Cruise Ship Profile
Ship Features, Itinerary, News, Photos, Review, Accommodations, Notable Rooms, Dining Venues, Kid's Areas, Deck Plan, Outdoor Spaces, Smoking Sections
The Disney Fantasy sails 7-night Eastern Caribbean Cruises from Port Canaveral. Visit the Disney Cruise Line website for a complete schedule.
CDC Ratings
If link above doesn't open to the report page, close the window and click on link again to access.
2012 Rating 100 (May)
2013 Rating 100 (Jan)
2013 Rating 100 (May)
2014 Rating 97 (May)
2014 Rating 100 (Oct)
2015 Rating 100 (Oct)
2016 Rating 100 (Mar)
2019 Rating 94 (Mar)
The Center For Disease Control (CDC) performs unannounced inspections, which are conducted twice a year and required for any cruise ship with an international itinerary calling at a U.S. port. Vessels are evaluated proper food handling, preparation and storage procedures, and overall galley cleanliness. Ships' potable water supplies used in spas and pools are evaluated, as well.
Deck 14
Outlook Lounge, Radio Studio
Deck 13
Goofy's Sports Deck, Edge, Currents Bar, Concierge Private Sun Deck, Satellite Sun Deck
Deck 12
Palo, Meridian Bar, Aquaduck, Waves Bar, Remy, Concierge Lounge, Concierge Suites, Senses Spa, Aqua Lab
Deck 11
Cabanas, Video Arcade, Nemo's Reef, Mickey's Pool, Donald's Pool, Cove Pool, Flo's Café, Cove Bar, Senses Spa, Spa Staterooms, Fitness Center, Salon, FroZone, Funnel Vision
Deck 10
Passenger staterooms
Deck 9
Passenger staterooms
Deck 8
Passenger staterooms
Deck 7
Passenger staterooms
Deck 6
Passenger staterooms
Deck 5
It's a Small World Nursery, Passenger staterooms, Oceaneer Club and Lab, Vibe Teens Lounge, Buena Vista Theater, Bibbiti Bobitti Boutique
Deck 4
Evolution Dance Club, Skyline, Pink Intimate Cocktail Bar, D Lounge Family Nightclub, The District, Vista Café Coffee Bar, 687 Sports Bar, Photo Studio, Buena Vista Cinema, Promenade deck, Walt Disney Theater Balcony Seating
Deck 3
Animator's Palate, Royal Palace, Royal Court, Atrium, Guest Service, Bon Voyage, Preludes Boutiques, Walt Disney Theater
Deck 2
Enchanted Garden Restaurant, Passenger staterooms, Health center
Quiet Cove Pool and Cove Bar
Reserved exclusively for guests 18 and older, the Quiet Cove Pool and Cove Bar is a retreat for adults to sunbathe and swim, indulge in a cool drink or enjoy a relaxing dip in a nearby hot tub overlooking the ocean.
Guests also can splash up to Cove Bar, which is part of the pool, and sip a refreshing beverage. Nearby, on the sides of deck 11, guests can soak in a whirlpool hot tub while overlooking the ocean. Four "infinity" whirlpool hot tubs – two for families and two just for adults – provide spectacular views of the ocean beyond.
Satellite Sun Deck
Located on deck 13 forward is a water feature called Satellite Falls - a circular splash pool with benches and a gently falling rain curtain that provides cool comfort. Around this upper deck, adult guests can soak up the sun in loungers or relax in the shade under a canopy.
Meridian Bar
Adults-only bar located on Deck 12, Aft between Palo and Remy aboard the Disney Fantasy, is a charming nighttime spot inspired by the pioneering days of sea travel, where Guests can enjoy a pre- or post-dinner cocktail amid an indoor ocean view setting or breezy outdoor deck.
Ooh La La
Adults-only lounge located on Deck 4, Aft in the Europa district on the Disney Fantasy, is reminiscent of an elegant French boudoir and features Louis XIV chaises, velvet-tufted walls, Victorian furniture, ornate mirrors and more.
Cove Café
Adults-only lounge located on Deck 11, Forward aboard the Disney Fantasy, is a cheerful hangout where adults can enjoy a cocktail, gourmet coffee or snack while perusing a magazine, watching television or surfing the Internet.
La Piazza
Adults-only lounge located on Deck 4, Aft in the Europa district, is a delightful retreat inspired by Italian cities and their decorative outdoor plazas, and features Venetian masks, a classic Vespa with a sidecar and even a bar modeled after a colorful vintage carousel.
Skyline
Adults-only cocktail lounge located on Deck 4, Aft in The Europa area on the Disney Fantasy, is a cosmopolitan sky bar boasting sweeping—and magically transforming—views of some of the world's most famous cities, where adults can savor a selection of the world's finest beverages.
The Tube
Adults-only nightclub located on Deck 4, Aft in the Europa district on the Disney Fantasy, transports Guests to a vibrant metropolitan club complete with an illuminated Union Jack dance floor, "mod" furniture, popular cocktails and four iconic English phone booths.
Oceaneer Club and Oceaneer Lab
(Ages 3-10)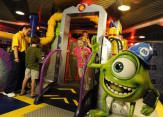 Disney's Oceaneer Club
Children's activity center located on Deck 5, Midship aboard the Disney Fantasy is the perfect place for younger kids to dress up as their favorite princess or hero, play computer games and enjoy a vast array of supervised themed activities.
Disney's Oceaneer Lab
Children's activity center located at Deck 5, Midship/Aft aboard the Disney Fantasy, is a great place for children to partake in immersive games, use computers and enjoy a wide variety of supervised themed activities throughout the day.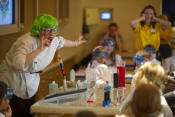 Disney characters
Disney characters come to life and interact with children in one-of-a-kind experiences. On a 103-inch screen, Crush, the animated sea turtle from the Disney•Pixar motion picture "Finding Nemo," or the mischievous animated alien Stitch make scheduled appearances to chat, play and joke with kids in live, unrehearsed conversations.
Edge
Located inside the forward funnel is Edge – the lounge just for tweens (ages 11 to 13).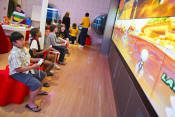 This tween pad is filled with a multitude of hi-tech entertainment including the ability to create and star in photo postcards and video karaoke using green-screen technology.
Vibe
Trendy and inviting indoor/outdoor space created especially for guests ages 14 to 17.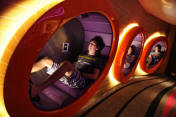 A "teen-only" swipe card provides access to the nearly 9,000-square-foot club. Teens can create and edit videos, play computer games, access the onboard social media application or try their hand at spinning and mixing dance tracks. Teens have their own private outdoor deck area with chaise lounges for sunbathing, two wading pools, misters and pop jets for cooling off, and deck games such as Ping-Pong and foosball.
Building on the classic style of her sister ship, the Disney Dream, the Disney Fantasy is the regal fourth cruise liner in the expanding Disney Cruise Line fleet. Featuring 14 towering decks, a ship length of 1,115 feet and a maximum width of 125 feet, the 130,000-ton vessel includes 1,250 staterooms and has the capacity to comfortably accommodate 4,000 passengers—along with the over 1450 Cast and Crew Members who tend to the needs of every cruise Guest each and every day.
Launch: 2012
Maiden Voyage: March 31, 2012
Refurbished:
GRT: 128,000
Length: 1,115 ft.
Draft: 26 ft.
Speed: 22 Knots
Passengers: 4,000
Disney Cruise Line accommodations were specifically designed with families in mind to be as spacious as possible. Every room features art deco touches harking back to the cruising era of the 1920s and 1930s. Rooms feature teak accents, crown moldings, and original artwork.
Standard Stateroom Amenities
Queen-size bed or 2 twin beds, a single convertible sofa, and upper-berth pull-down bed. Remote-control flat screen TV, ample closet space, cooling box, in-room safe, phone with voice-mail messaging, individual climate control, iPod docking station, couch, desk, chair, privacy curtain, porthole mirror, and privacy curtain to partition the room. A full bath with vanity, hair dryer, tub, and shower.
Stateroom sizes
| | | |
| --- | --- | --- |
| Inside | 184 - 214 | Sq. ft. |
| Ocean view | 203-241 | Sq. Ft. |
| Verandah | 246 - 304 | Sq. ft. w/veranda |
| Suite | 614 - 1029 | Sq. ft. w/veranda |
Inside
A magical porthole includes real-time views of the seas and animated Disney characters. The Deluxe Interior has a spilt bath to allow multiple people to use the facilities.
Ocean View
The Deluxe Ocean view Stateroom features a designated area to watch TV and movies on a comfortable couch that converts to a bed. Ocean view staterooms have portholes with views of the sea. The Ocean view family category has a full bathroom with a vanity, sink and full tub/shower, and a half bath with a vanity, sink and toilet. Most of these staterooms have round tubs with a built-in seat, a rain-style shower and a hand-held showerhead—perfect for bathing children. The Deluxe family porthole is accompanied with a seating area for gazing out to sea.
Verandah
Navigator verandahs are typically smaller than other verandahs. One bathroom includes a vanity, sink and full tub/shower, while the half bath has a vanity, sink and toilet. The space includes deck lights, child-proof locks, railings covered in Plexiglas, and patio furniture. The Deluxe Family Verandah has round tubs with a built-in seat, a rain-style shower and a hand-held showerhead—perfect for bathing children.
Concierge Suites
In addition to verandah amenities, concierge guests receive pre-arrival services like booking onboard amenities and shore excursions. Guests have access to the onboard concierge lounge where complimentary food and beverages are served all day. The concierge sundeck is a private area to soak up the sun's rays and relax in a secluded area. Guests receive other upgraded amenities like afternoon canapés, fruit, and cookies, a media library, and personal robe and slippers.
Disney's main dining rooms used rotational dining, providing guests with the opportunity to eat in each of the unique dining rooms. The servers follow the guests to each venue. The three themed rotating dining rooms primarily serve dinner between 5:30 p.m. and 6:00 p.m. (Main Seating) and 8:00 p.m. and 8:30 p.m. (Second Seating).
$= Specialty restaurant, surcharge applies
Royal Court
Royal Court is a rotational dining restaurant located on Deck 3, Midship that serves breakfast, lunch and dinner. Inspired by the classic Disney films Cinderella, Snow White and the Seven Dwarfs, Beauty and the Beast and Sleeping Beauty, the décor and atmosphere of Royal Court is especially beautiful. The restaurant serves continental and French cuisine.
Animator's Palate
The restaurant design is that of a classic animation studio filled with character sketches, maquettes (three-dimensional character models), paint brushes, colored pencils and other tools of the animation trade. Scenes and characters from popular Disney•Pixar films adorn the walls.
Once the dinner service begins, however, the dining room begins a magical transformation as scores of wall-mounted LCD screens switch to scenes of a vivid undersea environment. While dining, Crush, the surfer-dude sea turtle from Disney•Pixar's "Finding Nemo," makes a special appearance, swimming around the restaurant and engaging in live impromptu interactions with guests.
Preludes Lounge
A good meeting lounge outside the Walt Disney Theater serving beverages and snacks. Only open during live show performances.
Eye Scream and Fro Zone
Choose from 2 quick-service venues conveniently located near Donald's Pool on Deck 11. Eye Scream Treats offers soft-serve ice cream and Frozone Treats whip up fresh smoothies sure to satisfy your sweet tooth.
Flo's Café
Flo's Café, located near Donald's Pool on Deck 11 aboard the Disney Dream. With 3 unique stations themed after popular characters from the Disney-Pixar film Cars—Luigi's Pizza, Tow Mater's Grill and Fillmore's Favorites—this quick-service option serves a variety of delicious dishes.
Cabanas
Indoor/Outdoor casual dining restaurant located aft on Decks 11 and 12. At breakfast and lunch, Cabanas boasts the finest in made-to-order dining; at dinnertime, the restaurant is transformed into a table-service dining room serving main dining specialties.
Enchanted Garden
Whimsical casual restaurant inspired by the gardens of Versailles and featuring a dining environment that magically transforms from day to night. Serving market-inspired cuisine from around the world.
Palo ($)
The 130-seat, Adult Exclusive restaurant located on Deck 10, Aft that boasts Northern Italian cuisine for dinner nightly, in addition to brunch on 4-night and longer cruises, and high tea on 7-night and longer cruises. Reservations are required and can be made online or upon boarding the ship. $25 per person for brunch and dinner.
Remy ($)
Disney's first-ever premier dining option. With French-inspired, gourmet cuisine by two award-winning chefs, Remy melds classic and contemporary styles in a sophisticated new dining concept exclusively for adults on the Disney Dream.
Dinner at Remy is a lavish and leisurely affair, starting with a signature chilled Champagne cocktail made tableside, followed by eight to nine small courses complemented by a stellar wine list. Polished touches at Remy include a tableside trolley for serving international cheeses, decanting stations for wines, and post-prandial coffee service including French press and grand crème. $75 per person.
On cruises four days or longer, Remy hosts a Champagne Brunch for $50 per person.
The private Chef's Table dining room
The dining room seats 16 and offers a glimpse into the kitchen. The room is furnished with rich "Ratatouille"-inspired décor – bold red carpet, chairs and drapes with touches of gold, opulent chandeliers, and scenes of Paris on the walls.
The private Chef's Table dining room has its own entrance to the kitchen to allow the chefs easy access, and offers a special multi-course menu.
Glass-walled wine room
Room with seating for up to 16 guests amid more than 900 bottles of wine including a fine rare selection of Old World wines balanced with a solid selection of New World wines.
Once dinner is booked and guests are on board, they are invited to meet with a sommelier in Remy's wine room to taste and pre-select their wines for the evening.
Room Service
Disney Cruise Line Room Service available 24 hours a day, for breakfast, lunch and dinner. Snacks are also available throughout the day and night. On the final night of your cruise, Room Service is available until 1:30 a.m.
The Atrium Lobby & Mademoiselle Minnie Mouse
The 3-deck atrium lobby on the Disney Fantasy is reminiscent of grand ocean liners of the Golden Age. Art Nouveau-inspired details and patterns in hues of vibrant blue, green, pink and gold lend to the sophistication. Glamorous and graceful design elements include a sweeping grand staircase, towering fluted columns, a grand piano and an exquisite marble and stone inlay floor. A focal point is a cascading chandelier of stained glass and crystal beads.
Buena Vista Cinema
The Buena Vista Theatre, a large-sized theatre located at Decks 4 and 5, Midship on the Disney Fantasy, is a chic cinema that screens first-run movies and digital 3-D films, and features plush stadium-style seats, a giant movie screen and advanced projection with Dolby sound.
D Lounge
D Lounge, a family club and lounge located at Deck 4, Midship aboard the Disney Fantasy, is a festive entertainment center where parents and children are invited to sing, dance, play games and enjoy live entertainment together.
Bibbidi Bobbidi Boutique
Located at Deck 5, Midship on the Disney Fantasy, is the very special place where aspiring young princesses and pirates receive the full fairy tale treatment with pixie-dusted and piratical makeovers.
Virtual Porthole
The Disney Fantasy carries on the spirit of innovation with a cruise industry first for all inside staterooms. Virtual Portholes offer a "window" to the world with a real-time view outside the ship. High-definition cameras placed on the exterior of the ship feed live video to each Virtual Porthole. The live video feed corresponds to the stateroom location – with a view to port, starboard, forward or aft.
O'Gills Pub
Irish bar with dark woods, brass accents and a selection of Irish beers, is located on Deck 4, Aft in the Europa district on the Disney Fantasy. Here, adults can enjoy a pint and watch live sporting events on high-definition televisions.
Currents
Bar located on Deck 13, Forward aboard the Disney Dream, is a sunny spot with a scenic view where Guests can sit back and relax while sipping a refreshing cocktail.
Bon Voyage
Bon Voyage, a relaxing lounge located on Deck 3, Midship aboard the Disney Dream, is a cozy bar where families can enjoy a refreshing beverage or snack throughout the day.
Vista Cafe
Café/bar located on Deck 4, Midship on the Disney Fantasy, is a charming onboard venue where Guests can enjoy coffee and a pastry in the morning and a pre- or post live show cocktail at night.
Senses Spa & Salon
The Senses Spa & Salon provides serenity, pampering and relaxation in a sea-view sanctuary, spanning Decks 11 and 12, Forward of the Disney Fantasy. Luxuriate with spa treatments and beauty salon services such as body scrubs, facials, massages, manicures, haircuts and teeth whitening.
Fitness Center
The Fitness Center is a full-service facility, located on Deck 11, forward of the Disney Fantasy, offering a wide variety of aerobic, yoga and Pilates classes and health seminars. Lift on the latest weight machines, step it up on TV-monitor-equipped elliptical or book an individual session with a personal trainer.
AquaDuck
Stretches 765 feet in length - more than two and a half times the length of a football field - and spans four decks in height. Guests slide 13 feet over the side of the ship in a translucent "swing out" loop allowing them to look down on the ocean 150 feet below.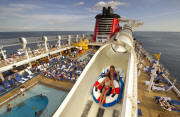 Guests experience coaster-like thrills as high-powered water jets push them upwards and forwards at 20 feet per second. AquaDuck continues through the forward funnel, encounters a 335 foot stretch of river rapids and splashes down to an end on Deck 12.
AquaLab
At AquaLab on the Disney Fantasy, families can frolic among pop jets, geysers and bubblers in this fun and fanciful water play area.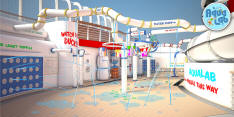 Located near the entrance to the AquaDuck water coaster on deck 12, AquaLab features a variety of water "experiments" designed to drench the whole family. By turning wheels and moving levers at three wacky aqua stations guests "control" the speed and temperature of AquaDuck. At a leaky wall, kids cover holes in squirting and spurting pipes with their hands. In another area, water leaks and sprays from the Ducky Dinghy, suspended overhead.
On deck 12 forward, a wading pool with a fountain water feature, ample seating and lounge chairs under canopy offer a respite in the shade.
Waves
Sunny bar located on Deck 12, Aft aboard the Disney Dream, is a breezy spot where Guests of all ages can relax with a chilled beverage
Nemo's Reef
Little ones discover oceans of fun at this fanciful water-play area overflowing with pop jets, bubblers and lovable underwater friends like Nemo, Dory, Marlin and other favorites from the Disney•Pixar film, "Finding Nemo."
Shaded for protection from the sun and featuring a soft wet-deck surface, the 1,500-square-foot Nemo's Reef is a place for children to cool off and play among colorful, interactive figures that move and spray water. Children will delight as they splash alongside Nemo swimming in a sea anemone, glide down a pint-sized water slide shaped like Mr. Ray and frolic near Pearl the octopus who "inks" herself with a mist of water. Kids can even get soaked in a water curtain that undulates back and forth like the EAC (East Australian Current). Nemo's Reef is surrounded by a glass enclosure, with a main guest entrance and a wheelchair-accessible entrance.
Donald's Pool
A place for families to gather and enjoy all of the activities up on deck. Overlooking Donald Pool is the giant Funnel Vision LED screen – more than 30 feet wide and 18 feet high – showing Disney films and other live broadcast events. A retractable floor extends over the pool, providing an ideal dance floor for deck parties.
As an added convenience for parents with children of different ages, Donald Pool, Mickey Pool and Nemo's Reef are all located within the same vicinity, on deck 11 between the forward and aft funnel.
Goofy's Sports Deck
On Goofy's Sports Deck, the magic tees off on deck 13 with Goofy's Golf – a miniature golf course where "lessons" featuring Goofy and his son, Max, lead guests through nine themed holes of wacky fun.
Each hole offers special golf instructions – with a goofy twist. Lessons include:
• "Handling a dog leg" – Guests avoid a fire hydrant and use Pluto's dog bone to guide them to the hole.
• "Stuck in the rough" – Goofy shows golfers how to avoid the tall turf and steer clear of a lawn mower.
• "Reading the green" – Stacks of books and a large magnifying glass are obstacles to circumvent on this undulating green.
• "Attacking the green" – Yo ho, yo ho! Golfers and landlubbers take a swashbuckling approach to sinking their putt on this pirate-themed hole.
Guests can choose to use the Goofy or Max tee on each hole, offering twice the fun. Family-friendly competitions and tournaments will keep the excitement on par while quirky golf clubs, some crooked and bent, will challenge golfers to stay on course. Goofy and Max may even swing by to interact with guests and offer some tips on club selection, stance or just goofing around.
Also on Goofy's Sports Deck, two digital sports simulators provide a variety of virtual game experiences such as soccer, tennis, basketball, golf and more. With the simulators, guests can kick, swing and throw, participating in favorite high-action sports without the hassle of chasing the ball.
Max's Courts are two mini-sized sports courts for little ones to enjoy soccer, basketball or group play. There's full-court basketball that may also be transformed into a mini soccer pitch or volleyball court, plus table tennis and foosball tables. A walking track rings Goofy's Sports Deck.