Cruise Ship Profiles
Ship specifications, photos, itineraries, accommodations, dining venues, notable rooms, activities, children's areas, deck plan, enhancements, incidents, accidents and more.
Weather Tracker
Eastern Pacific - Area of disturbed weather located about 550 miles SSW of Acapulco, MX. moving west at 10 mph.
Atlantic - ALL CLEAR
Our knowledge base comes from practical experience and hours of research. We monitor hundreds of websites, newspapers, and magazine publications for relevant cruises news passengers really want. We are not travel agents -we only make suggestions and offer our best advice.
Ruby Princess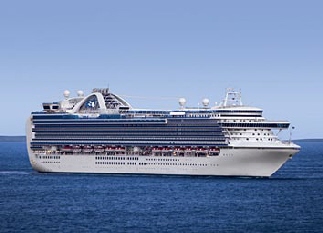 Ruby Princess is a Crown Class ship - a larger sub-class of the Grand Class ships. She is sister to the the Emerald Princess and the Crown Princess.
The Ruby Princess introduces a host of new shipboard services and special features, underscoring Princess' tradition of continually evolving the onboard experience for its passengers. Among the new options is a pub lunch, an exclusive breakfast for suite passengers, unique enrichment programs from astronomy to mixology, two new stage shows, plus expanded wireless Internet and cell phone connectivity.
Ruby Princess also includes a dramatic piazza-style atrium featuring small-bite eateries and an ever-changing array of performing street entertainers, Princess' signature adults-only oasis called The Sanctuary, Sabatini's Italian restaurant, Crown Grill seafood and steak house, "Movies Under the Stars" giant outdoor movie screen, and Hearts and Minds wedding chapel.
Expanding on Princess' Internet and phone connectivity, Ruby Princess offers laptop users additional wireless hotspots around the vessel, including staterooms.
Specifications
Ship Class: Crown
Launched: 2008
Refurbished:
GRT: 114,000
Length: 951 ft.
Draft: 27.5 ft.
Speed: 22 Knots
Passengers: 3,070
Ruby Princess Bridge Cam and Wedding Cam
Accommodations
Standard Stateroom Amenities
Fresh fruit (by request), evening bed turn-down, chocolates on your pillow, complimentary shampoo, conditioner and body lotion, Waffle weave cloth bathrobes (available upon request from your stateroom steward), bottles of liquor and stateroom bar packages available for purchase at non-duty-free prices through room service or from designated bar locations, private safe and refrigerator, 110-volt, 60-cycle alternating current (AC) with standard U.S. plug fittings, and electric hair dryer.
Mini-suites
In addition to standard amenities, mini-suite passengers receive a welcome glass of champagne, two televisions, a sitting area and a spacious closet.
Suite Amenities:
In addition to standard amenities, suite passengers receive a DVD/CD player and free access to a DVD library, complimentary web access in the Internet Café, laundry and dry cleaning, use of the Lotus Spa® Thermal Suite (select ships), one-time free mini-bar setup and use of the Disembarkation Lounge.
Stateroom sizes
| | | |
| --- | --- | --- |
| Inside | 168-182 | Sq. ft. |
| Outside | 183-194 | Sq. ft. |
| Balcony | 237-307 | Sq. ft. w/veranda |
| Suite | 325-1429 | Sq. ft. w/veranda |
Food Venues
Main Dining Rooms
The Botticelli Dining Room offers traditional fixed seating and the Michelangelo Dining Room and Da Vinci Dining Room offer anytime dining.
Horizon Court
At the forefront of 24-hour dining, the Horizon Court offers a round-the-clock venue for buffet meals or snacks.
Cafe Caribe
Casual fare bistro serving from late morning until late night.
Trident Grill
Burgers, hot dogs and more.
International Café
The Piazza Atrium features the International Café for pastries, grilled panini sandwiches, salads, fresh-baked cookies and a variety of coffee drinks.
Crown Grill
Featuring premium aged beef and fresh seafood items, the Crown Grill offers a truly special dining experience with an open, theater-style kitchen where chefs custom-prepare fresh seafood, such as lobster, scallops, clams and mussels, and cooked-to-order steaks. * $25.00 surcharge per person.
Sabatini's
With a menu specializing in Italian cuisine and premium seafood, Sabatini's offers a refined yet casual atmosphere that includes extensive personal attention from the ship's top European waiters and perhaps even a song from the pizza chef as he creates Princess' famous pies. * $20 cover charge. Suite passengers aboard Ruby Princess will have the opportunity to enjoy an exclusive breakfast in Sabatini's. 7:30 to 10:30 a.m.
Vines
In addition to serving more than 30 wines by the glass and seafood appetizers that have made Vines a passenger favorite, the atrium-area bar on Ruby Princess feature a selection of domestic and imported artisan cheeses.
Room Service
Princess provides 24-hour room service, enabling passengers to enjoy breakfast, lunch, dinner and snacks in the privacy of their own staterooms or enjoying the view from their balconies. In addition to the always-available room service menu, passengers can also enjoy items from the day's main menu in their staterooms, as well as special room service-only offerings.
* Prices subject to change - updated Nov 2011
Notable Features
Princess Theater
Main show lounge featuring Broadway and Vegas-style productions.
Explorer's Lounge
Featuring nightclub-style performances.
Skywalkers
Top deck observation area by day and dance club at night.
Gatsby's Casino
Slots, cards, roulette and more.
Club Fusion
Dance Club.
Speakeasy
Cigar Bar and one of the designated smoking areas on the ship.
Crooner's Lounge
Martini bar.
Wheelhouse Bar
Nautical themed lounge. On sea days, Ruby Princess' Wheelhouse Bar is transformed into an authentic English-style pub, serving a selection of traditional fare. A menu of British favorites, including bangers & mash, fish & chips, ploughman's lunch and cottage pie, will complement a selection of traditional pub brews such as Stella Artois, Bass Ale or Guinness. Pub lunch meal service is free of charge and will run from 11:30 a.m. to 2:30 p.m.
The Ultimate Ship Tour
A new exclusive opportunity to experience an array of "back of house" areas that are key to a ship's daily operations, the Ultimate Ship Tour will give passengers the unique opportunity to explore beyond the public areas with visits to the ship's engine control room, medical center, print shop, laundry, photo lab, funnel, bridge and other spaces. In addition to getting a rare insider's view of many areas typically seen only by the ship's crew, participants will receive a variety of themed mementos at many of the stops along the route.
Enrichment Program
A number of new ScholarShip@Sea enrichment programs debuted aboard Ruby Princess including: Navigation@Sea focuses on the history of navigation; Mixology@Sea offers a hands-on course taught by the ship's bar manager; Astronomy@Sea program explores the night sky through a telescope on the top deck; Art History@Sea: Botticelli to Warhol, The Evolution of Art makes 500 years of art come to life with a special hour-long presentation.
Outdoor Features
Movies Under the Stars
Poolside HD theater. Movies and more.
Main Pool Area
Calypso Pool and Hot Tubs and Neptune's Pool and Hot Tubs on Lido deck (midship).
Terrace Pool
Intimate pool area and sun deck space located on Riviera Deck (aft).
Lotus Pool and Lotus Spa
Spa, Lotus Spa Pool and Hot Tubs, Swim-against-the-current pool.