Costa Diadema Cruise Ship Profile
Ship Features, Itinerary, News, Photos, Review, Accommodations, Notable Rooms, Dining Venues, Kid's Areas, Deck Plan, Outdoor Spaces, Smoking Sections
Costa Diadema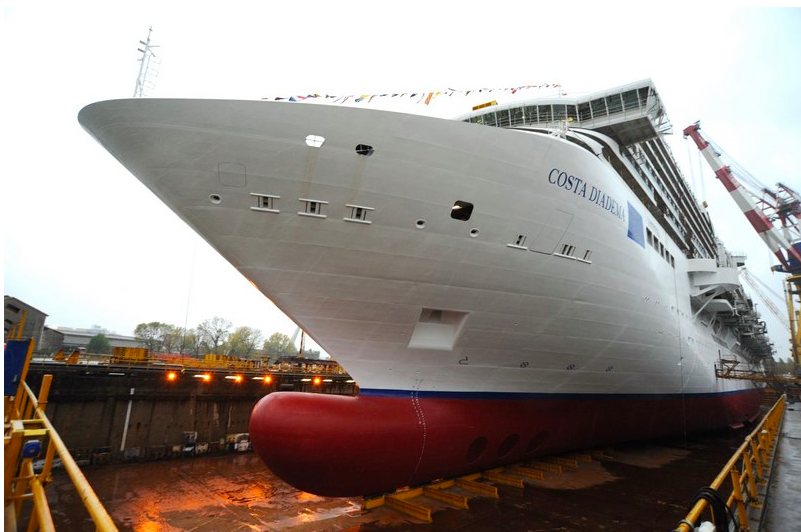 Costa Diadema offers the most complete, innovative and surprising experiences you could have on a cruise. Enchanting you with its many different styles, all coexisting in harmony. Surrounding you with the majestic and refined elegance of its different environments and atmospheres.
Captivating you with a wide range of attractions for you to experience, from an endless selection of food, with flavors from around the world for you to enjoy, to the most spectacular Samsara Spa in the entire fleet, for maximum pleasure and well-being.
Launched: October 2014
Christening ceremony: November 2014
Refurbished:
GRT: 132,500
Length:
Draught:
Speed: Knots
Passengers: 4,947
1,862 cabins in total, including: 130 in the wellness area, 756 with private balcony, 64 suites, all with private balcony, 11 suites in the wellness area.
Club Restaurant
Italian and Mediterranean cuisine a la carte.
Samsara Restaurant
Spa restaurant requires additional charge and by reservation only (lunch and dinner in the Samsara Restaurant are included in the price for Guests staying in the Samsara Cabins.)
Tappanyaki Restaurant
Piazza Pizza Pizzeria
Amarillo' ice-cream parlor
Notable Rooms & Features
Promenade
A 1,640-foot promenade on Deck 5 of Costa Cruises' new Costa Diadema, will provide guests a new way to experience the Mediterranean. As the longest promenade of Costa's fleet, it provides a 1,640-foot walk that will feel like a stroll on a gorgeous Italian shore. The spacious promenade measures 16 feet across and up to 26 feet wide where six cabanas and two Jacuzzis are located. The cabanas and hot tubs extend out from the side of the ship, creating the sensation of being suspended over the sea. In the cabanas guests can relax over drinks or enjoy a romantic sunset dinner, comfortably sheltered from the wind.
Bars and restaurants overlook the promenade, re-creating the atmosphere of a summertime Mediterranean beach. Guests can order a glass of top- quality Italian regional wine at Vinoteca Gran Duca di Toscana or a beer from Birreria, which offers a selection of bottled beer from renowned Italian and foreign brewers along with a range of beers on tap. Alternatively, guests can have an aperitif at Bar Bollicine, which features a wide selection of the most prestigious Italian brands of Prosecco and Spritz aperitifs.
After having a drink with a view of the sea and a stroll along Costa Diadema's promenade, passengers will reach the elegant Teodora Bar at the stern.
Cinema
The 4D theater uses special effects to stimulate all the senses with 3D, plus interactive chairs, water squirts, and smells.
Games Area
The two-story games complex includes Laser Games, Laser Shooting and Video Games.
Emerald Theater
The two-story theater hosts live music and performances.
Birreria La Fiamma' pub
'Vinoteca Huit-Huit' wine bar
'Bar Bollicine' Prosecco bar
Outside Areas
Outside is a multisport pitch and an outdoor jogging track. Guests can relax in one of eight hot tubs or three pools, one with a retractable roof.