Costa Atlantica Cruise Ship Profile
Ship Features, Itinerary, News, Photos, Review, Accommodations, Notable Rooms, Dining Venues, Kid's Areas, Deck Plan, Outdoor Spaces, Smoking Sections
Costa Atlantica is a ship devoted to the excitement, locations and emotions associated with cinema and the arts. The ship offers a succession of surprises and attractions, starting with the immense, lively and breathtaking entrance hall. Twelve passenger decks, each named after movies directed by the famous Italian director, Federico Fellini. Carrara marble, Murano-glass accents, in-laid mosaic tile and a Venetian atmosphere are among the many elements that make the Atlantica cruise ship unique from all the rest.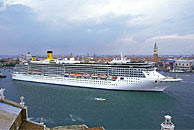 Class: Spirit
Launched: 2000
GRT: 85,700
Length: 959 ft.
Draft: 25.7 ft.
Speed: 24 Knots
Passengers: 2,114
All category staterooms are furnished in a modern, functional style with basic amenities such as a flat-screen satellite TV, room safe, mini-bar, hair-dryer, telephone, Wi-Fi capable and room service.
Stateroom sizes
| | | |
| --- | --- | --- |
| Inside | 160 | sq. ft. |
| Outside | 210 | sq. ft. |
| Balcony | 210 | sq. ft. with veranda |
| Suite | 694 | sq. ft. with veranda |
$=Specialty dining, surcharge applies
Tiziano Restaurant
Two-level main dining room.
Botticelli Restaurant
Main buffet located on Armonia deck.
Napoli Pizzeria
Located on Armonia deck (amidships).
Café Florian
Expresso bar.
Wellness Restaurant ($)
Wellness Restaurant (by reservation only)
Club Atlantica ($)
An à la carte restaurant, Club Atlantica, combines sophisticated design, attentive service and a layout comparable to the world's finest restaurants, with gourmet chefs preparing dishes in the "open" kitchen visible to diners. Surcharge applies.
Caruso Theater
Osiris Theater expands over three levels and features a seating capacity of over 800.
Coral Lounge
Cabaret-style venue.
Dante's Disco
Dance club.
Via Veneto Lounge
Cocktail bar.
Fortuna Casino
Slots, cards, roulette and more.
Notable Features
PlayGround
4D Cinema and the latest generation of PlayStation videogames featuring high-tech Virtual Golf and Grand Prix simulators, air hockey tables.
Etoiles Cinema 4D
This one-of-its-kind experience is a perfect mix of audio, 3D video and special effects. The 20 seats in the cinema move, rocking and vibrating up and down, from side to side and back and forth, following the action on the screen. The multisensory effect is further enhanced by jets of water, wind and smells. Costa Deliziosa's 4D Cinema offers a program of three different videos, each lasting approximately 12 minutes. Guests on Costa Deliziosa can book seats at the 4D cinema with staff or by using the interactive kiosk's touch screen.
Pools and Jacuzzis
Three Swimming Pools (one for children and one with retractable roof) and four Jacuzzi HydroMassage Baths. The Aurora Pool, Ginger and Fred Pools are located on Ginger and Fred deck. A giant movie screen located in the central pool area can be used year-round as the lido has a sliding glass magrodome.
Sports Court
Yoga area, roller skating track, jogging track, basketball, volleyball and more.
Samsara Spa Wellness Center
Full-service spa, salon solarium, and fitness center.
Passenger Services
Wi-Fi connection (subject to a charge), Reception/ Information/Currency Exchange, Shore Excursion Office, Medical Center, Shopping Center/Photo shop, Chapel (Roman Catholic service), Sala Fabergé (Conference Room), Della Rosa Library, Internet point, Card Room, Laundry.