Queen Mary 2 Cruise Ship Profile
Ship Features, Itinerary, News, Photos, Review, Accommodations, Notable Rooms, Dining Venues, Kid's Areas, Deck Plan, Outdoor Spaces, Smoking Sections
RMS Queen Mary 2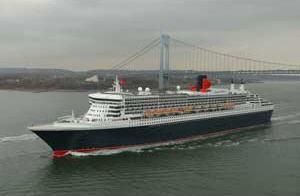 Bridge cam
Queen Mary 2 is a transatlantic ocean liner. She was the first major ocean liner built since Queen Elizabeth 2 in 1969, the vessel she succeeded as flagship of the Cunard Line. The ship was named by Queen Elizabeth II in 2004 after the first RMS Queen Mary, completed in 1936. With the retirement of Queen Elizabeth 2 from active duty in 2008, QM2 is currently the only transatlantic ocean liner in operation as a liner (in scheduled service between Southampton and New York ).
Queen Mary 2 was intended primarily to cross the Atlantic Ocean, and was therefore designed differently from many other passenger ships. The ship's final cost was approximately $300,000 US per berth, nearly double that of many contemporary cruise ships. This was due to the size of the ship and her unique design, which reduced the economies of scale achieved with other Carnival ships. Instead of the diesel-electric configuration found on many ships, QM2 uses a CODLAG configuration (Combined diesel-electric and gas) in order to achieve her maximum speed.
Queen Mary 2's facilities include fifteen restaurants and bars, five swimming pools, a casino, a ballroom, a theatre, and the first planetarium at sea. There are also kennels on board, as well as a nursery. Queen Mary 2 is one of the few ships afloat today to have remnants of a class system on board a cruise ship, most prominently seen in her dining options.
2016 Refurbishment
Queen Mary 2 underwent an extensive refit, costing approximately $132 million, and it was one of the most remarkable renovations undertaken by Cunard. The remastered ship includes the redesigned Princess Grill and Queens Grill Restaurants, Kings Court, Carinthia Lounge and the addition of The Verandah, a specialty restaurant offering contemporary French cuisine. New accommodations onboard include 15 Britannia single staterooms, 30 Britannia Club staterooms and five Britannia inside staterooms.
Launched: 2004
Refurbished: 2011; June 2016
GRT: 151,400
Length: 1,132 ft.
Draft: 33 ft.
Speed: 28 Knots
Passengers: 2,592
Standard Amenities
Half bottle of sparkling wine at embarkation, Interactive TV with multi language film and music channels, Direct-Dial telephone, Refrigerator, safe and hair dryer, Bath robe & slipper, Nightly turndown service with pillow chocolate, Complimentary 24-hour room service, Daily fresh fruit (on request), 220V 3-pin and 110V 2-pin sockets, Daily shipboard newspaper
Guests booked in inside, ocean view, or balcony staterooms dine in the early or late seating of the Britannia restaurant. Guests booked in the Club Balcony dine in the Club Britannia single seating restaurant. Guests in the Princess Grill dine at a reserved table in the Princess Grill Restaurant and Guests in the Queens Grill dine at a reserved table in the intimate Queens Grill Restaurant.
Suite amenities include a pillow menu, concierge service, full bathroom and shower, full bottle of Bon Voyage wine and fresh strawberries, exclusive access to Grills Lounge, Courtyard, and private sun deck, and in-suite dining. Queens Grill guests receive butler service, a bottle of champagne at embarkation, and pre-dinner canapés.
Stateroom sizes
Britannia modest inside: 152-243 sq. ft.
Britannia ocean-view: 180-201 sq. ft.
Britannia Balcony: 242-472 sq. ft.
Britannia Balcony: 242-472 sq. ft.
Princess Grill Suites: 335-513 sq. ft.
Queens Grill Suites: 508-1493 sq. ft.
10 dining venues in all, including the innovative Mediterranean cuisine of the Todd English restaurant. As with the custom of ocean liners in the past, each Queen Mary 2 stateroom is matched with a reserved table at a sea-view restaurant, complemented by the largest wine selection afloat. Of course, you can always make reservations at one of the many optional dining alternatives. Room service is available 24 hours a day.
Britannia Grill
Three-level dining room for passengers in Club Balcony, Balcony, Ocean view, and Inside staterooms. The menu was designed by Jean-Marie Zimmermann.
Queens Grill
Queens Grill patrons have their own private bar. Exclusive deck terrace and an al fresco dining option available.
Princess Grill Restaurant
For passengers in Princess Grill stateroom, a luxurious dining experience with attentive service.
The Boardwalk Café
Outdoor Grill located on Deck 12.
Golden Lion Pub
English style pub offering items such as fish and chips, bangers and mash, and a selection of lagers.
Kings Court
Casual breakfast, lunch or late-night buffet. In the evening, the King's Court is partitioned into 3 different restaurants: The Carvery (serving English style meats of all sorts), La Piazza (serving Italian style fare), and Lotus (offering an Asian sampler menu). Reservations Required.
Garden Lounge
Magnificent vaulted glass ceiling creating a conservatory feel inspired by the glass houses of Kew Gardens, beneath where guests will enjoy Supper Clubs, and mix dining with dancing under the stars.
Todd English Restaurant
The Mediterranean menu is designed by renowned Chef Todd English, famous for his restaurants in many U.S. cities.
Queen's Room-Afternoon Tea
Sample the beautiful tradition of Afternoon Tea with scones and clotted creams, cakes and delicate sandwiches served by white-gloved waiters.
Carinthia Lounge
Queen Mary 2's Winter Garden was remastered into a refined, airy and versatile new venue. The elegant and airy venue venue offers light refreshments and relaxed evening entertainment.
Royal Court Theater
Music and high-tech productions in this 1000 seat showroom.
Golden Lion Pub
A Cunard favorite, choose from a wide selection of beer, cider and wine to complement the delicious gastro pub-style lunch menus in a comfortable, traditional setting.
Churchill's
Cigar bar with an extensive selection of rare cognacs, scotch whiskey's, and more.
Chart Room
Elegant pre-dinner lounge featuring classical jazz music.
Canyon Ranch SpaClub
Indulge in signature Canyon Ranch massages, treatments and facials from the classic Canyon Stone Massage or Rasul Ceremony, to exotic Ayurvedic or Thai treatments. Or, visit the Canyon Ranch Salon for pedicures, makeovers and hairstyling and enjoy fabulous views overlooking an endless expanse of ocean.
Queens Room
A new take on the traditional Cunard ballroom, with artwork depicting views from royal palaces. Dance floor for Grand Balls and Tea Dances at sea.
Queen's Grill Lounge
Exclusive to Grills guests, this refined, comfortable and relaxed haven is perfect for a pre-dinner tipple with friends or daily afternoon tea.
G32
Two-level nightclub offering theme nights.
Commodore Club
One of the most visited public rooms aboard Queen Mary 2, this breathtaking lounge overlooking her bow features white leather furnishings of chairs, sofas and bar stools.
Veuve Clicquot Champagne Bar
A popular space especially on Transatlantic Crossings, this venue featuring the exquisite Veuve Clicquot brand of champagne.
Sir Samuels
Sir Samuel's is a coffee bar by day and a wine bar by night. Enjoy breakfast selections of Danish and muffins. Afternoon offerings include a selection of freshly baked quiches and a variety of sandwiches, with a side of salad. The mid-afternoon menu offers a selection of deep dish cheesecakes, Alsace Apple Tart, and Austrian Sacher Torte. Evening brings a selection of fine wines, served with a side of olives and a variety of cheese.
Pavilion Pool and Bar
Located on Deck 12.
Terrace Bar
Cocktail bar - great place for the sail-a-ways.
Sports Deck
Sports Center, Splash Pool, Sun Deck, Regatta Bar.