Queen Victoria Cruise Ship Profile
Ship Features, Itinerary, News, Photos, Review, Accommodations, Notable Rooms, Dining Venues, Kid's Areas, Deck Plan, Outdoor Spaces, Smoking Sections
MS Queen Victoria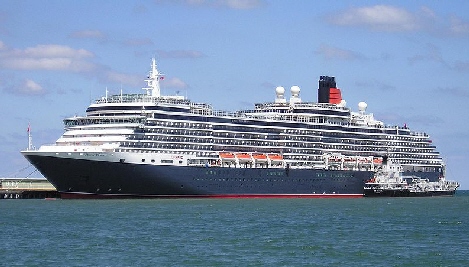 Bridge cam
Queen Victoria joined the Cunard fleet in December 2007. With luxurious marbles, woods, plush carpets, rich fabrics and soft furnishings, this ship simply exudes elegance.
Queen Victoria is the running mate to Queen Mary 2, and Queen Elizabeth. Until November 2008, she also operated alongside Queen Elizabeth 2. Queen Victoria is of the same basic design as other Vista-class passenger vessels, though slightly longer and more in keeping with Cunard's interior style. At 90,000 GRT, she is the smallest of all three Cunard ships, after the RMS Queen Mary 2 and Queen Elizabeth. Ship facilities include seven restaurants, thirteen bars, three swimming pools, a ballroom, and a theatre.
Queen Victoria was refurbished in 2011. Upgrades include stateroom upgrades, Grand Lobby and Chart Room makeover, new carpet in the Britannia Restaurant, and Queen's Room dance floor refinish.
Queen Victoria Upgrades
posted January 23, 2015
Queen Victoria set out from Southampton in tip-top form having just returned from an intensive 20 day refurbishment at the Blohm & Voss shipyard in Hamburg. You can view footage of Queen Victoria's refurbishment here.
Summary of Enhancements:
• Upper Grill Terrance was enhanced;
• nine single staterooms were installed;
• sunbathing areas were added;
• beverage provision in the ship's informal Lido restaurant;
• eight internet stations were added in the library;
• new paint, carpeting and bed mattresses in every stateroom.
In honor of the company's anniversary, Queen Victoria welcomed her World Voyage passengers aboard with a commemorative flag-raising ceremony which took place at the ship's mast. The ship's first call will be Ponta Delgada in the Azores on 23 January before she sails to the Caribbean, transits the Panama Canal and heads for Hawaii and Australia.
Launched: 2007
Refurbished: 2011, 2015
GRT: 90,000
Length: 961 ft.
Draft: 26 ft.
Speed: 24 Knots
Passengers: 2,489
Standard Amenities
Half bottle of sparkling wine at embarkation; Interactive TV with multi language film and music channels; Direct-Dial telephone; Refrigerator, safe and hair dryer; Bath robe & slippers; Nightly turndown service with pillow chocolate; Complimentary 24-hour room service; Daily fresh fruit (on request); 220V 3-pin and 110V 2-pin Sockets; Daily shipboard newspaper.
Guests booked in inside, ocean view, or balcony staterooms dine in the early or late seating of the Britannia restaurant. Guests in the Princess Grill dine at a reserved table in the Princess Grill Restaurant and Guests in the Queens Grill dine at a reserved table in the intimate Queens Grill Restaurant.
Suite amenities include a pillow menu, concierge service, full bathroom and shower, full bottle of Bon Voyage wine and fresh strawberries, exclusive access to Grills Lounge, Courtyard, and private sun deck, and in-suite dining. Queens Grill guests receive butler service, a bottle of champagne at embarkation, and pre-dinner canapés.
Stateroom sizes
Britannia modest inside: 152-243 sq. ft.
Britannia ocean-view: 180-201 sq. ft.
Britannia Balcony: 242-472 sq. ft.
Britannia Balcony: 242-472 sq. ft.
Princess Grill Suites: 335-513 sq. ft.
Queens Grill Suites: 508-1493 sq. ft.
Britannia Grill
Three-level dining room for passengers in Club Balcony, Balcony, Ocean view, and Inside staterooms. The menu was designed by Jean-Marie Zimmermann.
Queens Grill
Queens Grill patrons have their own private
bar. Exclusive deck terrace and an al fresco dining option.
Princess Grill Restaurant
For passengers in Princess Grill stateroom, a luxurious dining experience with attentive service.
Lido Restaurant
Offering a more casual and airy ambience by day and night, this venue provides the perfect setting for a more relaxed dining experience. Each evening you'll find a selection of dishes devoted to a specific theme – be it Italian, Indian or fondue.
Verandah Restaurant
An alternative dinner venue serving French cuisine with ingredients sourced from France.
Courtyard
Alfresco grill.
Golden Lion Pub
English style pub offering items such as fish and chips, bangers and mash, and a selection of lagers.
Carinthia Café
Succumb to several varieties of specialty teas and rich aromatic coffees that can be found in this delightfully relaxing venue overlooking the Grand Lobby, not to mention the indulgent pastries that are on offer.
Queen's Room-Afternoon Tea
Sample the beautiful tradition of Afternoon Tea with scones and clotted creams, cakes and delicate sandwiches served by white-gloved waiters.
Royal Court Theater
Enjoy music and high-tech productions in this 1000 seat, three-tier showroom.
Queens Room
A new take on the traditional Cunard ballroom, with artwork depicting views from royal palaces. Dance floor for Grand Balls and Tea Dances at sea.
Queen's Grill Lounge
Exclusive to Grills guests, this refined, comfortable and relaxed haven is perfect for a pre-dinner tipple with friends or daily afternoon tea.
Commodore Club
Sophisticated lounge overlooking the ships' bow.
Veuve Clicquot Champagne Bar
A popular space especially on Transatlantic Crossings, this venue featuring the exquisite Veuve Clicquot brand of champagne.
Golden Lion Pub
A Cunard favorite, choose from a wide selection of beer, cider and wine to complement the delicious gastro pub-style lunch menus in a comfortable, traditional setting.
Churchill's
Cigar bar with an extensive selection of rare cognacs, scotch whiskey's, and more.
Chart Room
Elegant lounge featuring classical jazz music.
Hemisphere
Enjoy your favorite cocktail in this elegant bar and recollect over the days events with new found friends. Panoramic views over the bow.
Pavilion Pool and Bar
Located on Deck 12. Lido pool, bar and grill aft.
Terrace Bar
Cocktail bar - great place for the sail-a-ways.