Norwegian Dawn Cruise Ship Profile
Ship Features, Itinerary, News, Photos, Review, Accommodations, Notable Rooms, Dining Venues, Kid's Areas, Deck Plan, Outdoor Spaces, Smoking Sections
CDC Ratings
If link above doesn't open to the report page, close the window and click on link again to access.
2009 Rating 100 (Mar)
2009 Rating 94 (Sep)
2011 Rating 100 (Feb)
2011 Rating 99 (Aug)
2012 Rating 97 (Jan)
2012 Rating 98 (Jun)
2012 Rating 100 (Oct)
2013 Rating 89 (Jul)
2015 Rating 97 (Mar)
2015 Rating 95 (Aug)
2016 Rating 94 (Dec)
2020 Rating 99 (Jan)
The Center For Disease Control (CDC) performs unannounced inspections, which are conducted twice a year and required for any cruise ship with an international itinerary calling at a U.S. port. Vessels are evaluated proper food handling, preparation and storage procedures, and overall galley cleanliness. Ships' potable water supplies used in spas and pools are evaluated, as well.
Deck 14
Garden Villas, Sports Court, Bimini Bar, Bimini Grill
Deck 13
Cagney's Steakhouse, Jogging track, Star Bar, Teen Club, Video Zone, Youth Center
Deck 12
Passenger staterooms, Fitness center, Garden Café, Hot tubs, Juice bar, T-Rex Kid's Pool, Oasis Pool, Topsiders Bar
Deck 11
Passenger staterooms, Lap pool, Jacuzzi
Deck 10
Passenger staterooms
Deck 9
Passenger staterooms, Internet Café
Deck 8
Passenger staterooms, Blue Lagoon, Moderno Churrascaria
Deck 7
Taste of Asia, Boutiques, Java Café, Port o'Call, Sake Bar, Stardust Theater, Sushi and Sashimi Bar, Teppanyaki, Pearl Kings Pub
Deck 6
Passenger staterooms, Aqua dining room, Casino, Gatsby's, Havana Club, La Cucina, Le Bistro, Stardust Theater, Venetian dining room, Wine Cellar
Deck 5
Passenger staterooms, Stardust Theater
Deck 4
Passenger staterooms, Medical center
Kids Only Areas
A complete renovation of the Kid's Crew and Teen Club feature new game systems, activities and sound and light. Also, a room dedicated for the Under 2 Zoo where parents can accompany their children under two and enjoy age appropriate activities.
T-Rex Kid's Center
Located on Deck 13 aft
Teen Club and Disco
Located on Deck 13 aft
Extensively refurbished from top to bottom, Norwegian Dawn offers the ultimate Freestyle Cruising experience. Dine in Los Lobos Cantina, an upscale Mexican restaurant. Drop by The Cellars, a Michael Mondavi Family Wine Bar for a wine tasting.
History
This ship entered service at the end of 2002. She was originally intended to operate with Star Cruises under the name SuperStar Scorpio, but it was decided that she would be delivered to Star's subsidiary, Norwegian Cruise Line as Norwegian Dawn.
Norwegian Dawn was the first NCL vessel to utilize hull art. Originally planned as a way to further promote the vessel, the concept was extremely well received and hull art was incorporated to most other NCL vessels, with the exception of those vessels scheduled to transition out of the fleet within the next few years.

Bridge cam
Ship Class: Dawn
Launched: 2002
Refurbished: 2011
GRT: 92,200
Speed: 23 Knots
Passengers: 2,224
Every bed, in every stateroom, on every ship has upgraded linens, pillows, mattresses and memory foam mattress toppers. NCL offers Improved room service menu with more options.
All cabins are furnished with cherry wood finishing, television, refrigerator, safe, duvet, bath with shower and hair dryer.
Stateroom sizes
| | | |
| --- | --- | --- |
| Inside | 142-276 | Sq. ft. |
| Outside | 159-195 | Sq. ft. |
| Balcony | 203-302 | Sq. ft. w/veranda |
| Mini-Suite | 283-301 | Sq. ft. w/veranda |
| Suite | 365-1440 | Sq. ft. w/veranda |
| Garden Villa | 5850 | Sq. ft. w/veranda |
Interior
Staterooms have two lower beds that convert into a queen-size bed and additional bedding to accommodate up to two more guests. Access to room service is included.
Ocean View
Includes two lower beds that convert into a queen-size bed and additional bedding to accommodate up to two more guests. Rooms are equipped with a picture window or a porthole. Some may have an obstructed ocean view.
Balcony
These staterooms have two lower beds that convert into a queen-size bed and a pull out sofa to accommodate one more. Includes a sitting area, floor-to-ceiling glass doors and a private balcony with an amazing view. A connecting stateroom is able to fit larger families.
Mini-suite
Mini-Suites sleep up to four guests, with two lower beds that convert into a queen-size bed as well as a sitting area, private balcony, luxury bath with shower and additional bedding to sleep two additional guests.
Suite
All suites and penthouses include a luxury bath with shower, a balcony, butler and concierge service. Family suites sleep up to six guests with a queen-size bed that converts to two lower beds, a sofa bed and additional bedding to sleep two more. There is a living and dining area. Penthouse suites sleep up to 3-4 guests with a separate bedroom, living, and dining area. In addition to standard suite amenities, the owner's suite has double balconies, mini-bar, whirlpool tub, and king-size bed. The three-bedroom Garden Villa fits seven guests with three bedrooms, luxury bath and shower private garden with hot tub, and outdoor dining area and terrace.
$= Specialty restaurant. Surcharge applies.
Aqua and Venetian Restaurant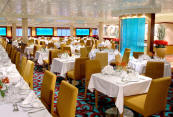 Main dining rooms featuring award-winning menus located on Deck 6.
Blue Lagoon Restaurant
A 24-hour food court serving burgers and other fare located on Deck 7 midship.
Garden Café
Family-friendly menu of omelets, pasta, souos, salads and ethnic specialties. There's also a special kid-sized section.
Java Café
Specialty coffees, teas, pastries, and cookies.
Sprinkles
Ice cream bar located poolside at the Oasis Deck 14 midshp.
Bimini Grill
Outdoor poolside grill featuring burger, pizza and more. Located on Deck 14.
Bamboo Restaurant
Japanese, Chinese & Thai cuisine. Also featuring a Sushi and Sake bar offering items a la carte.
Cagney's Steakhouse ($)
Select from choice cuts of Black Angus perfectly prepared like traditional T-bone or tender Prime Rib. Or, order our made-from-scratch jumbo crab cakes and a side of truffle fries. $30.00 per adult, $15 per child. Located on Deck 13.
Moderno Churrascaria ($)
Start with an impressive salad bar of imported cheeses, olives, cured meats, ceviche and specialty salads. Be sure to save room for the delicious skewers of slow-roasted meats including beef, pork, lamb and chicken – all carved tableside by our Pasadores. $20 for adults, $10 for children.
Le Bistro Restaurant ($)
Serving modern French gourmet fare surrounded by the art of Monet and Renoir . $20.00 per adult guest, $10 for children. Located on Deck 6.
La Cucina Restaurant ($)
Enjoy pasta with a choice of seven savory sauces in a casual atmosphere. There are also crispy fresh salads, pizza, authentic Italian desserts, a fine wine list and espresso drinks to top off the meal. $15 for adults, $7.5 for children.
Teppanyaki ($)
Sit around a lively shared table as a skillful chef slices, chops and grills steak, seafood and chicken on a large steel grill right before your eyes. $25 for adults, $12.50 for children
Ultimate Dining Package ($)
On three to six day voyages, guests can dine anywhere throughout their cruise at a set price of $59 per person; for seven-day voyages, the package is $119 per person; $149 per person on eight to 10 day cruises; $199 per person for cruises of 10 to 15 days; $259 per person during cruises of 16 days to 25 days; $299 per person during cruises of 26 days to 35 days and $349 per person during cruises of 36 days to 45 days.
Room Service
Room Service is available 24-hours a day (There will be a delivery charge from Midnight - 5 am).
Stardust Theater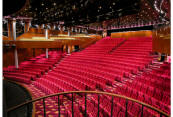 Main showroom located on decks five, six and seven for Broadway-style reviews and other shows.
Spinnaker Lounge
Spinnaker Lounge offers great daytime views and dancing at night.
The Pearly Kings Pub
A traditional English Pub featuring English pool, large screen TV's and the proper beer on tap.
Gatsby's
There are moments when only champagne will do. Head to Gatsby's Champagne Bar for an extensive selection of bubbly, decorated in classic art deco motif.
Havana Club
Step into the world of rolled premium cigars, cognacs and spirits at the Havana Club. This is one place where it is completely acceptable to light up in public.
Dazzles Night Club
Late-night dance club located on Deck 7.
Dawn Club Casino
Slots, cards, roulette and more. Located in Deck 6 forward.
Oasis Pool
The Oasis Pool is flanked by Topsiders Poolside Bar, Sprinkles Ice Cream Bar, plenty of deck space, hot tubs, and more.
T-Rex Kid's Pool
T-Rex Kid's Pool has a dinosaur theme featuring slides and paddling pool. There's also a hot tub on the deck nearby.
Basketball & Volleyball
Shoot hoops, join a pick up game or play beach volleyball without the beach at the net enclosed, outdoor Basketball/Volleyball Court.