Norwegian Jewel Cruise Ship Profile
Ship Features, Itinerary, News, Photos, Review, Staterooms, Notable Rooms, Dining Venues, Kid's Areas, Deck Plan, Outdoor Spaces, Smoking Sections
Norwegian Jewel sails various itineraries throughout the year including the Bahamas, Caribbean, Canada and New England, and Alaska.
Visit the NCL website for a complete schedule.
CDC Ratings
If link above doesn't open to the report page, close the window and click on link again to access.
Mar 2009 Rating 100
Mar 2010 Rating 100
July 2010 Rating 98
Sep 2011 Rating 100
Jul 2011 Rating 100
Jul 2012 Rating 100
Feb 2013 Rating 99
Jun 2013 Rating 94
Oct 2013 Rating 98
May 2014 Rating 100
Feb 2015 Rating 100
Aug 2015 Rating 94
Oct 2016 Rating 98
Jun 2019 Rating 97
The Center For Disease Control (CDC) performs unannounced inspections, which are conducted twice a year and required for any cruise ship with an international itinerary calling at a U.S. port. Vessels are evaluated proper food handling, preparation and storage procedures, and overall galley cleanliness. Ships' potable water supplies used in spas and pools are evaluated, as well.
Deck 15
Villas, Freestyle Deck
Deck 14
Garden Villas, Sun Deck
Deck 13
Cagney's Steakhouse, Moderno Churrascaria, Mojito Bar, Sports Court, Sky Bar and Grill, Chapel, Spinnaker Lounge
Deck 12
Fitness center, Spa, Card room, Library, Club Underground, Garden Café/Kid's Café, The Great Outdoors, La Cucina, Main pool area, Splashdown Kid's Club
Deck 11
Passenger staterooms
Deck 10
Passenger staterooms
Deck 9
Passenger staterooms
Deck 8
Passenger staterooms, O'Sheehan's Grill
Deck 7
The Crystal Atrium featuring Java Café with Carlos Bake Shop, and a white baby grand piano, Main show lounge, Chin Chin Asian Restaurant including the Teppanyaki Restaurant and the Sushi and Sake Bar, Bliss Lounge
Deck 6
Bar Central - Martini bar, Champagne and wine bar, and a beer and whisky pub all in one, Main show lounge, Tsar's Palace and Azure main dining rooms, Le Bistro Restaurant, Casino
Deck 5
Passenger staterooms, Main showroom
Deck 4
Medical center
Kids Only Areas
Club Underground Teen center

Designed to look and feel like the New York Subway, there's even graffiti on the walls.
Splashdown Kid's Club
Splashdown Kid's Club is just for kids with a wall of windows for viewing, an indoor jungle gym/obstacle course and computer and artist craft area.
Sister ship, Norwegian Pearl
Norwegian Jewel is NCL's first of four Jewel Class ships. She was followed in 2006 by Norwegian Jade (originally the Pride of Hawaii) and Norwegian Pearl, and then in 2007 by Norwegian Gem. Each ship has unique amenities, but has a similar exterior and interior design.
Norwegian Jewel was preceded at NCL by two Libra Class ships; Norwegian Star, which entered service in 2001, and Norwegian Dawn, which entered service in 2002. Although the Libra Class ships have a similar exterior appearance to the Jewel Class, there are significant interior and amenity differences that merit their different class designation.
Drydock Enhancements May 2014
Norwegian Jewel is the first ship to be retrofitted with the popular O'Sheehan's Neighborhood Bar & Grill (first introduced on Norwegian Epic and also on Norwegian Breakaway and Norwegian Getaway). In addition, the ship's Moderno Churrascaria, the Brazilian-style steakhouse, was relocated to a more intimate setting on Deck 13 and the Sugarcane Mojito Bar, first introduced on Norwegian Getaway, was added adjacent to the new restaurant.
"O'Sheehan's Bar & Grill is a huge hit on three of our new ships, so we wanted to ensure that guests sailing on our existing fleet, beginning with Norwegian Jewel, could experience the welcoming atmosphere and the traditional pub fare," said Kevin Sheehan, Norwegian Cruise Line's chief executive officer. "Our guests are going to love the addition of both O'Sheehan's and the Sugarcane Mojito Bar which can only add to the already great dining and lounging opportunities onboard.
Guests can also enjoy delicious cannoli and cupcakes from Carlo's Bake Shop by Buddy Valastro, star of TLC's Cake Boss and Next Great Baker, that has been added in the Java Café. A number of additional guest area enhancements included: updates to the Casino and Photo Gallery, new carpets and flooring throughout guest areas, window replacements, upgrades in galley areas and updates to the pool deck. Norwegian's innovative digital signage, first introduced on Norwegian Breakaway, will also be added to the ship over the summer.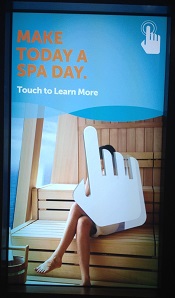 The interactive touch screen signs will allow guests to order specialty items, get directions and reserve dining and shore excursions simply with a scan of their stateroom key.
Technical modernizations also took place during the dry dock. The ship was outfitted with Green Tech Marine Scrubbers, in order to reduce fuel emissions, overall energy consumption, and the company's environmental footprint. In addition, the ship will receive an Azipod hydrodynamic upgrade and state-of-the-art silicone paint on the hull, in order to further improve fuel efficiency. Norwegian Jewel will also benefit from the installation of shore power connectivity. Additional significant technical and safety updates include: lifeboat and tender boat release systems upgrade; thrusters and stabilizer maintenance; and ballast and bilge piping replacement.
Ship Class: Jewel
Launched: 2005
Refurbished: May 2014
GRT: 93,000
Speed: 25 Knots
Passengers: 2,376

Bridge cam
Every bed, in every stateroom, on every ship has upgraded linens, pillows, mattresses and memory foam mattress toppers. NCL offers Improved room service menu with more options.
All cabins are furnished with cherry wood finishing, television, refrigerator, safe, duvet, bath with shower and hair dryer.
Stateroom sizes
| | | |
| --- | --- | --- |
| Inside | 128 | Sq. ft. |
| Outside | 150-161 | Sq. ft. |
| Balcony | 205 | Sq. ft. w/veranda |
| Mini-Suite | 272-285 | Sq. ft. w/veranda |
| Suite | 365-578 | Sq. ft. w/veranda |
| Haven Suites | 4,452 | Sq. ft. w/veranda |
Interior
Staterooms have two lower beds that convert into a queen-size bed and separate bathroom and shower. Access to room service is included. Family Inside Staterooms have a separate bathroom and two pull-down beds to fit four guests.
Ocean View
Includes two lower beds that convert into a queen-size bed and additional bedding to accommodate up to two more guests. Rooms are equipped with a picture window or a porthole. Some may have an obstructed ocean view.
Balcony
These staterooms have two lower beds that convert into a queen-size bed and a pull out sofa to accommodate one more. Includes a sitting area, floor-to-ceiling glass doors and a private balcony with an amazing view. The room comes with a separate bathroom. A family balcony includes additional bedding for two more or a sofa bed. Family balcony have curved walls and separated shower and vanity sink.
Mini-suite
Mini-Suites sleep up to four guests, with two lower beds that convert into a queen-size bed as well as a sitting area, private balcony, luxury bath with shower and additional bedding to sleep two additional guests. Family Mini-Suites may come with an upper bed and sofa bed.
Suite
All suites and penthouses include a luxury bath with shower, a balcony, butler and concierge service. Family suites sleep up to six guests with a queen-size bed that converts to two lower beds, a sofa bed and additional bedding to sleep two more. There is a living and dining area. Penthouse suites sleep up to 3-4 guests with a separate bedroom, living, and dining area.
The Haven
All Haven penthouses and family villas include a luxury bath with shower, a balcony, butler and concierge service. There is a living and dining area. Guests in the Haven receive exclusive access to the Courtyard, Concierge Lounge, and private restaurant and bar. Family Villas include two bedrooms and accommodate up to six people. The Owner's Suite has floor-to-ceiling windows, a bedroom with a king-size bed, and a whirlpool tub. The three-bedroom garden villa sleep up to eight and each bedroom has a king or queen size bed and luxury bath. The villa has a private garden with hot tub.
$= Specialty restaurant. Surcharge applies.
Tsar's Palace
Main dining room featuring a five-course, gourmet meal.
Azure Restaurant
Main dining room with a daily menu that includes a selection of light, healthy choices.
The Blue Lagoon Restaurant
A 24-hour food court serving burgers and other fare.
The Great Outdoors
Outdoor buffet featuring prepared-to-cook omelets, waffles, fruit, soups, ethnic specialties and pasta.
Garden Café/Kid's Café
Family-friendly menu of omelets, pasta, soups, salads and ethnic specialties. There's also a special kid-sized section.
Java Café
Specialty coffees, teas, pastries, and cookies.
Chin Chin Asian Restaurant
Japanese, Chinese & Thai cuisine. Also featuring a Sushi and Sake bar offering items a la carte.
Cagney's Steakhouse ($)
Select from choice cuts of Black Angus perfectly prepared like traditional T-bone or tender Prime Rib. Or, order our made-from-scratch jumbo crab cakes and a side of truffle fries. $30.00 per adult, $15 per child.
Carlo's Bake Shop
Bubby Valastro, star of TLC's "Carlo's Bake Shop" and the "Next Great Baker" has opened a shop on board featuring all the family favorites. Place an order right on board for custom birthday and anniversary cakes.
O'Sheehan's Neighborhood Bar & Grill
This complimentary 24-hour a day neighborhood sports bar and restaurant will serve classic American favorites and comfort food. It will feature a giant two-story screen, perfect for watching sports and movies, along with miniature bowling, pool and air hockey tables and interactive games.
La Cucina Restaurant ($)
Tuscan-style eatery serving regional Italian specialties including pizza, pasta and steak, chicken and fish dishes. $15 adult/$7.5 children
Moderno Churrascaria ($)
Start with an impressive salad bar of imported cheeses, olives, cured meats, ceviche and specialty salads. Be sure to save room for the delicious skewers of slow-roasted meats including beef, pork, lamb and chicken – all carved tableside by our Pasadores. $20 for adults, $10 for children.
Le Bistro Restaurant ($)
Serving modern French gourmet fare surrounded by the art of Monet and Renoir . $20.00 per adult guest, $10 for children.
Teppanyaki ($)
Sit around a lively shared table as a skillful chef slices, chops and grills steak, seafood and chicken on a large steel grill right before your eyes. $25 for adults, $12.50 for children
Sky High Bar and Grill
Enjoy your grilled favorites like hot dogs, hamburgers and bratwurst at the casual Sky High Bar.
24/7 Pizzeria
Pizza Delivery Service 24 hours a day. Delivered directly to your table, your stateroom, or your favorite bar or lounge. Just ask your server or call room service to place your order.
Ultimate Dining Package ($)
On three to six day voyages, guests can dine anywhere throughout their cruise at a set price of $59 per person; for seven-day voyages, the package is $119 per person; $149 per person on eight to 10 day cruises; $199 per person for cruises of 10 to 15 days; $259 per person during cruises of 16 days to 25 days; $299 per person during cruises of 26 days to 35 days and $349 per person during cruises of 36 days to 45 days. Prices subject to change. Last updated June 2014.
Stardust Theater
Main showroom located on decks five, six and seven.
Dazzles Night Club
An entertainment venue by day transforms into a late-night dance club.
Spinnaker Lounge
Spinnaker Lounge offers great daytime views and dancing at night.
Jewel Club Casino
Slots, cards, roulette and more.
Bliss Ultra Lounge & Night Club
A lounge inspired by all things spherical and out of space. Bubbles, the use of lighting, color and ultraviolet artworks will be throughout this room. Features the industry's first bowling alley and also is equipped with plasma TVs.
Star Bar
Themed around a gangster called Cagney who lived through and during the roaring 20's in America.
Maltings
Beer and whiskey bar with a backdrop reflecting beer.
Shakers
Art Deco inspired with a large screen behind the bar depicting James Bond inspired graphic silhouettes of funky images from the 60's & 70's.
Magnum's Champagne & Wine Bar
Inspired by the Art Nouveau era using Charles Rennie Mackintosh's design elements and colors.
Sapphire Pool
Main pool deck with the Topsider's Bar and Grill.
Sapphire Kid's Pool
The Sapphire Kid's Pool features slides and paddling pool. The Sapphire Pool and hot tub are also nearby.
Sports Deck
Basketball court, tennis, volleyball on an enclosed, outdoor court.