Cruise Ship Profiles
Ship specifications, photos, itineraries, accommodations, dining venues, notable rooms, activities, children's areas, deck plan, enhancements, incidents, accidents and more.
Our knowledge base comes from practical experience and hours of research. We monitor hundreds of websites, newspapers, and magazine publications for relevant cruises news passengers really want. We are not travel agents -we only make suggestions and offer our best advice.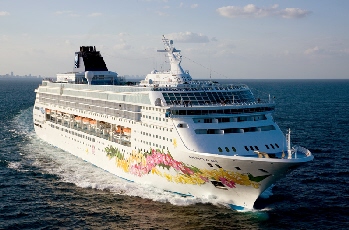 The Norwegian Sky was initially ordered for Costa Cruise Line in 1993 but construction never finished until Norwegian Cruise Line purchased her in 1997. Following the acquisition by NCL she was radically redesigned. Design changes included two decks of balcony cabins (opposed to no balcony cabins in the original plans), three additional restaurants, entirely altered decor and moving the bridge down by one deck to accommodate an observation lounge/spa complex on the topmost deck.
The Ship was first launched in1999 as the Norwegian Sky. NCL then re-flagged the Norwegian Sky as the Pride of Aloha in 2004 and she sailed the Hawaiian Islands. The Pride of Aloha was re-flagged back to the Norwegian Sky in 2008.
Specifications
Ship Class: Sky
Launched: 1999
Refurbished: 2011
GRT: 77,000
Speed: 22 Knots
Passengers: 2,004
Accommodations
Every bed, in every stateroom, on every ship has upgraded linens, pillows, mattresses and memory foam mattress toppers. NCL offers Improved room service menu with more options.
All cabins are furnished with cherry wood finishing, television, refrigerator, safe, duvet, bath with shower and hair dryer.
Two 4,390 square foot Garden Villas - Three separate bedrooms, private garden with hot tub, and access to a private courtyard with pool.
Stateroom sizes
| | | |
| --- | --- | --- |
| Inside | 121-147 | Sq. ft. |
| Outside | 149 | Sq. ft. |
| Balcony | 202 | Sq. ft. w/veranda |
| Suite | 402-835 | Sq. ft. w/veranda |
Dining Venues
Crossings and Palace Main Dining Rooms
Main dining rooms featuring a five-course, gourmet meal.
II Adagio
Contemporary Italian fare in a modern setting.
Garden Cafe
Outdoor buffet featuring prepared-to-cook omelets, waffles, fruit, soups, ethnic specialties and pasta.
Coffee Bar
Specialty coffees, teas, pastries, and cookies.
Cagney's Steakhouse
Traditional steakhouse. $25.00 per guest.
Le Bistro Restaurant
French gourmet fare. $20.00 per guest.
24/7 Pizzeria
Pizza Delivery Service 24 hours a day. Delivered directly to your table, your stateroom, or your favorite bar or lounge. Just ask your server or call room service to place your order.
Room Service
Room Service is available 24-hours a day (There will be a delivery charge from Midnight - 5 am).
Notable Rooms
Stardust Theater
Main showroom.
Dazzles
Music and dancing.
Breakers Bar
Poolside bar.
Champs Bar
Casual outdoor bar overlooking the pool deck.
Longboard Bar
Sports bar featuring live broadcasts of sporting events.
Outrigger Lounge
Good meeting place for cocktails before dinner.
Plantation Club
Champagne and Wine bar.
Captain Cook's
Martini bar.
Sky Club Casino
Slots, cards, roulette and more. Located in Deck 6 forward.
Outdoor Features
2 Pools and Bar
Main pool area, sundeck and outdoor bar located on Deck 11.
Splashes
Kid's Pool located on Deck 12.
Sports Court
Volleyball, basketball and golf driving net located on Deck 12.