Norwegian Breakaway Cruise Ship Profile
Ship Features, Itinerary, News, Photos, Review, Accommodations, Notable Rooms, Dining Venues, Kid's Areas, Deck Plan, Outdoor Spaces, Smoking Sections
CDC Ratings
If link above doesn't open to the report page, close the window and click on link again to access.
2013 Rating 97 (Jul)
2013 Rating 97 (Nov)
2015 Rating 91 (Jan)
2015 Rating 100 (Jun)
2015 Rating 95 (Nov)
2019 Rating 98 (June)
2020 Rating 99 (Feb)
The Center For Disease Control (CDC) performs unannounced inspections, which are conducted twice a year and required for any cruise ship with an international itinerary calling at a U.S. port. Vessels are evaluated proper food handling, preparation and storage procedures, and overall galley cleanliness. Ships' potable water supplies used in spas and pools are evaluated, as well.
Deck 18
Basketball court, Sun deck
Deck 17
Sports complex, Mini golf, Trampoline
Deck 16
Passenger staterooms, The Haven Private courtyard lounge, restaurant and spa, Sports Deck, Aqua Park, Vibe Beach Club, Spice H2O, Entourage teen lounge, Video arcade, Climbing wall, Breezeway Bar & Grill,
Deck 15
The Haven, Garden Cafe, Aqua Park, Fitness Center, Pool Casino,Salon, Spa, Passenger staterooms
Deck 14
Spa staterooms, Prime Meridian Bar, Spa
Deck 13
Passenger staterooms, Kid's Crew (level two)
Deck 12
Passenger Staterooms, Kid's Crew, Splash Academy
Deck 11
Passenger staterooms
Deck 10
Passenger staterooms, Studio Lounge
Deck 9
Passenger staterooms
Deck 8
Passenger staterooms,Cagney's Steakhouse, Dolce Gelato, La Cucina Italian Restaurant, Malting Beer & Whiskey Bar, Moderno Churasscaria, Shaker's Cocktail Bar, Raw Bar, Carlo's Bake Shop, Photo Gallery, Tradewinds Tax and Duty-Free, Tide's Boutique, Ocean Blue by Geoffrey Zakarian, Wasabi, The Humidor Cigar Lounge, Fat Cats Jazz & Blues Club
Deck 7
Bar 21, Bliss Ultra Lounge, O'Sheehan's Neighborhood Bar, Shanghai's Noodle Bar, The Manhattan Room, Breakaway Theater (opens to deck below)
Deck 6
Cafe & Bar at the Atrium, Le Bistro French Restaurant, Mixx Bar, Savor Restaurant, Taste Restaurant
Deck 5
Passenger staterooms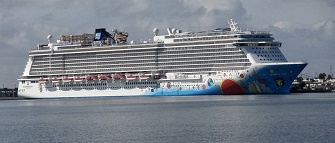 The largest and most innovate ship to ever homeport in New York City, Norwegian Breakaway features the first Aqua Park at sea with five full-size water slides, including twin Free Fall slides, and a three-story sports complex that includes the largest ropes course at sea, a nine-hole miniature golf course, basketball court, rock climbing wall and more. For the kids, the ship features Nickelodeon experiences for the whole family and includes a Nickelodeon themed Kids' Aqua Park.

Bridge cam
Ship Class: Breakaway
Launched: April 2013
Refurbished:
Length: 1,062 feet
Draft: 27 feet
GRT: 143,500
Speed: 22 Knots
Passengers: 4,000
$= Specialty restaurant. Surcharge applies.
Ultimate Dining Package ($)
On three to six day voyages, guests can dine anywhere throughout their cruise at a set price of $59 per person; for seven-day voyages, the package is $119 per person; $149 per person on eight to 10 day cruises; $199 per person for cruises of 10 to 15 days; $259 per person during cruises of 16 days to 25 days; $299 per person during cruises of 26 days to 35 days and $349 per person during cruises of 36 days to 45 days.
The Waterfront
The Waterfront, an industry-first, open-air boardwalk combined with three expansive, flowing decks of dining, bars, entertainment, gaming and more. The Waterfront features eight outdoor dining and lounging options.
678 Ocean Place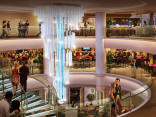 On Deck 8, 678 Ocean Place connects The Waterfront outdoor spaces with interior dining venues for Moderno, Cagney's, Shakers, La Cucina, Maltings, and Ocean Blu.
Breakaway Casino
The casino will offer guests the opportunity to try their luck on more than 300 of the latest slot machines; along with 26 gaming tables featuring poker, black jack, roulette and craps. Located on deck 7.
Bar 21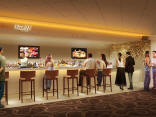 Intimate bar located adjacent to the Casino featuring video poker and multiple plasma television screens.
Prime Meridian
Cocktail bar good for people watching. Located between Cagney's and Moderno.
Bliss Ultra Lounge
Re-designed on Norwegian Breakaway to resemble a true hotspot, similar to trendy New York clubs. LED-lit tunnel entrance, illuminated bar, LED walls and pulsating dance floor.
Mixx Bar
Good meeting place for drinks before and after dinner. Located between Taste and Savor restaurants.
Ice Bar
Kept at 17 degrees Fahrenheit, the Ice Bar pays homage to New York icons in ice sculpture. Located on deck 8, the ice bar guests are given hoods and coats to wear while enjoying New-York inspired cocktails.
Carlo's Bake Shop
Bubby Valastro, star of TLC's "Carlo's Bake Shop" and the "Next Great Baker" has opened a shop on board featuring all the family favorites. Place an order right on board for custom birthday and anniversary cakes.
Maltings
Soak in ocean views while enjoying beer and whiskey from around the world.
Shakers
A classic martini and cocktail bar with a twist.
Humidor Cigar Bar
Located on deck 8.
The ship's top decks will feature the first Aqua Park at sea with five full-size water slides, including twin Free Fall slides, the first ever at sea, and a three-story sports complex that includes the largest ropes course at sea, a nine-hole miniature golf course, basketball court, rock climbing wall and more. The ship will feature Nickelodeon experiences for the whole family and includes a Nickelodeon themed Kids' Aqua Park.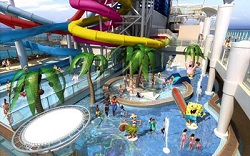 Aqua Park
The Aqua Park is Norwegian's biggest yet and features five multi-story water slides. Norwegian Breakaway is the first cruise ship to feature the Free Fall - two side-by-side slides where guests will stand up and have the floor drop from underneath, propelling them into a thrilling loop. Offering another first with a twist are two additional side-by-side twister slides - called The Whip -- that deliver an unforgettable adrenaline rush as they plunge guests on a spiral race to the finish line. For those who prefer a more relaxing ride, there is a family-friendly open-flume body slide. The Aqua Park also features a Kids' Aqua Park, two swimming pools, four hot tubs and the Breezeway Bar & Grill, a semi-open air eatery.
In the Kids' Aqua Park, children can cool off with colorful, whimsical and larger than life Nickelodeon characters from Bikini Bottom, including SpongeBob SquarePants, Patrick, Squidward and more. The tropical area will include a kid-sized pool and slide, along with multiple water features that squirt and shower guests with delight.
Sports Square
The three-story sports complex will be Norwegian's largest and feature the line's first ever ropes course, the largest one at sea. The ropes course with its multi-level structure will challenge guests to more than 40 different elements, including a zip track. For a thrill like no other, guests will confront The Plank, a platform that extends eight feet over the side of the ship.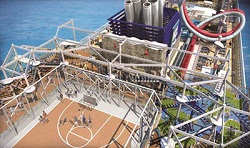 Those who choose to test their courage on The Plank will be rewarded by having their photo taken after conquering this heart-pounding, yet breathtaking, feat. Kids will be challenged as well with a special ropes course just for them. In another first for the line, the nine-hole ocean-themed miniature golf course is located beneath the ropes course, offering family fun with friendly competition. A rock climbing wall, bungee trampoline and spider web, a 24-foot enclosed climbing cage complete with a spiral slide, round out the activities.
Norwegian Breakaway will feature adult-only outdoor enclaves. Spice H2O, located at the back of the ship on deck 16, is an adult-only escape with contemporary Asian influences offering day-time relaxation and night-time exhilaration. A bevy of sun loungers surround a huge video screen, complete with two hot tubs and a soothing dual waterfall feature, perfect for cooling off from the sun. At night, guests can dance under the stars or chill at the bar with accompanying lounge area, featuring comfortable seating while admiring the ocean views.
On deck 17, guests ages 18 and over will have the opportunity to enjoy another private retreat - Vibe Beach Club - by purchasing an access pass. Complete with ocean views, an oversized hot tub, luxurious chaise loungers and a relaxing water feature, Vibe Beach Club will be the ideal spot for adults to relax and unwind in a serene, comfortable setting while soaking up the sun. A full-service bar, water spritzers and chilled towels complete the exclusive experience.
Kids Only Areas
Splash Academy
Centrally located on Decks 12 and 13 adjacent and easily accessible to the family-friendly staterooms. The reception area, located on Deck 12, is in close proximity to the forward elevators. As parents enter, they will utilize Norwegian's e-Youth tablet-based electronic registration which allows them to swipe their keycard and input a password to sign in their children. Just past the brightly-colored and welcoming reception area, the three to five year olds will have their own space decorated with vibrant, engaging colors along with child-sized furniture. Wall mounted activities will keep little hands busy in between organized programming. In a separate area decorated with fun graphics to captivate children's imaginations, the six to nine year olds will enjoy building block activity centers. An interactive dance mat with corresponding large video screen will encourage lots of activity. In addition, a dedicated space houses popular video game stations, along with a relaxing video viewing lounge.
Upstairs on Deck 13, the 10 to 12 year olds will have their own space designed specifically for older children. It will include a multipurpose visual dance space with a touch screen jukebox, plenty of moveable tables for activities and comfortable bean bags for lounging. An activity zone will include everything needed for arts and crafts and more. There is also a "hang out" area with dedicated gaming stations that will feature the latest video games. Rounding out the space will be a cool and comfortable lounge area with sofas and chairs in vibrant colors creating the perfect atmosphere to chill out.
Entourage for Teens
High energy, exclusive teen zone for ages 13 through 17, located on Deck 16. This space includes air hockey; foosball; and an arcade center with five separate areas featuring large screens to play the latest video games while lounging on sofas. In the evening, Entourage transitions into a teens-only nightclub with a dance floor, large screen television and music, including a video jukebox. Entourage has the advantage of being located next to the video arcade and a step away from an outdoor eatery and refreshment area to round out the teens' experience.