Norwegian Epic Cruise Ship Profile
Ship Features, Itinerary, News, Photos, Review, Staterooms, Notable Rooms, Dining Venues, Kid's Areas, Deck Plan, Outdoor Spaces, Smoking Sections
CDC Ratings
If link above doesn't open to the report page, close the window and click on link again to access.
2010 Rating 100 (Aug)
2011 Rating 98 (May)
2011 Rating 97 (Nov)
2012 Rating 92 (Mar)
2012 Rating 99 (Nov)
2013 Rating 100 (Nov)
2014 Rating 96 (Mar)
2017 Rating 99 (Jan)
2020 Rating 86 (Feb)
The Center For Disease Control (CDC) performs unannounced inspections, which are conducted twice a year and required for any cruise ship with an international itinerary calling at a U.S. port. Vessels are evaluated proper food handling, preparation and storage procedures, and overall galley cleanliness. Ships' potable water supplies used in spas and pools are evaluated, as well. CDC Cruise Ship Outbreak Summary
Deck Plan
Deck 19
Posh Sundeck and Freestyle Sundeck
Deck 18
Courtyard Sundeck, Public Sundeck, Posh Beach Club
Deck 17
Garden Villas, Garden Villas private lounge
Deck 16
Private Courtyard and Pool Area, Concierge Lounge, The Courtyard Grill, The Epic Club Lounge
Deck 15
Garden Café, Kid's Café, The Great Outdoors, Waves Bar, Sun Deck, Epic Plunge, Kid's Aqua Park, Climbing Wall, The Marketplace, Video Arcade, Spice H2O Pool & Grill
Deck 14
La Cucina Italian Restaurant, Passenger Staterooms
Deck 13
Bridge Viewing Room, Passenger Staterooms
Deck 12
Passenger Staterooms
Deck 11
Passenger staterooms
Deck 10
Passenger Staterooms, Medical Center
Deck 9
Passenger staterooms
Deck 8
Passenger staterooms
Deck 7
Bliss Ultra Lounge, Bowling Alley, Spiegel Tent/Duty Free Shops, Ice Bar, Teppanyaki, Wasabi Sushi Bar, Sake Bar, Shaker's Martini Bar, Malting's Whiskey Bar, The Humidor Cigar Lounge, Barber Shop, Cagney's Steakhouse & Churrascaria
Deck 6
Epic Theater, Entertainment Kiosk, Headliners Comedy Club, Spiegel Tent, Bowling Alley, O'Sheehan's Neighborhood Bar & Grill, Epic Casino, Shanghai's, Fat Cats Jazz Club, Cascades Bar, The Manhattan Room Restaurant
Deck 5
Epic Theater, Meeting Rooms, Art Gallery, Internet Cafe, Photo Gallery, Le Bistro, Shore Excursion Desk, Port Cruise Consultant, Atrium Cafe, WNCL Broadcast Studio, Taste Restaurant
Aqua Park
Expansive Aqua Park that includes three water slides of varying thrill factors, including one specifically designed for children that zips straight through the rock climbing wall, a more adventurous slide twisting and turning down three stories, and The Epic Plunge, the only tube slide at sea that puts the blast of inner-tubing into the core of a bowl slide with a thrilling drop through a 200-foot long tube. The Aqua Park also includes two main pools with arching water effects which illuminate at night, five whirlpools, a wading pool and a kid's pool in the children's Splash and Play Zone which features whimsical sculptures, water sprays and effects, along with a kiddy slide.
Kid's Crew Ages 2 - 12
Epic's Kid's Crew facility is centrally located on Deck 14 adjacent and easily accessible to the family-friendly staterooms.
Two separate areas are specifically designed for kids ages two through nine and tweens, ages 10 through 12.
Kid's Crew
Ages 2-9
The Kid's area includes a space-themed play area, air hockey table, an interactive light up dance floor, Wii" gaming areas, an arts and crafts area, along with a state-of-the-art surround sound cinema.
Kid's Crew
Ages 10-12
The Tween Zone has a futuristic feel that includes multiple Wii(TM) and PlayStation® areas, along with a private karaoke performance stage which doubles as a cinema.
Entourage for Teens
Kid's 13-17
Norwegian Epic's high energy, exclusive teen zone for ages 13 through 17, located at the top of the ship on Deck 16.
This funky space includes air hockey, pinball, foosball, a video jukebox, and nine large flat screen televisions, five of which are located around a central video game console featuring PlayStation® 3. In the evening, Entourage transitions into a hip nightclub with a space for dancing or just hanging out on comfy couches. Directly below is the video arcade which features number of the most challenging and interactive video games.
POSH Beach Club
Adult guests who purchase a POSH pass for the day or the week will take a private glass elevator to enter this luxurious and exclusive outdoor entertainment complex. During the day, guests can lounge on white-cushioned day beds and in private cabanas in a sun-kissed setting and cool off in the 35-foot long cascading waterfall while the POSH VIP Host and crew cater to every whim.
At night, things heat up as POSH Beach Club becomes an open air night club, complete with VIP bottle service, while the DJ sets the vibe for the non-stop party.
Spice H2O
Adults-only complex located at the back of the ship on decks 15 and 16 features a huge LED screen displaying vibrant video images from charging bulls to flamenco dancers, and synchronized swimmers to tap dancing Geishas all combined with dynamic music to create a truly unique and sensory experience.
As the sun sets, Spice H20 is transformed to an Ibiza-inspired beach club with live entertainment and dinner served tableside or directly on beds. At night, the mood is red-hot with Latin mash-up vibes, dancing and unique entertainment atop the covered pool.
Check-in-Rock-Out Program
The "Check-In-Rock-Out" program gives guests the opportunity to borrow a Gibson guitar, companion pod, and a private amplifier with headphones to take to their staterooms and rock out without disturbing other guests.
Guitars, pods and accessories will be available to guests at a cost of $10 per day.
The Check-In-Rock-Out program is available in Norwegian Epic's Fat Cats Jazz and Blues Club. Each pod includes controls and special effects so that guests can select the type of sound they want to create, from classic rock to heavy metal, blues, classic and country - and then choose their own song to play.
The Norwegian Epic includes an expansive Aqua Park with the only tube slide and largest bowl slide at sea, The Epic Plunge. Other highlights include a 33-foot high, 64-foot wide extreme rock climbing wall and the first ever repelling wall at sea; the most bowling lanes at sea with six in two venues; a mixed-use sports deck with the ability for guests to engage in eight different athletic activities; as well as three separate kids' and teen activity areas and the first squash court at sea. In addition, Norwegian revealed the next generation of Freestyle Dining with 14 restaurant choices – the most at sea – and 18 bars and lounges.
See all our photos of the Norwegian Epic on Facebook
Ship Class: Epic
Launched: 2010
Refurbished:
GRT: 150,000
Speed: 22 Knots
Passengers: 4,200
Epic's High Tech Features
Digi HD" Interactive Television
Norwegian Epic's Digi HD" Interactive Television, or ITV, was created by Allin Interactive. Using the in-room television, guests scroll through a wheel of options to make reservations for entertainment performances, book shore excursions, check their shipboard account, and select from a large library of first-run on-demand movies. A highlight of Norwegian Epic's ITV is the DigiCasino", which extends the casino into guest staterooms, allowing them to play popular games such as slots and video poker. An interactive cashier enables guests to purchase and redeem gaming credits that can be used for interactive play. All purchases made through ITV are applied to the guest's shipboard account.
Youfinder® Facial Recognition System
Another hi-tech innovation on board Norwegian Epic is the Youfinder® facial recognition software, created by Image. When guests board Norwegian Epic, their picture is taken and linked to their cruise card. When guests want to view and purchase their photos, they go to an on-board kiosk, swipe their cruise card and they can immediately view their cruise memories. From this, they can order select images and have them printed out by the ship's photo team or they can order a CD with all images and take it home.
All the amenities and comforts of NCL's Freestyle 2.0 enhancements are included with upgraded bedding, linens and towels, Euro pillows, Elemis bathroom products and MP3 connectivity upon request. Balcony and deluxe staterooms have bathrobes, a customized fruit menu, a fresh-baked cookie at turn down on the last night of cruise, an escort to the stateroom on embarkation day, priority restaurant reservation and reception hotlines and special color keycard for ship-wide recognition.
Stateroom sizes
| | | |
| --- | --- | --- |
| Studio | 100 | Sq. ft. |
| Balcony | 203-302 | Sq. ft. w/veranda |
| Mini-Suite | 283-301 | Sq. ft. w/veranda |
| Suite | 365-1440 | Sq. ft. w/veranda |
| Haven | 322-852 | Sq. ft. w/veranda |
The Studios
A first in design for the cruise industry, these ultra-modern staterooms maximize space and feature a large, round window that looks out into the corridor, along with customizable color changing light effects that mirror different stages of the day or the guest's mood, including a love setting for those romantic nights at sea. The Studios occupy two decks and have exclusive key-card access to the Living Room, a two-story shared private lounge. The area is a two-floor lounge which features a concierge, bar, room service, two large TV screens, and comfy seating for hanging out, reading a book or just enjoying a cocktail before dinner. Located on Decks 11 and 12.
Inside
560 Inside staterooms, with contemporary décor and open living space, including a bathroom that is completely unique with a separate shower stall, water closet and a modern vanity top sink; located on Decks 8 through 14.
Balcony
These staterooms have two lower beds that convert into a queen-size bed and a pull out sofa to accommodate one more. Includes a sitting area, floor-to-ceiling glass doors and a private balcony with an amazing view. The room comes with a separate bathroom. A family balcony includes additional bedding for two more or a sofa bed. Family balcony have curved walls and separated shower and vanity sink.
Spa Staterooms
Located on Deck 14, a total of 39 spa suites, deluxe balcony and balcony staterooms have private key-card entry to the enclave surrounding Norwegian Epic's ultra-luxurious thermal suite and fitness center. For an added indulgence, eight spa suites each feature an in-room whirlpool.
Deluxe Balcony Staterooms
98 Deluxe Balcony staterooms featuring NCL's signature New Wave design, with contemporary curved architecture and open living space. The curved walls and ceilings maximize the living space with a bathroom that is completely unique with a separate shower stall, separate water closet and a modern vanity top sink.
Family Staterooms
225 Family Deluxe Balcony and 146 Family Balcony staterooms, with triple and quad occupancies, are located on two decks (13 and 14) within close proximity to the expanded Kids Crew. These staterooms feature Norwegian's signature New Wave design with contemporary curved architecture and open living space. The curved walls and ceilings maximize the living space with a bathroom that is completely unique with a separate shower stall, separate water closet and a modern vanity top sink. Many of the family staterooms can connect, perfect for families and multigenerational groups.
The Haven Villas and Suites
A total of 60 Courtyard Villas, Penthouse Suites and Deluxe Owner's Suites on two private decks high atop the ship on Decks 16 and 17. All have exclusive access to a private pool, two whirlpools, saunas, sun deck, fitness facility, private indoor/outdoor dining, bar and concierge lounge. There are 46 of NCL's signature Courtyard Villas featuring two bedrooms and two bathrooms of ultimate luxury. Six Courtyard Penthouses include a bedroom with separate living and dining area. Eight Deluxe Owner's Suites feature all-around floor to ceiling windows, bedroom and separate living and dining area. There are also seven Penthouse Suites located in other areas of the ship.
$= Specialty restaurant. Surcharge applies.
Norwegian Epic's wide range of dining choices will wow even the most discerning cruiser with 14 Freestyle Dining restaurants and 18 bars and lounges. Each restaurant features unique and sensational culinary delights from around the world.
Café Jardin and the Great Outdoors
Café Jardin's décor is modeled after a traditional English country garden conservatory. This is Norwegian's signature action station casual restaurant where chefs cook fresh, prepared-to-order food as guests watch, featuring seafood, pizza, fruit, soups, pasta, ethnic specialties, burgers and desserts; offering extensive and varied selections. The Café includes a Kid's Café with child-friendly seats and tables. At the Great Outdoors, guests can enjoy fresh air and a view of the Aqua Park with their meal.
Garden Café
Family-friendly menu of omelets, pasta, souos, salads and ethnic specialties. There's also a special kid-sized section.
Taste
Taste's décor blends off-white, free-form plastered walls with European retro-chic mixed with brick details and floor to ceiling velvet curtains.
Taste serves a selection of traditional and contemporary cuisine. Located in the ship's atrium on Deck 5.
Shanghai's
New addition to Norwegian's specialty dining options serves a mix of Chinese dishes and noodle bar specialties.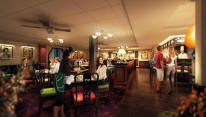 Featuring an open kitchen preparing traditional Chinese cuisine, noodles, wok fried dishes and dim sum.
Moderno Churrascaria ($)
Norwegian's cuisine on a new twist with the addition of Argentinean churrasco. Start with an impressive salad bar of imported cheeses, olives, cured meats, ceviche and specialty salads. Be sure to save room for the delicious skewers of slow-roasted meats including beef, pork, lamb and chicken – all carved tableside by Pasadores. $20 adult/$10 children
Cagney's Steakhouse ($)
Overlooking the Manhattan Room, Cagney's Steakhouse features and open-kitchen concept, grilled steaks, double cut lamb chops and other steakhouse favorites. $30 adults/$15 children
Le Bistro Restaurant ($)
Norwegian's signature French restaurant features an elegant indoor setting. $20 adult/$10 children
La Cucina Restaurant ($)
This Tuscan-style eatery serves regional Italian specialties including pizza, pasta and steak, chicken and fish dishes. $15 adult/$7.5 children
O'Sheehan's Neighborhood Bar & Grill
Sports bar and restaurant serves American favorites and comfort food and is open 24 hours. The atrium's two-story high screen will be visible from inside the restaurant and additional flat screen televisions will show sporting events, while guests enjoy their own activities, including three lanes of bowling, dart boards, pool tables, foosball and arcade games.
Wasabi ($)
Sushi and sake bar serves fresh sushi, sashimi and Japanese Yakitori dishes. Pricing is a la carte.
Teppanyaki ($)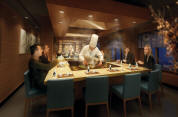 Featuring up to 24 knife-wielding chefs cooking exhibition-style Japanese cuisine on flat top grills. $25 adult/$12.5 children
The Manhattan Room
The Manhattan Room features a dance floor as its focal point and offers live music and dancing in the evening.
The two-story high restaurant on Deck 6 features floor-to-ceiling panoramic windows looking aft.
Courtyard Grill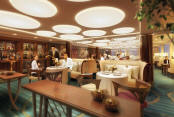 Located in The Villas complex. The Courtyard Grill is the more casual, outdoor area of the restaurant serving Villas guests for breakfast and lunch.
Haven Restaurant
The Haven Restaurant offers exclusive private dining for guests staying in The Haven Suites. The haute design is highlighted with pearl drapes, glass sculptures, silk chandeliers and leather. It's the perfect place for privacy with delicious meals and wine selections from our impressive collection.
Spiegel Tent-Cirque Dreams & Dinner ($)
Enter a world where personality and presentation are served with spectacle and celebration during an unforgettable dining experience…"Cirque Dreams® & Dinner". $29.99 standard seating/$39.99 premium seating.
Ultimate Dining Package ($)
On three to six day voyages, guests can dine anywhere throughout their cruise at a set price of $59 per person; for seven-day voyages, the package is $119 per person; $149 per person on eight to 10 day cruises; $199 per person for cruises of 10 to 15 days; $259 per person during cruises of 16 days to 25 days; $299 per person during cruises of 26 days to 35 days and $349 per person during cruises of 36 days to 45 days.
Norwegian Epic offers multiple, specially-designed entertainment venues throughout the ship. You can even reserve some entertainment in advance. Booked guests can go to the Norwegian website, www.ncl.com, log in to the "My NCL" section and visit a special entertainment page where you can select and reserve your desired performance. Pre-booking will be available for performances of Blue Man Group, Cirque Dreams™ & Dinner, Legends in Concert, The Second City® Comedy Troupe, Nickelodeon™ Slime Time Live!, Breakfast with Nickelodeon™ and the Murder Mystery "Presumed Murdered." Online bookings open 45 days prior to sailing date.
Epic Theater
Main showroom featuring nightly Broadway-style entertainment.
Ice Bar
One of only 14 ice bars in the world, the cruise industry's first true ice bar is the ultimate chill. This frozen chamber of iced vodka is set in changing hues of blue, green and purple LED lighting that simulates the Northern Lights and creates a distinctive arctic atmosphere. The centerpiece is a giant ice cube that glows and changes colors as the hottest techno beats add to the energy of this unique nightlife attraction. Ice Bar will accommodate 25 guests who will be given fur coats, gloves and hats to keep them warm, since the room's temperature will not rise above 17 degrees Fahrenheit. To enter, guests will pay a cover charge with a drink or drinks included. Located on deck 7.
Bliss Ultra Lounge and Nightclub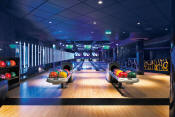 Bliss features NCL's signature bowling alley at sea as part of this all-day entertainment and nightclub complex with the feel of a decadent Las Vegas nightclub. In the evening, Bliss transforms into a hip, high-energy ultra lounge with plasma screens displaying music videos, shadow dancers entertaining the crowd and non-stop music. A dance floor, private VIP areas and mood-lit bowling complete this totally unique seagoing experience.
Headliners Comedy Club
This 280-seat comedy club features the hilarious improvisational comedy of The Second City.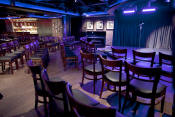 The ensemble performs a special customized comedy revue of satirical skits, hilarious songs and inventive improvisation. The venue's design centers on a show lounge format with a small raised stage, concrete floors and brick walls with a full bar.
Fat Cats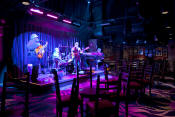 Fat Cats features nightly live blues and jazz performances by world-class talent. The urban setting creates a hipster vibe complete with full bar and comfortable leather sofas and chairs.
Epic Casino
This appropriately named casino is Norwegian's largest casino at sea, spanning more than 13,000 square feet. It features an elegant Monte Carlo inspired design theme and is open to Taste, the Atrium restaurant below, and to the excitement of Bar Central above. Here, guests will find many opportunities to try their luck including 340 of the latest slot machines; along with gaming tables featuring poker, black jack, roulette and craps. And, with the most rewarding Players Club Program at sea there will be something for everyone, from the novice to the high roller. Cascades Bar, with a grand central crystal chandelier, serves as the casino's centerpiece.
Halo, the Über Bar
Garden and Courtyard villa guests have exclusive VIP access to this Über Bar located at the top of the ship on the private deck 16. Private gaming tables, including baccarat and blackjack, add to the sexy style in this adult-only club.
Legends Concert
Legends in Concert is a live musical celebration featuring the world's greatest celebrity tribute artists. Legends in Concert on Norwegian Epic features three celebrity tribute performers taking the stage in the Epic Theater for six 45-minute shows over three days during a seven-day cruise. In addition, a Legends "Unplugged" show is performed on three additional nights in the Manhattan Room, the ship's New York-inspired supper club, providing an unprecedented dining and entertainment experience. The celebrity performers change every four months, keeping the show fresh and exciting. The initial performers were Madonna, Tina Turner and Elvis Presley.