Norwegian Star Cruise Ship Profile
Ship Features, Itinerary, News, Photos, Review, Accommodations, Notable Rooms, Dining Venues, Kid's Areas, Deck Plan, Outdoor Spaces, Smoking Sections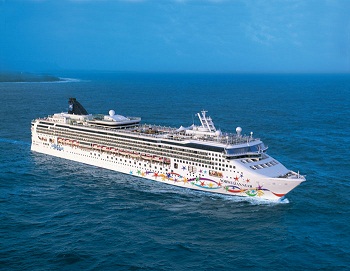 Norwegian Star was the first of two Libra class vessels constructed at Meyer Werft Shipyard in Papenburg, Germany; the second is Norwegian Dawn.
The Norwegian Star entered service at the end of 2001. She was originally intended to operate with Star Cruises under the name SuperStar Libra, but six months before delivery it was decided that the ship would be assigned to Star Cruises' subsidiary, Norwegian Cruise Line.
The vessel was christened at the Port of Miami in a dual ceremony with another new NCL vessel, constructed at Germany's Lloyd Werft shipyard, the Norwegian Sun.
Ship Class: Dawn
Launched: 2001
Refurbished: 2010 and 2015
GRT: 92,000
Speed: 23 Knots
Passengers: 2,348

Bridge cam
Families of all sizes can choose from a large number of staterooms (including suites and mini-suites) that can interconnect to create multiple bedroom configurations, with a separate bathroom and shower.
Couples may unwind in the luxurious Romance Suite with floor-to-ceiling doors that open to a private balcony, bedroom with queen-sized bed, and full bath with tub and shower.
Every bed, in every stateroom, on every ship has upgraded linens, pillows, mattresses and memory foam mattress toppers. NCL offers Improved room service menu with more options.
All cabins are furnished with cherry wood finishing, television, refrigerator, safe, duvet, bath with shower and hair dryer.
Two 4,390 square foot Garden Villas - Three separate bedrooms, private garden with hot tub, and access to a private courtyard with pool.
Stateroom sizes
| | | |
| --- | --- | --- |
| Inside | 142-276 | Sq. ft. |
| Outside | 159-195 | Sq. ft. |
| Balcony | 203-302 | Sq. ft. w/veranda |
| Mini-Suite | 283-301 | Sq. ft. w/veranda |
| Suite | 365-1440 | Sq. ft. w/veranda |
| Garden Villa | 5850 | Sq. ft. w/veranda |
Interior
Staterooms have two lower beds that convert into a queen-size bed and additional bedding to accommodate up to two more guests. Access to room service is included.
Ocean View
Includes two lower beds that convert into a queen-size bed and additional bedding to accommodate up to two more guests. Rooms are equipped with a picture window or a porthole. Some may have an obstructed ocean view.
Balcony
These staterooms have two lower beds that convert into a queen-size bed and a pull out sofa to accommodate one more. Includes a sitting area, floor-to-ceiling glass doors and a private balcony with an amazing view. A connecting stateroom is able to fit larger families.
Mini-suite
Mini-Suites sleep up to four guests, with two lower beds that convert into a queen-size bed as well as a sitting area, private balcony, luxury bath with shower and additional bedding to sleep two additional guests.
Suite
All suites and penthouses include a luxury bath with shower, a balcony, butler and concierge service. Family suites sleep up to six guests with a queen-size bed that converts to two lower beds, a sofa bed and additional bedding to sleep two more. There is a living and dining area. Penthouse suites sleep up to 3-4 guests with a separate bedroom, living, and dining area. In addition to standard suite amenities, the owner's suite has double balconies, mini-bar, whirlpool tub, and king-size bed. The three-bedroom Garden Villa fits seven guests with three bedrooms, luxury bath and shower private garden with hot tub, and outdoor dining area and terrace.
$= Specialty restaurant. Surcharge applies.
Aqua and Versailles Restaurant
Main dining rooms located on Deck 6.
Market Café
Family-friendly menu of omelets, pasta, soups, salads and ethnic specialties. There's also a special kid-sized section.
O'Sheehan's Neighborhood Bar & Grill
A 24-hour complimentary restaurant that serves up local traditional pub fare in a friendly neighborhood-pub setting. Located on deck 8.
Ginza Asian Restaurant
Full complimentary menu includes delicious dishes from a dedicated Noodle Bar such as traditional Chinese noodles, wok-fried specialties, and dim sum favorites, Ginza Asian Restaurant features exciting new à la carte offerings such as Japanese Hot Rock Ishiyaki for a nominal fee and a sushi menu developed by expert Sushi Chef Yuki Ieto. The new mouth-watering sushi and sashimi pieces such as the Sashimi Hamachi Poblano, Ten Shades of Grey Roll and more will be served at the restaurant's sushi bar or guests can also choose from four specialty rolls directly from a moving sushi belt, a first for the cruise industry.
24/7 Pizzeria
Pizza Delivery Service 24 hours a day. Delivered directly to your table, your stateroom, or your favorite bar or lounge. Just ask your server or call room service to place your order.
Cagney's Steakhouse ($)
Select from choice cuts of Black Angus perfectly prepared like traditional T-bone or tender Prime Rib. Or, order our made-from-scratch jumbo crab cakes and a side of truffle fries. $30.00 per adult, $15 per child. Located on Deck 13.
Moderno Churrascaria ($)
Start with an impressive salad bar of imported cheeses, olives, cured meats, ceviche and specialty salads. Be sure to save room for the delicious skewers of slow-roasted meats including beef, pork, lamb and chicken – all carved tableside by our Pasadores. $20 for adults, $10 for children.
Le Bistro Restaurant ($)
Serving modern French gourmet fare surrounded by the art of Monet and Renoir . $20.00 per adult guest, $10 for children. Located on Deck 6.
La Cucina Restaurant ($)
Enjoy pasta with a choice of seven savory sauces in a casual atmosphere. There are also crispy fresh salads, pizza, authentic Italian desserts, a fine wine list and espresso drinks to top off the meal. $15 for adults, $7.5 for children.
Teppanyaki ($)
Sit around a lively shared table as a skillful chef slices, chops and grills steak, seafood and chicken on a large steel grill right before your eyes. $25 for adults, $12.50 for children
Ultimate Dining Package ($)
On three to six day voyages, guests can dine anywhere throughout their cruise at a set price of $59 per person; for seven-day voyages, the package is $119 per person; $149 per person on eight to 10 day cruises; $199 per person for cruises of 10 to 15 days; $259 per person during cruises of 16 days to 25 days; $299 per person during cruises of 26 days to 35 days and $349 per person during cruises of 36 days to 45 days.
Room Service
Room Service is available 24-hours a day (There will be a delivery charge from Midnight - 5 am).
Five o'Clock Somewhere Bar
The newest watering hole serves up signature margaritas and "boat drinks" such as the "Who's to Blame® Margarita," ice cold LandShark Lagers and more, coupled with nightly live musical performances.
Spinnaker Lounge
Spinnaker Lounge offers great daytime views and dancing at night.
Gatsby's
There are moments when only champagne will do. Head to Gatsby's Champagne Bar for an extensive selection of bubbly, decorated in classic art deco motif.
Barong
Juice bar offering an array of healthy treats.
Bier Garten
Beer garden and cocktails on the terrace with german-style bratwurst.
Star Club Casino
Slots, cards, roulette and more. Located in Deck 6 forward.