Norwegian Breakaway Dining Venues
Description of the Cruise Ship Dining Venues
$=Specialty dining, surcharge applies
Complimentary Main Dining Rooms
| | |
| --- | --- |
| Savor | Taste |
| | |
The Manhattan Room
The Manhattan Room is a complimentary restaurant on Deck 7 that will feature a dance floor as its focal point. As guests dine on cuisine that reflects the elegant and romantic nature of the room, they will enjoy live music and dancing. The two-story high restaurant showcases floor-to-ceiling panoramic windows looking aft.
Wasabi ($)
A traditional sushi bar complete with a Yakitori grill, Wasabi serves up a nice selection of popular sushi, sashimi and rolled favorites. Price is a la carte.
Shanghai's Noodle Bar ($)
The largest noodle bar at sea, this exciting dining concept will offer all counter seating around an open kitchen and will serve traditional Chinese noodles, wok-fried dishes and dim sum. Price is a la carte
O'Sheehan's Neighborhood Bar & Grill
This complimentary 24-hour a day neighborhood sports bar and restaurant will serve classic American favorites and comfort food. It will feature a giant two-story screen, perfect for watching sports and movies, along with miniature bowling, pool and air hockey tables and interactive games.
Moderno Churrascaria ($)
Norwegian's signature Brazilian-style steakhouse. Indoor and outdoor dining, huge salad bar and a variety of grilled and slow-roasted meats carved tableside by passadors. Located on deck 8. $20 adult/$10 children
Cagney's Steakhouse ($)
Overlooking the Manhattan Room, Cagney's Steakhouse features and open-kitchen concept, grilled steaks, double cut lamb chops and other steakhouse favorites. Located on deck 8. $30 adults/$15 children
Teppanyaki Restaurant ($)
96 seats surround 12 flat top grills, Teppanyaki chefs showcase their knife-wielding skills while cooking exhibition-style Japanese cuisine. $25 adult/$12.5 children
Le Bistro ($)
Norwegian's signature French restaurant features an elegant indoor setting, along with a European sidewalk-style dining opportunity which overlooks 678 Ocean Place. $20 adult/$10 children
La Cucina Restaurant ($)
Tuscan-style eatery serving regional Italian specialties including pizza, pasta and steak, chicken and fish dishes. $15 adult/$7.5 children
Ocean Blu ($)
Seafood restaurant featuring a premium raw bar and sushi bar. Outdoor seating and take-away menu. $49 adult/$29.5 children.
The Raw Bar ($)
The Raw Bar, Zakarian's take on his perfect meal - oysters and a glass of wine. Offering fresh crustaceans, crudos, shellfish and extensive wines by the glass, this bar allows guests to pull up for a snack or a meal, solo or with friends and simply enjoy the best that the ocean has to offer. Price is a la carte.
Garden Café
Garden Café, on deck 15, which will offer an abundant assortment of delicious menu items for breakfast, lunch and dinner. This is Norwegian's signature action station casual restaurant where chefs cook fresh, prepared-to-order food as guests watch, featuring seafood, pizza, fruit, soups, pasta, ethnic specialties, burgers and desserts; offering extensive and varied selections.
678 Ocean Place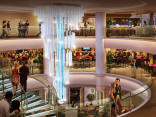 On Deck 8, 678 Ocean Place connects The Waterfront outdoor spaces with interior dining venues for Moderno; Cagney's; Shaker's; La Cucina; Malting's and Ocean Blu.
Carlo's Bake Shop ($)
Featuring all of the delicious treats and confections that the original bakery is known for, Carlo's Bake Shop will also give guests the opportunity to pre-order custom specialty cakes for celebrations such as birthdays and anniversaries. For a challenging and fun experience, Carlo's will offer cupcake decorating classes, where guests can learn some of Valastro's tricks of the trade. Price is a la carte
Dolce Gelato ($)
Slow churned, dense and intense in flavor, gelato is Italy's answer to ice cream. Choose from a variety of flavors and drift off in sweet thoughts as you walk in the breeze. Price is a la carte.